Skip Navigation
Website Accessibility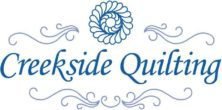 Join us Saturday, September 7th as we marvel over Santi Brouwer of Hatched in Africa's beautiful embroidery creations!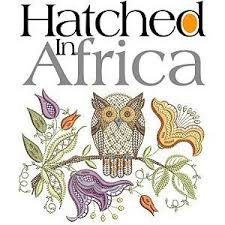 A little information about Hatched in Africa:
Hatched in Africa was started in May 2000 by Santi, her sister Mari and her daughter Liese. We live in Middelburg, Mpumalanga in South Africa.
Many years back Santi was Bernina dealer and soon after selling her store she started getting creative on her computer. She loves doing floral arrangements and so her digitizing reflected that. Soon her first designs were on the internet and so our journey began...
Allsorts Embroidery was started 2 years later by Cara and Betsi, Santi's daughter and sister. They have added a lot of creativity to our growing family.
Hatched Embroidery Fun was started in 2010 for more stock type designs and is also now part of our new big family website.
Santi became known for her Apricot Blush quilt and the book that was published. After that came the Jacobean Jewels and the ever famous Jaocbean Peacock done in 4 hoopings! Her multi-hooped designs are still popular and so easy to embroider. There was also a Bernina Card published with her designs!
Over the years we have made many friends and have helpers all over the world! The internet opened an amazing big world to us... we remember the days when embroidery designs were few and the software had it's limitations... we can't believe what the machines can do today! So much fun!
If you have been with us on this journey... I say welcome to the next 10 years of creativity together. If you are just joining us we hope you enjoy every moment you spend with us!
Creekside Quilting Community Outreach May 21st-July 31st
ALS is a devastating disease that leaves a person's body paralyzed while their mind and spirit are alert and active. By participating in the Hopes & Dreams Quilt Challenge you help raise awareness about ALS (Lou Gehrig's Disease), bring warmth and hope to the lives of ALS patients, and also help raise much needed funds for research for a treatment and a cure.
Donated quilts are given to ALS patients or used to raise research money for ALS by being photographed, displayed, auctioned or raffled. In addition to contributing you quilt to a wonderful cause -- ALL donated quilts are eligible to win exciting and wonderful prizes.

The Hopes & Dreams Quilt Challenge is non-judged and all donated quilts are entered into general prize drawings. There are also incredible prize packages for winners in seven (7) different categories. We will have the entry forms in the store to fill out at the time of drop off.... Minimum quilt size 35"x 44" or larger. Lap or bed quilts of all sizes are welcomed. We encourage the addition of a 4" removable or hidden sleeve on the backside of the quilting for displaying. Please note the size of your finished quilt on the Entry Form. Tied quilts are welcomed, as are knit or crochet blankets. Handcrafted items of all types gratefully accepted.

Bring any quilt(s) to the store, you would like to donate to this cause, by July 31st, and Creekside Quilting will mail all quilts to the challenge on August 1st. It doesn't have to be a new quilt, go to your UFO's and finish one or two up and bring to the store. To mail in your own quilt, click HERE for an entry form and mailing instructions