Skip Navigation
Website Accessibility
Creekside Quilting Newsletter 06/19/2018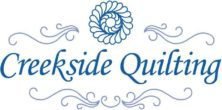 We're so glad you're here!
Lost and Found
Last week, a quilt top and an insulated coffee container was left at the store. I'm sure someone is worried sick with what happened to their quilt top. If you can describe it, please call us at (515)276-1977 to claim.

What's New @ Creekside

We received this beautiful Christmas fabric in last week. It's called White Christmas and it is absolutely gorgeous!



We now have the Langer Quilt Designs pattern in the store to make this quilt using the Patrick Lose Black and White Pinwheel. It's fun and easy to put together.


Upcoming Classes and Events
Applique Sew-In Group is still on for the 20th and is from 10-4
Learn to Bind Your Quilt is the 23rd for $25
FAC UFO's on Friday the 29th is still open and is $10
If you are interested in doing the fall 12 Week Block Challenge, I need to have you sign up and pay by June 30th. The pattern in $40 and if you want the kit too, it's $220 altogether.

Beginning Garment Making is a 3 part class starting on July 1st. Tracy Feldmann is an amazing sewer and makes all of her own clothes! If you have ever thought about constructing clothing, this is the class for you! She will guide you through each and every detail of developing a pattern to fit your body type to constructing clothing into something that you will want to wear!

Prima Diva Wallet is a class on July 21st that Karen Macon will be offering. More details to come.
Mark your calendars for Patrick Lose Meet and Greet on August 7th from 4-7pm.
Descriptions of these classes and events can be found on our website www.creeksidequiltingiowa.com
Pfaff
We have a Pfaff educator coming to the store on July 19th from 1-4 to do a make and take on our new Performance Icon's. She is bringing in 11 Performance Icon's for us to use. The cost is $10 to cover supplies. Please sign up by July 1st so we can get the Icon's ordered for the workshop. I'm very excited for this opportunity!
Classroom Quilts
You have a few more days to visit our classroom and see the beautiful Farm Girl Vintage Quilts. Each of them are so gorgeous…please stop in anytime and take a look!
July is patriotic quilts and I'd love to have you drop yours off for us to hang in the classroom and put it on display!
August is Patrick Lose quilts.
September and November are still open. If you would like to have your own quilt show, please sign up with me to reserve the classroom. This is a great opportunity to share your quilts with other quilters. They do not have to be award winning quilts, but they can be. I know a lot of our customers "show and tell" their quilts at guild meetings, but not everyone gets to see them…
October is fall/Halloween

December is Holiday Theme

Shop Hoppers

Thank you to all the wonderful people who are doing the All Iowa Shop Hop! We still have some of the Iowa fabrics left. For the Central Iowa Region Movie Star Pattern, we ran out of two bolts of fabric within the first two days. We brought out a third bolt of fabric and completed giving out 1/4 yd. cuts on Thursday morning. I then brought out some fat quarters and we still have a few left. We will continue to honor your Movie Star Pattern, in some way, to the best of our ability through the end of the month. I appreciate so much each of you for stopping in and saying "hello"! I love the All Iowa Shop Hop event! It amazes me how many people travel from all over the state and some of you we only get to see once a year! Thank you for your loyalty! Carry on with your hopping!
Coupon
This week's coupon is 15% off all needles. Limit to 2 packages of needles. Coupon good June 19-June 25th and you must show the coupon at time of purchase.


Have a wonderful week! Look forward to seeing you in the store! Karen Steggerda