Skip Navigation
Website Accessibility
Creekside Quilting Newsletter 07/03/2018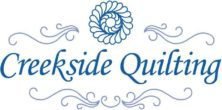 We're So Glad You Are Here!
Where do I start with the THANK YOU's? I am overwhelmed by all the people who have called, or come in, and checked on us and on how the store is doing with the flood waters all around us! Thank you! Thank you! Thank you for all of the positive thoughts and prayers....they are so greatly appreciated!

Late Saturday night, my family and Connie came in to the store and helped move everything up, including sewing machines, fabric, and computer systems! On Sunday morning, we came back and were thankful to see that the creek water had risen high enough to affect us. It did rise to within 6 feet of the parking lot curb, but did not go over! We were one of the blessed strip malls along Swanson Blvd, unfortunately, others got hit hard. Our thoughts and prayers go out to every one effected by the recent flooding. So much destruction in such a little time frame!
What's New @ Creekside Quilting


Well, it's July, and as someone just told me, it's less than 6 months to Christmas! YIKES! Is there ever enough time to get all the projects done and all the quilts made? So, we better get started!
If you have little one's on your Christmas list, this cute Goldie Locks and the Three Bears panel is a fun project to make. Little one's will love using the props to retell the story over and over again! Maybe you have an elementary teacher on your Christmas list, they might like adding this to their classroom reading area.
And to go with the Goldie Locks and Three Bears, we have these darling little girl suitcases, that they can use for storage of doll clothes and make-believe items


W
e also received in these cute Christmas Tins.

Thinking about baking for the holidays?

These cute tins will store your Christmas goodies, while making a festive presentation in the "gift wrapping".

Three different sizes, one for cookies, one for nut mixes, and one for fudge…YUM!

I'm drooling already! Please don't forget to bring in a sample or two to us!

Last week we received in this cute pattern from Northern Quilts called Christmas Window.
The fabric line came in also, to make the pattern as in on the cover.
It's cute and a little different than the traditional Christmas.

So let's end our Christmas List with this more traditional holiday panel.

Barb did a great job making the sample for our store, and the pattern directions are included in the purchase of the panel.

Upcoming Classes and Events
Sunday, July 1st we started our three week garment making class. This session we are working on pants, and the next session will be a top. More information to follow on the top class.
Bagels and Stitches 10am-noon Monday, July 9th
Wool Club noon-4pm Tuesday, July 10th
Decorative Hand Embroidery Class 10am-noon Thursday, July 12th

Applique Sew-In Group 10am-4pm Wednesday, July18th

Pfaff Creative Icon 1/2 Day Workshop 1pm-4pm Thursday, July 19th

Diva Frame Wallet Class 10:30am-4pm Saturday, July 21st
UFO"s Friday Afternoon Club 1pm-4pm Friday, July 27th
I am really excited to start our UFO on Friday Afternoon Club. We started last Friday in June and will continue to meet the last Friday of every month for a full year. Here is how it goes: When you register to join our group, you pay $10. Then on the last Friday afternoon of the month, come and sew on any UFO projects that you have. At each meeting we will set a goal to accomplish within the next month. When the next month arrives, if you have met your goal, you get a ticket to win prizes at the end of our year, (which will be May 2019). If you did not meet your goal, you pay $5, which will be used to purchase our prizes at the end of the year. A couple of questions that have come up, that I should clarify are:
What if I have to miss a month or two? No problem! Just let a friend know, or me, and send us a picture of your accomplished goal and you will not have to pay the $5 for unfinished goals you set.
Can I start this fall? Yes! We will be taking new members for awhile to get the club up and running. The price to join the club will remain at $10.
I don't know about you, but I have a lot of UFO's and am really looking forward to this Club! I truly hope you will consider joining! So many projects....so little time!


Mark your calendars for Patrick Lose Meet and Greet on August 7th from 4-7pm.
Please check out our website www.creeksidequiltingiowa.com for upcoming classes and events.

Pfaff

Christine Harlan from Pfaff will be teaching us a fun project on the Pfaff Creative Icon Embroidery Machine. Please sign up and join us for this fun make and take afternoon! Thursday, July 19 starting at 1pm.
Coupon
Christmas is in the air so let's start off the month of July with 15% off anything Christmas (includes items mentioned in this newsletter)! You must show us this coupon at time of cutting fabric or paying. Coupon good 07/03/2018-07/09/2018.
We will be Closed on the 4th of July. Have a wonderful holiday with family and friends! Karen Steggerda