Creekside Quilting Newsletter 08/07/2018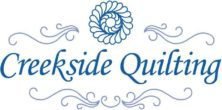 A friendly welcome to all our friends traveling to Des Moines for the Iowa State Fair. Whether you submitted an article in the fair for judging or not, we are all blue ribbon winners! We are looking forward to seeing you the next two weeks!
Upcoming Classes and Events
Patrick Lose Meet and Greet is August 7th from 4-7 pm.
Come meet fabric and pattern designer Patrick Lose! Patrick is a Des Moines native, graduating from Dowling High School. He is known around the world for his beautiful fabrics, his timeless pattern designs, and website classes! We have the honor of hosting him while he is in Des Moines, and would love for you to join us!

Thank you to everyone who has brought a quilt in to decorate our classroom for this event! The classroom looks festive!

We are going to have 2 give-away's of Patrick's new line of BoHo Happy, special discount on his fabrics and patterns in stock, and of course, there will be refreshments for your enjoyment. Come meet Patrick Lose and join us for a fun filled evening! No registration is needed.


Then on Sunday, August 12th, I will be teaching a class in Patrick Lose's classroom at the Iowa State Fair. We are making this cute pin cushion, that has a front pocket for storing scissors, rulers, clips, etc. Here is the link to Patrick's classes while at the fair. If you find a class you would like to register for, just click on the box and a page will open up that shows a picture and description of what is being offered, the cost, and the option to register for the class.
http://www.patricklose.com/module/events.htm?month=8&year=2018https://bit.ly/2uKOcar


Beginning Garment Making Bondi Top
This class has been moved to Sunday August 26th from 1-4 pm. Tracy is an excellent teacher and we learned a lot from her in her 1st Beginning Garment Making Class. This top is a great first project for anyone thinking about sewing their own clothing. If you do not like the idea of short sleeves, Tracy will help you design the top to add length to the sleeve.



Descriptions of more upcoming classes and events can be found on our website www.creeksidequiltingiowa.com

What's New At Creekside Quilting


This Marcus fabric line by designer Laura Berringer came in last month. I like the brilliance of color that is available in each cut of fabric. It's a more unique group!

Coupon
Show this coupon, at time of purchase, and receive 15% off an in-stock bag of batting. Limit two bags per customer.

Hope to see you tonight for our Patrick Lose event!
Karen Steggerda