Creekside Quilting Newsletter 08/28/2018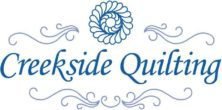 We will be closed on Monday, September 3rd in observance of Labor Day!

During The 36th annual Quilt Show put on by the Des Moines Area Quilters Guild, we will be opened extended hours....Thursday, September 27 and Friday, September 28th we will be open 9am-7pm and Saturday, September 29th from 9am-6pm. For more information about the Quilt Show, go to dmaqg.org or follow Des Moines Area Quilters Guild on Facebook.
Spend a Day with Stephanie Brandenburg and Frond Design Instructors!
On Tuesday, October 23rd, we are going to have Frond Design Instructors and Stephanie Brandenburg in our store! We are so excited for this event! Stephanie is a native Iowan who has been designing hand generated designs for fabrics, quilts, garments, and original house decor for several years! Please visit Her Story web page to learn more about Stephanie Brandenburg and Frond Designs.
We will kick off the day with a Fabric Painting Class from 10-noon.
Then an Art Weave Class from 1-3 will highlight our afternoon.
Stephanie Brandenburg will do a lecture, trunk show, and meet and great from 3:30-6 pm!
What a fun day this is going to be! You can sign up online or at the store.
Classes
We still have plenty of room for people to join us in the UFO Friday Afternoon Club that meets this Friday, August 31st from 1-4 pm. If you have any UFO's, this club is for you! $10 for the whole year, wine and cheese every month, and prizes at the end of the year! Great motivational way to get the UFO's that are sitting on your sewing table, completed!

The Beginning Garment Making: Bondi Top Class has been re-scheduled for Sunday, September 9th from 1-4. This class is taught by Tracy Feldmann, an officer on the Des Moines Sewing Guild Board and an Iowa State Fair Blue ribbon winner on a wide variety of items she placed in the Iowa State Fair. Tracy is a beautiful seamstress and an excellent teacher, filled with lots of knowledge and tidbits of suggestions to take a normal pattern and turn it into something amazing!
We will be offering a series of Beginning Quilt Making Classes, starting with:
Accurate Rotary Cutting on Thursday, September 6th in the evening 6-8 pm.

Accurate Rotary Cutting is the recommended for the Beginning Quilt Making Classes Session 1 being offered on Thursday, September 13th and Beginning Quilt Making Session 2 being offered on Thursday, September 27th, both 6-8 pm.

Binding Basics will complete the series, which will be offered on Thursday, October 18th from 6-8 pm.

Pat is another award winning quilter and her quilts are amazing. She is an excellent teacher and shares all of her knowledge with best practices, making her classes very beneficial. This series is a great way to get started with quilting!

Other upcoming classes include:
Foundation Paper Piecing taught by Sharon Meisenheimer on Tuesday, October 2nd. This class is almost full, so if you are thinking about it, act now before it becomes too late.

The Starr Pizzazz Table Runner taught by Rosella Hanson will be taught on Saturday, October 13 starting right at 10 am. Rosella is a certified trainer with the Tucker Trimmer and this class focuses on how to use the Tucker Trimmer Ruler. The quilt table runner is beautiful, and by the end of the day, you should have a new table runner top, just in time for Thanksgiving! Pattern, ruler, and kit can be purchased at the store.



Pfaff Sewing Machine Close-out Special Pricing



The following machines are being closed out by Pfaff in order to make room for newer models. These prices are incredible!

Pfaff Performance 5.2-$1999
Pfaff Quilt Expression 4.2-$1799
Pfaff Expression 3.5-$1499
Pfaff Coverlock 4.0-$1499
Pfaff Quilt Ambition 2.0-$999
Pfaff Ambition Essential-$599

So whether you are buying a new machine, or one being clearanced out, the Pfaff sewing machine will last you for years. Pfaff will still honor all warranties on a close-out-priced machine. At these prices, now is a great time to buy a new sewing machine! If we don't have one in stock, we are more than happy to order the machine for you.


Coupon
This weeks coupon is 10% off one fabric or wool kit we have in stock in the store. This coupon is good 08/28/2018-09/02/2018.

Just a reminder, we will be closed on Labor Day! Looking forward to seeing everyone in the store...remember to bring in your show and tell! I love seeing your inspirations! Have a fun and safe weekend! Happy Sewing! karen steggerda