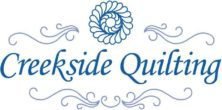 Here at Creekside Quilting, we are gearing up for the Des Moines Area Quilter's Guild Show, which will be held this week at the 4H Building on the Iowa State Fairgrounds. The times are Thursday and Friday 9-6 and Saturday 9-5! There will be more than 600 quilts on display for your viewing pleasure! I personally can not wait to see all the beautiful piecework! If you only have time to do one fun activity this weekend, please put this on your schedule! It will be a show you will not want to miss! For more information, you can follow Des Moines Area Quilter's Guild on Facebook or go to their website dmaqg.org
Pfaff Specialist
We have a new Pfaff Sewing Machine Specialist and she is here to answer questions about your Pfaff Sewing Machines, to sit down and do some lessons, and to teach some workshops! I will add her to the monthly calendar of events, so you can set up an appointment to sit down with her on the days she is planning to be in the store. Martha Boese is our new specialist, and she is absolutely wonderful! Here is a little bio on Martha:
"I learned to sew as a girl and made most of my own clothes through high school. I didn't really begin to LOVE sewing until I started quilting about 5 years. Since then I have made wedding gifts and baby quilts for family and been able to give away special quilts to special friends. My favorite part of quilting is putting my quilt together and watching it transform into something that is unique and beautiful.
I still have my mom's PFAFF that is about 35 years old. It has never had to be serviced and sews like a dream. I "graduated" to the Performance 5.0 when I wanted to be able to free motion quilts on my own. I love free motion and continue to learn new things and try different techniques. Quilting has become my "happy place!""
New Items at Creekside
We have received our first shipment of Organic Yarns from Blue Sky Fibers out of Minnesota. We received a variety of colors in Skinny Organic Yarns, Organic Cottons, and Worsted Wool. The yarns are so soft and very smooth to knit or crochet with!
Next best seller this past week, was our shipment of Fireside! This fabric is so soft and makes a cozy backing for your quilts. I'd love this winter to cuddle up under a quilt using the Fireside fabric. Patty made this quilt that is on display, and we have an order out for the pattern and I am trying to get in more of the batik material. If you are interested in ordering either, please just let us know and we will put you name on a special order form and call you when we get the items.
Speaking of batiks, this line of blenders from Batik Textiles came in last week. Not very often do we see solids in batiks, but this fabric line makes a gorgeous addition to our batik area.
This is our second shipment of these cute totes from Moda. You can purchase the tote with or with out the insert. There are several uses for these totes and they would make a nice Christmas present for your favorite quilter!
Lastly, we received in a new size of Quilter's Dream Cotton. The Throw size is 60"x60".
Classes, Events, and Retreats!
Yep, that's right! Creekside is hosting a retreat! I am just thrilled at how many calls we have received over the past week with interest in "more details" about our retreat! Thank you! This is so encouraging!
Retreat dates: November 30th 5-9pm through December 1st 8am-4pm. The cost of the retreat will be $25 per person and will cover Friday night dinner, Saturday morning continental breakfast, and then a light lunch. We will also have two door prizes and a couple of fun give aways! If you are coming in from out of town, I will see if I can get a discount on a close hotel room for Friday night, just call or email me with the request. Can't make a promise, but if this is successful, maybe I can work out some type of a special room rate.
We will provide: classroom space, electrical outlets, irons, ironing boards, cutting mats, ruler, and rotary cutter, all paper products for food and utensils.
Please bring with you: your projects, sewing machine and sewing accessories, any special rulers, rotary cutters, mats, irons and any other specialty items needed to complete your project. Drinks with a lid and any snacks you may need to keep you sewing!
Because this is an event and not a class, you will need to call the store or email me if you want to pay and sign up for the retreat.
Spend a Day with Stephanie Brandenburg and Frond Design Instructors!
On Tuesday, October 23rd, we are going to have Frond Design Instructors and Stephanie Brandenburg in our store! We are so excited for this event! Stephanie is a native Iowan who has been designing hand generated designs for fabrics, quilts, garments, and original house decor for several years! Please visit Her Story web page to learn more about Stephanie Brandenburg and Frond Designs.

We will kick off the day with a Fabric Painting Class from 10-noon.

Then an Art Weave Class from 1-3 will highlight our afternoon.
Stephanie Brandenburg will do a lecture, trunk show, and meet and great from 3:30-6 pm!

All class fees go straight to paying the incoming instructor! Kits for the class are additional! I'm happy to say, the classes are beginning to fill up!

What a fun day this is going to be! You can sign up online or at the store.
We still have plenty of room for people to join us in the UFO Friday Afternoon Club that meets Friday, September 28th from 1-4 pm. If you have any UFO's, this club is for you! $10 for the whole year, snacks, wine and cheese every month, and prizes at the end of the year! Great motivational way to get the UFO's that are sitting on your sewing table, completed!
October Upcoming Classes Include:
Ever wanted to learn how to use the Tucker Trimmer Ruler by a certified instructor? Ever heard of Tucker University and curious about what that is all about? Well, we are honored to have Rosella Hanson teaching The Starr Pizzazz Table Runner on Saturday, October 13 starting at 10 am! Rosella is a certified trainer with the Tucker Trimmer and this class focuses on how to use the Tucker Trimmer Ruler. The quilt table runner is beautiful, and by the end of the class, you should have a new table runner top, just in time for Thanksgiving! Pattern, ruler, and kit can be purchased at the store.

Scissor and Knife Sharpening will be available at the store on Friday, October 26th from 10:30 am-3:30 pm. Just in time for the holidays! Plan to bring your scissors and knives to the store on October 26th.


November Upcoming Classes Include:
A Kids class on Beginning Quilting November 2nd and 9th from 4:30-6pm both days. Come join Janice for our 1st ever Beginning Kids Class! We will learn to make a set of quilted placemats just in time for the holiday table setting.
This class will be for children ages 10 and up.Each child should complete 2 quilted placemats 12 ½ X 18 ½.
The cost for this fun class will be $35.00, which covers both sessions and $9.50 for the kit.
Kits for this class are available, which are sold separately, and will include the pattern.

Intro to English Paper Piecing on November 6th starting at 1:30pm
Beyond Squares and Rectangles November 8th starting at 6pm
Easy Intentional Improv November 10th starting at 10:30am
Checkout our website www.creeksidequiltingiowa.com for more information
All class fees go straight to paying the incoming instructor!
Coupon
As a proud sponsor of the Des Moines Area Quilter's Guild Show, we have coupons in the cafeteria area for 20% off any full yard cuts of fabric. Please bring the coupon with you to the store and hand us the coupon at time of fabric cutting. Not able to get to the Quilt Show? Just mention this coupon at the time of cutting this week 09/25/2018-10/01/2018 tp receive 20% off any full yard cuts of fabric.