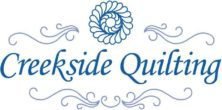 A year ago, the Dodgers lost the World Series, and my daughter Anna said, "No worries, we will be back next year!" So to bring the Dodger's "luck" this year, Anna thought it would be "important" to fly to LA and cheer on the Dodgers on their opening day of the season. Yes, all the way out to LA on Easter weekend to watch, with her brother, the Dodgers play their season opener.


All season, Anna said, "they've got this"....and guess what? She was right! Anna's boyfriend and family took her to Boston yesterday for tonight's game! Did I mention that her boyfriend and family are BIG Red Sox fan's? They are having a great time and what an amazing adventure she is having cheering on the Dodgers this season!

Good luck to both World Series teams and to all the fans who will be glued to their TV's the next week! We have a lot of new things to share this week, so we better get started!
What's New at Creekside Quilting?
Our BIG news is that we are providing the kits for the Meredith Publishing of Quilts and More Winter Issue! The project is called the Scrap Lab Design Challenge. Kits are available on line at www.creeksidequiltingiowa.com or in the store. This is a sneak peak of the potential quilts you can make using the 7 fat quarters and 2 yards of fabric! Please check out allpeoplequilt.com for more information. www.allpeoplequilt.com/winter Used with permission from Quilts and More

™
magazine. ©2018 Meredith Corporation. "Designed by Jayne Willis, Jeni Baker, and Sherri McConnell. Used with permission from Quilts and More™ magazine. All Rights Reserved."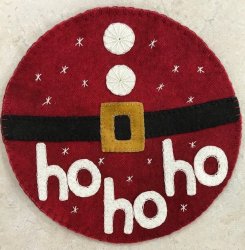 Marcia has a new wool project just in time for the holidays! The pattern is called Ho, Ho, Ho. We have the pattern ready for sale, and if you would like a kit, Patty will create kits by the end of the week!


Karen M. created this cute Crafty Baskets pattern for holding your yarn. It also has pockets on the inside to hold your knitting needles and pattern. Karen suggested if you make the pattern, you may want to make the handles a little longer. She used our new line of Laura Heine fabrics! Love it!


Karen M. has been busy as she also created this cute cosmetic bag! Cosmetic Clutches is the pattern. Are you traveling over the holiday's? Want a fun little project to make for a friend? Check out her sample and the pattern...it might just be what you are looking for!


Did you get your starch spray mister at the Des Moines Quilt Show? They were a hot commodity! If you didn't, but would still like to have one, we got these in yesterday! LOL! Personally, I'm not sure what to think of them...I laugh every time I look at them! Guess that will make sewing all the more fun! :)


We received three new bolts of wide backs! Fireside wide backs remain to be very popular, but these three add a nice dimension to our selection.


We received this rainbow of color in from Paintbrush Designs! These solids are gorgeous and will be great for your backs, boarders, or blenders!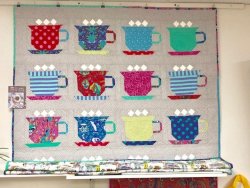 Lastly, (whew!) Debby, a newer staff member at Creekside, has created this gorgeous quilt to promote the Tilda Hot Chocolate Sewing Book and using Tula and Kaffe fabrics. Just FYI, Debby is also teaching our Oval Jelly Roll Rug class on November 16th. She has also been on the @threadedquilting Instagram account where Lori Holt personally commented on Debby's Farm Girl Vintage quilt! (Check it out...it's another gorgeous quilt) You are in good hands should you decide to take her Oval Jelly Roll Class!


PFAFF NEWS!


We have some exciting news when it comes to Pfaff Sewing Machines!
First, the cleaning with Des Moines Sewing Machines is going well! If you take your machine over there and tell them you are with Creekside Quilting, they will honor the $95 cleaning BUT you also need the form from Creekside Quilting. I am more than happy to make a weekly delivery of machines on Monday or Tuesday to Des Moines Sewing Machines and then they will contact you when your machine is ready for pick up and you may pick up from them and pay. When I drop the machines off, I am receiving a call tag, so you may want to stop at the store and pick up the call tag before going over to Des Moines Sewing Machines for pick up of your machine. The address is 77 College and is north of 235 on 2nd Ave. Larry is the owner and he is great to work with!
Next, we have a technician coming to our store on Wednesday, November 21st. Pat Heinrich's is a sewing machine technician and is willing to do an in store cleaning. She figures she can do 6 machines on the 21st, so it will be a first come first serve basis. If she receives in more than 6 machines, she will take them back to her store in Northern Iowa and then when she has the machines ready, Pat and I will meet halfway for a pick up. Pat also has serviced older and vintage Pfaff machines, but those machines, will need to go back to Carroll, Iowa for servicing. Cost for cleaning will also be $95.
All Pfaff machine repairs, will need to be boxed up and sent to Pfaff in Tennessee. Once again, if you know anyone who would be interested, talented, and willing to be certified in sewing machine repair, please let me know. Otherwise, I am trying to meet our needs with cleaning services. Hope this is helping in some way!
Classroom Spotlight!


Last week, I told you about our classroom spotlight, but I forgot to post the pictures! Gayle Breneman is showcasing her embroidered quilts in our classroom! The embroidery is all hand done, and they are gorgeous! We also have Cheryl Meester showcasing her festive fall quilt, and I love it! Thank you to both ladies for sharing their talents with us! This week, I am remembering to post the pictures and here you go...be ready to be amazed! The embroidery is all done by hand...wow!

We have openings for November and December...call me if you are interested in showcasing your quilts!
Upcoming Classes and Events!

Because this newsletter is getting very long, I am only going to highlight the upcoming month and newer classes! Please check out our website at www.creeksidequiltingiowa.com for more information and a calendar of events.