Creekside Quilting Newsletter 10/30/2018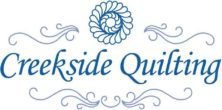 Happy Halloween Everyone! Traveling across Iowa over the weekend, the farmers were out harvesting, the leaves were turning beautiful reds and oranges, the pumpkin patches were open and busy. With crisp mornings and sunny days, I love this time of year!
Unfortunately, the next few weeks are going to just fly by us all, and the holidays will be upon us...along with snow! So with that, I want you all to know, that if Des Moines Public Schools are closed for the day, we will be closed until it is safe for employees to travel, which may or may not be a full day. If Des Moines Public Schools close early due to weather, we may or may not close early, depending on the warning associated with the weather. So it sums up to, if you have a question as to whether we are open, just give us a call. We will try to follow Des Moines Public Schools and observations of the weather to make final decisions that is safe for our customers and our employees.
What's New at Creekside Quilting?

We recieved the Laurie Holt's complete fabric line to go with this amazing book/pattern, Vintage Christmas! We are so excited the book finally arrived! We already have put in a second order for a few of the fabrics and more books!
This Henry Glass production, My Favorite Trucks fabric line and panel, came in last week. A fun juvenile print.
When Stephanie Brandenburg was here for her Art Weave and Fabric Painting Classes, she brought with her three new fabrics to add to our collection! Bright, beautiful and classics!
Speaking of Stephanie's classes last week, everyone had a wonderful time and everyone said they learned a lot! We are thankful Stephanie was here to lead the classes and I have invited her back for 2019.

We also received in a few new rulers from Select Rulers. These rulers do not move when you are cutting! It's totally amazing...but they do live up to the manufacture's promise! Our new sizes include:
18 x 18


November Upcoming Classes Include:
November 2nd and 9th
: A Kids class on Beginning Quilting from 4:30-6pm both days. Come join Janice for our Beginning Kids Quilting Class! Kids will learn to make a set of quilted placemats just in time for the holiday table setting.
This class will be for children ages 10 and up.Each child should complete 2 quilted placemats 12 ½ X 18 ½.
The cost for this fun class will be $30.00, which covers both sessions and $9.50 for the kit.
Kits for this class are available, which are sold separately, and will include the pattern.
November 6th: Sharon Meisenheimer is teaching Intro to English Paper Piecing starting at 1:30pm. Hexies are popping up everywhere in sizes from ¼ inch up. Learn the easy technique of English paper piecing and join the fun of this technique. This great take along technique will help you make accurate grandmother's flower garden blocks and a whole lot more.
November 8th: Pat is teaching Beyond Squares and Rectangles starting at 6pm. Learn to make strip sets, half square triangles, quarter -square triangles, square in a square, and if time permits, flying geese.
With these piecing skills you will be able to make most quilt blocks! A great way to expand your pattern choices.
November 8th:
All you need is 3 fat quarters to make this project! We have a Pfaff educational expert, Carrie Philpott, coming into the store to do a Madeira Applique Embroidery Class on the Performance Icon. The Madeira Applique Embroidery class has been a tradition; staple of the Heirloom sewing arena. In this class, we will break away from the tradition and show you how to apply this age old technique into Quilting and Home Decorating. This beautiful - AND FUN - Madeira Applique Placemat can be made to coordinate to all Home Decors and Holidays. Samples and illustrations will inspire you to add this technique into creating family heirloom treasures and gifts.This will be a fun quilt top to make and learn all kinds of decorative stitches on the Performance Icon. I have ordered 5 Performance Icon's to be delivered to the store so we can do the project! The class is FREE and you can bring your own fat quarters...just come and have fun playing and learning!
November 10th: Easy Intentional Improv ALMOST FULL with award winning Eva Marie Evans starting at 10:30am. Have you ever thought improv piecing looked like fun, but have trouble letting go of patterns and precision? Join us to make an improv block that can be turned into a pillow or joined with other blocks to make a larger quilt. Sample on display in store. Using a familiar intentional piecing technique, we will embrace improv and learn about the importance of color and value in composing our blocks. Improv piecing is the ultimate fabric play. Come have fun with us!

November 12th is Bagels and Stitches is opening sewing in the classroom starting at 10 am

November 13th is Wool Club starts at noon

NEW! November 16: Sit and Knit Club starting on Friday, November 16th at 1pm. Come join other knitters for a monthly sit and knit club. This is a new club and open to anyone who likes to knit, and would like to knit with other knitters! It's a time to share ideas, get suggestions, develop skills, and relax! The club is free, the classroom is reserved for you from 1-4, so grab a friend, your project(s), and take an afternoon to sit and knit.
November 17th is
Bring your lunch and have a great day with Debby making an Oval Jelly Roll Rug, just in time for the holidays! Let's make grandma's run with a new flair of toady's designs. Choose your favorite jelly roll, or buy a kit from Creekside Quilting, and bring your sewing machine for a fun day of sewing! So addictive, you will not be able to make just one! Cost of class includes required pattern. If you already have the pattern and just want the class, please call the store to register.

NEW! November 19th is English Paper Piecing Club! Do you enjoy English Paper Piecing ? Do you have projects you need to work on, but don't? Have you been thinking about starting a project with English Paper Piecing? Come to Creekside on the third Monday of the month and enjoy the friendship, fellowship and fun of others also working on English Paper Piecing Projects. We will have show and tell of projects and progress while we stitch, stitch stitch. It's all free. Sharon Meisenheimer will be our guide while we learn from each other and enjoy this age old process.


November 21st is Applique Sew In starting at 10 am


November 23rd and November 24th is our Big Black Friday Weekend Sale called "Don't Want to Count It and Don't Want to Move It!" We have our yearly store inventory count in December and I don't want to count it! And we are knocking out a wall to expand in 2019, and I don't want to move the fabric to prepare for the renovation....so that leaves me with a big weekend sale! Be prepared and more details to come.


November 30th is UFO Friday Afternoon Club....one more month to join! We each say we are getting our projects accomplished by having set goals we are accountable for. Come sign up and join us!


November 30th and December 1st is our Holiday Retreat which is full and on a waiting list.

What's Happening in December?


NEW! December 2nd is our Beginning Garment Making Class with another award winning sewer, Tracy Fieldmann!
The Schoolhouse Tunic is a comfortable, empire waist top with pleats that can be made in your choice of shirt or tunic length. The pattern is a blank slate for creative embellishments such as zippers, eyelets and sleeve tabs.
Topics and techniques will include:
How to measure and select size
Pattern grading between multiple size
Sewing pleats, facings, and hem
Setting in sleeves
Using bias binding to finish a neckline
Cost of class includes required pattern. If you already have the pattern and just want the class, please call the store to register.



NEW! December 3rd we will be closed all day for inventory.
December: I am totally excited about is the Kimberbell Machine Embroidery Club. Our first machine applique project will be revealed on December 1st. Creekside Quilting is taking an exclusive dealer's project, making a sample, kitting the sample for purchase, and putting the sample on a flashdrive. You must purchase a Creekside Quilting flashdrive for $30 for one year of uploads. then every month we will release our Kimberbell design and you may either chose to upload the design on your purchased Creekside Quilting flashdrive or you can pass until another month. Each upload for the year is free. You will also get first opportunity to buy the kit each month to go with the Kimberbell project.
December 12th:
All you machine embroidery fans, on Wednesday, December 12th we are going to make this cute Kimberbell shoe from the Kimberbell Sweet Feet CD. 5:30-7:30 pm. Bring your embroidery machines to the store and let's stitch up this cute holiday shoe! $40 for the class and kit
All class fees go straight to the instructor. Due to the time each teacher puts into preparing for a class, no refunds will be made for canceling a class within one week of the class date. In the same respect, should we need to cancel a class due to not meeting the minimum amount of students, we will cancel the class one week prior class date and offer a full refund or a class credit toward another class.
Plan Ahead 2019
Sleigh Bells BOM 2019
Patty is putting together a BOM for Creekside using the Sleigh Bells book/pattern. Sleigh Bells is a folk-art quilt designed by Jan Patek. The quilt is a combination of pieced and appliquéd blocks, to be completed in 11 months. Sign-up will be between November 1 and December 15 and kit pick-up will begin in January. The cost will be as follows:
for mail orders, shipping fee will be added each month

Sleigh Bells BOM is non-cancelable, non-refundable and your credit card will be kept on file for monthly billing of each kit, OR you may pay for the year upfront.

A discount will be given in December 2019 and January 2020 for borders, binding, and backing in order to finish your quilt.


Eighth Simple Whatnots Miniature Quilts Club
Kim Diehl and Henry Glass Fabrics
Join Barb each month in 2019 in sewing the Eighth Simple Whatnots Miniature Quilts Club and make a miniature quilt each month using Kim Diehl's new fabric collection Wit & Wisdom. Kim has created eight new simple and beautiful miniature quilt patterns exclusively for this club. Many of the patterns have fun added bonuses such as fun recipes, an extra project or tips and tricks. All eight miniature quilts are quick and easy to complete using basic quilting skills. These little miniatures are perfect for decorative wall hangings and table toppers!
Each month you will receive a pattern and fabric to complete a miniature quilt. Batting and backing fabric will not be included each month, but can be purchased each month at a discounted price.
This program is from January 2019 to August 2019.

Price is $37.98 per month plus shipping
The eight miniature projects include:
Smack Dab in the Middle = finished size is 32 1/2 inches by 32 1/2 inches
Apple Baskets = finished size is 16 1/2 inches by 16 1/2 inches
Hen House Stars = finished size is 16 1/2 inches by 24 1/2 inches
Frugal Farm Wife = finished size is 18 1/2 inches by 24 1/2 inches
Charm School = finished size is 21 1/2 inches by 27 1/2 inches
Lickety Split = finished size is 18 1/2 inches by 24 1/2 inches
Wind Spinner = finished size is 20 1/2 inches by 20 1/2 inches
Potting Shed = finished size is 28 1/2 inches by 28 1/2 inches
Eight Simple Whatnots Miniature Quilts Club is non-cancelable, non-refundable and your credit card will be kept on file for monthly billing of each kit OR you may pay for the eight months upfront.
Sign-up will begin November 1st-December 15th . Expected fabric delivery date is January 2019.
Checkout our website www.creeksidequiltingiowa.com for more information
This week we will take 15% off all rulers in stock. Limit to one ruler per customer.

Looks like you have today and tomorrow to guess on which date was my birthday in October! My birthday is one day between October 23rd and October 31st. I would like to thank each of you for your continued support of Creekside Quilting, so let's celebrate and have some fun! I am giving away four presents on my birthday. Let's play a guessing game with the of date of my birthday (remember, I have already given you a clue as to it is sometime before the end of the month). Just email me at sienagraceproductions@gmail.com, or reply to my Facebook post, or come into the store and put your guess in my birthday basket as to the date of my birthday! At the end of the month, we will go through all entries, pull out the right date guesses, and then pick a first place winner to receive 30% off one item of their choosing. (Limited to 3 yards of one fabric and all Pfaff products and furniture is excluded). Second winner will receive a free book or pattern of their choosing. Third winner will receive a free ruler of their choosing. Everyone else who played will receive 10 loyalty points on their account. It's my birthday and I can't think of a more fun way to celebrate than to say "thank you" and give something back to you!

Happy Sewing! Karen Steggerda