Creekside Quilting Newsletter 11/13/2018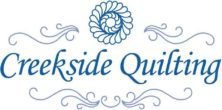 So at the store today, a customer asked me "if I was ready for Thanksgiving next week?" NEXT WEEK?? WHAT!?? Truly can't be can so....can it? Next week? I sure hope January and February fly by this fast! Unfortunately, we all know the answer to that one....UGH! Anyone have any favorite family recipes that want to share? If you email me the recipe at sienagraceproductions@gmail.com, I will copy and paste, and put them together, and try next week to link them to the newsletter. This week's newsletter is short and sweet, so let's get going with...


What's New @ Creekside Quilting?
This Ebony and Onyx line from Kim Diehl is first on our list!


So many people have asked for this pattern, Over the River and Through the Woods, after viewing the quilts in our classroom. So we ordered up a couple of patterns, and if they go over well, we can always order more! We also received in the Shape Flex 101 to use under your fabric to hide the "travel" lines of your thread!



This may be the last order we receive of Vintage Christmas! This pattern book by designer Lori Holt came in and went out just as fast. After our first order, the book was on back order of 3 weeks from all of our vendors who carried the book. We received in 6 more books today, and 2 are already gone. If you want one, please give us a call or order online.


Our classes this month have been a great success! Thank you so much for everyone who has participated in our classes! Here is our youngest class member, who proudly show's off her place mat! Lovely and a great job piecing and quilting!


Sharon's Foundation Paper Piecing was full AND
Eva Marie's Easy Intentional Improv class was full! Both classes were successful and everyone said they learned new techniques, loved sharing ideas, and had fun doing it!
(Eva Marie was recently interviewed, and article published, in the Clive/Urbandale sections of the Des Moines Register! Way to go Eva Marie!)

THANK YOU FOR SUPPORTING OUR INSTRUCTORS! They have a lot of talent they want to share with others, and it's awesome to see so many people taking advantage of the classes they are teaching! Class fees go straight to the instructor. Thank you for signing up for our classes!


Do you have a Pfaff sewing machine in need of cleaning and oil? We will have a Pfaff sewing machine technician in the store on November 21st to clean your sewing machines. Pat Heinrichs will be at the store from 8-4, and she already has a couple of cleaning spots filled! If you are interested, at least get your name in, even if you don't bring you machine to the store until Tuesday the 20th. Call us and we will reserve your spot.


November Upcoming Classes Include:
NEW! November 16: Sit and Knit Club starting on Friday, November 16th at 1pm. Erika will be leading the group! She is an amazing knitter, and we are excited she will be joining Creekside to lead this club! Come join other knitters for a monthly sit and knit club. This is a new club and open to anyone who likes to knit, and would like to knit with other knitters! It's a time to share ideas, get suggestions, develop skills, and relax! The club is free, the classroom is reserved for you from 1-4, so grab a friend, your project(s), and take an afternoon to sit and knit.

NEW! November 19th is English Paper Piecing Club! Do you enjoy English Paper Piecing ? Do you have projects you need to work on, but don't? Have you been thinking about starting a project with English Paper Piecing? Come to Creekside on the third Monday of the month and enjoy the friendship, fellowship and fun of others also working on English Paper Piecing Projects. We will have show and tell of projects and progress while we stitch, stitch stitch. It's all free. Sharon Meisenheimer will be our guide while we learn from each other and enjoy this age old process.

November 21st is Applique Sew In starting at 10 am

November 23rd and November 24th is our Big Black Friday Weekend Sale

November 30th is UFO Friday Afternoon Club....one more month to join! We each say we are getting our projects accomplished by having set goals we are accountable for. Come sign up and join us!

What's Happening in December?
December 1st: I am totally excited about is the Kimberbell Machine Embroidery Club. Our first machine applique project will be revealed on December 1st. Creekside Quilting is taking an exclusive dealer's project, making a sample, kitting the sample for purchase, and putting the sample on a flash drive. You must purchase a Creekside Quilting flash drive for $30 for one year of uploads. then every month we will release our Kimberbell design and you may either chose to upload the design on your purchased Creekside Quilting flash drive or you can pass until another month. Each upload for the year is free. You will also get first opportunity to buy the kit each month to go with the Kimberbell project. Should you happen to miss a month, no worries, we will store all the months on the computer and you may upload the design the following month!


NEW! December 2nd both Barb and I are planning to take this Beginning Garment Making Class with award winning sewer, Tracy Fieldmann! So if you come into the store some day and see us wearing twin tops...well, you will know why! :) come join us in the fun!

December 3rd we will be closed all day for inventory.


December 12th: All you machine embroidery fans, on Wednesday, December 12th we are going to make this cute Kimberbell shoe from the Kimberbell Sweet Feet CD. 5:30-7:30 pm. Bring your embroidery machines to the store and let's stitch up this cute holiday shoe! $40 for the class & kit
NEW! Creekside Quilting will be offering the Patrick Lose Monthly Mug Rug starting December 15, 2019! Anyone who wants to participate, will receive a Patrick Lose USB that will be used for 2018/2019 year in order to upload the Patrick Lose Mug Mats monthly designs. Each design has a step by step tutorial and is not embroidery machine specific. The registration cost is $49.99 per year, plus $10 for the Patrick Lose USB. We will have kits available each month for purchase to go along with the monthly designs. If you are interested, we could meet monthly to stitch the designs out together on the third Thursday afternoon. Please provide feedback if you are interested in this.

All class fees go straight to the instructor. Due to the time each teacher puts into preparing for a class, no refunds will be made for canceling a class within one week of the class date. In the same respect, should we need to cancel a class due to not meeting the minimum amount of students, we will cancel the class one week prior class date and offer a full refund or a class credit toward another class.



Plan Ahead 2019
Sleigh Bells BOM 2019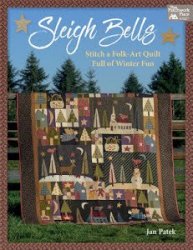 Patty has put together a BOM for Creekside using the Sleigh Bells book/pattern. Sleigh Bells is a folk-art quilt designed by Jan Patek. The quilt is a combination of pieced and appliquéd blocks, to be completed in 11 months. Sign-up will be between November 1 and December 15 and kit pick-up will begin in January. The cost will be as follows:
monthly kit fee: $10
NEW! Bundle the registration fee and 11 monthly kits at a discounted price of $125 and save $10 for the year!
for mail orders, shipping fee will be added each month

Sleigh Bells BOM is non-cancelable, non-refundable and your credit card will be kept in our POS credit card vault for an automatic monthly billing of each kit, OR you may pay for the year upfront.

A discount will be given in December 2019 and January 2020 for borders, binding, and backing in order to finish your quilt.


Eighth Simple Whatnots Miniature Quilts Club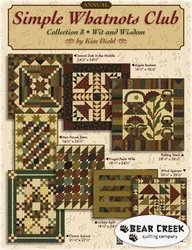 Kim Diehl and Henry Glass Fabrics
Join Barb each month in 2019 in sewing the Eighth Simple Whatnots Miniature Quilts Club and make a miniature quilt each month using Kim Diehl's new fabric collection Wit & Wisdom. Kim has created eight new simple and beautiful miniature quilt patterns exclusively for this club. Many of the patterns have fun added bonuses such as fun recipes, an extra project or tips and tricks. All eight miniature quilts are quick and easy to complete using basic quilting skills. These little miniatures are perfect for decorative wall hangings and table toppers!
Each month you will receive a pattern and fabric to complete a miniature quilt. Batting and backing fabric will not be included each month, but can be purchased each month at a discounted price.
This program is from January 2019 to August 2019.
NEW! Meet each month on the third Saturday of the month (10:30-11:30) to pick up your kit, get tips on the next months sewing project, and share in show in tell with completion of your projects!

NEW! Price is $38.99 per month plus shipping OR pay for the full 8 months upfront for 279.99 and save $32!
The eight miniature projects include:
Smack Dab in the Middle = finished size is 32 1/2 inches by 32 1/2 inches
Apple Baskets = finished size is 16 1/2 inches by 16 1/2 inches
Hen House Stars = finished size is 16 1/2 inches by 24 1/2 inches
Frugal Farm Wife = finished size is 18 1/2 inches by 24 1/2 inches
Charm School = finished size is 21 1/2 inches by 27 1/2 inches
Lickety Split = finished size is 18 1/2 inches by 24 1/2 inches
Wind Spinner = finished size is 20 1/2 inches by 20 1/2 inches
Potting Shed = finished size is 28 1/2 inches by 28 1/2 inches
NEW! Eight Simple Whatnots Miniature Quilts Club is non-cancelable, non-refundable and your credit card will be kept in our POS credit card vault for an automatic monthly billing of each kit OR you may pay for the eight months upfront.
Sign-up will begin November 1st-December 15th . Expected fabric delivery date is January 2019.


Checkout our website www.creeksidequiltingiowa.com for more information

In Conclusion...
A little chuckle to end our newsletter this week. Homerun (aka Homer) is my grand-puppy and he is the one on the left. Yes, he is as sweet and playful as he looks, but I wonder which one is Goldie? tee-hee-hee!


Thanks Stylin Paws (Waukee) for providing a safe and fun environment for my grand-puppy! Their store is 100% sound proof....which brings me to my next comment...

As many of you have experienced, our new neighbors are not a sound proof business. I have complained, commented, requested, etc to our leasing management company and the city of Clive. I do know that the leasing management company is working on trying to resolve the issue with the tenant, but so far, nothing has changed. What I am now suggesting, is if you would like to send an email to our leasing management company supporting Creekside Quilting in requesting a sound proof wall, or sound proofing somehow, between us and the dogie daycare next door....please help us out by sending an email to
Shannon Morton shannon@mortoncres.com
I hope that hearing this from my customers and staff, instead of just me, will help them realize it is not just me affected by the loud, continuous barking.
Thank you!

No coupon this week, in preparation for our sale on November 23rd and 24th.

Lastly, I want to let you know that we will be closing Wednesday, November 21st at 4 pm, will be closed on Thanksgiving, and then re-opening on Friday morning at 10 am.
Looking forward to seeing everyone in the store!
Happy Sewing!
karen steggerda