Creekside Quilting Newsletter 11/20/2018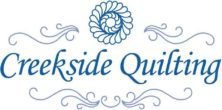 Happy Thanksgiving Everyone!!! For me, this is always a fun and exciting week! First, it's a short work week for most people and when I was in the corporate world, I always looked forward to Thursday and Friday off from work! Next, it is a fun week, because it is usually a week when we get to spend time with family and friends...some we have not seen for a long time! And lastly, this week is special, because happiness is in the air and life just seems so alive! From my heart to yours, Happy Thanksgiving! Enjoy every moment!

We will close Wednesday at 4 pm and re-open Friday at 10 am. Closed Thanksgiving day.


What's New @ Creekside This Week?
Barb's Whirlygig quilt is stunning! Kits available and pattern is a free download.
Janice's Perfect 10 Quilt using the My Favorite Trucks line of fabric. Perfect 10 pattern and kit available.
Wine Night is one of my favorite fabric lines that has come in recently...only because it is different and fun! An adult novelty fabric with lots of possibilities! Great for a friend who you like to share a glass of wine with...Sue!!!!!
Primitive Gatherings neutrals came in.
We received in new Iowa and Iowa State flannels...the top Iowa State fabric is a cotton, not flannel.


New in Notions
Patrick Lose's Celebrations in Quilting Winter issue has arrived and on sale. Great quilts to make, a favorite Patrick recipe to make for the holidays, and an article on how to easily make binding! Pictures are colorful and directions are easy to follow!
Fun holiday socks! What's a Christmas stocking without a pair of socks for that special someone?
New Creekside Quilting Travel Mugs! This will keep your hot chocolate hot and toasty!
These are cute little spice jars that can hold a numerous amount of sewing supplies!
Another item for a stocking stuffer or a friend gift! Add a nice pen/pencil and wa-la!


We received in the new Pfaff Quilt Expression 720 and hope you will come in and play! We have plenty of fabric samples for you to try out all the fun stitches!


Pfaff Sewing Machine Cleaning

Do you have a Pfaff sewing machine in need of cleaning and oil? We will have a Pfaff sewing machine technician in the store on November 21st to clean your sewing machines. Pat Heinrichs will be at the store from 8-4, and she already has a couple of cleaning spots filled! If you are interested, at least get your name in, even if you don't bring you machine to the store until Tuesday the 20th. We have 3 spots left! Call us and we will reserve your spot.

NEW! Synchrony Bank Financing
We have joined with Synchrony Bank to provide financing for all of our Pfaff machines. Want a new sewing machine but need a few months to pay it off...we can help! Just let us know and we will get you set up with financing options.


THANK YOU FOR SUPPORTING OUR INSTRUCTORS! They have a lot of talent they want to share with others, and it's awesome to see so many people taking advantage of the classes they are teaching! Class fees go straight to the instructor. Thank you for signing up for our classes! Thanks you so much to everyone who has joined our instructors for classes the past few months! Again, a great turn out, and so far, all comments have been positive! YAY!

Eva Marie's class was a great success!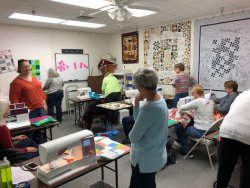 Debby's Oval Jelly Rug Class was a huge success! Full house and yes, we got all 13 of the students in the classroom! Everyone was very nice about the "tighter" quarters!
Maple Street 101
Remember that 101 Maple Street Challenge I presented last June? Well, I did my best, but...I did not complete the challenge by Thanksgiving day! I was able to "complete" 7 out of the 9 squares by Thanksgiving...except Laura pointed out....there are no eyes or legs on the animals....that would be because I haven't even started the embroidery! LOL! That will have to wait until after Christmas, as I really need to focus on Christmas gifts the next two weeks! So, note to self, next time I want to do a weekly challenge...someone remind me to make it a monthly challenge! Here are three of the squares...I do have to have ALL 9 squares done by our UFO Friday Afternoon Club! Also, I want to send out a shout out to Patty for her support, guidance and patience with this project! Thank you Patty for helping me!
November Upcoming Classes Include:
Our Sit and Knit started this month and we had a nice turn out for our first time! If you were afraid to come this month because you didn't know if anyone else would be there, well come join us next month! They are planning to meet again on the 3rd Friday from 1-4 pm.
November 21st is Applique Sew In starting at 10 am
November 23rd and November 24th
is our Merry Christmas to YOU Sale!
On Friday, November 23rd and Saturday, November 24th, we will be having the sale of the year! Whatever you want in the store, is 15% off! This includes all special orders on Pfaff sewing machine...15% off! Sewing Tables will be 15% off! Sewing Chairs will be 15% off! You name it, IF it's in the store...it's yours for 15% off! You want 6 yards of a certain fabric....it's 15% off! Yep, my way of saying Happy Holidays to each of you..and wanting to make your wishes come true! Only exclusion is the items already on sale for more than 15% off...you get their sale discounted price and we will not be able to double dip on sales.
November 30th is UFO Friday Afternoon Club....one more month to join! We each say we are getting our projects accomplished by having set goals we are accountable for. Come sign up and join us!
What's Happening in December?
December 1st: I am totally excited about is the Kimberbell Machine Embroidery Club. Our first machine applique project will be revealed on December 1st. Creekside Quilting is taking an exclusive dealer's project, making a sample, kitting the sample for purchase, and putting the sample on a flash drive. You must purchase a Creekside Quilting flash drive for $30 for one year of uploads. then every month we will release our Kimberbell design and you may either chose to upload the design on your purchased Creekside Quilting flash drive or you can pass until another month. Each upload for the year is free. You will also get first opportunity to buy the kit each month to go with the Kimberbell project. Should you happen to miss a month, no worries, we will store all the months on the computer and you may upload the design the following month!
NEW! Our only December class so come join Barb and I on December 2nd
for Beginning Garment Making Class, Schoolhouse Tunic with award winning sewer, Tracy Fieldmann! So if you come into the store some day and see us wearing twin tops...well, you will know why! :) come join us in the fun!

December 3rd we will be closed all day for inventory.


NEW!
Creekside Quilting will be offering the Patrick Lose Monthly Mug Rug starting December 15, 2019! Anyone who wants to participate, will receive a Patrick Lose USB that will be used for 2018/2019 year in order to upload the Patrick Lose Mug Mats monthly designs. Each design has a step by step tutorial and is not embroidery machine specific. The registration cost is $49.99 per year, plus $10 for the Patrick Lose USB. We will have kits available each month for purchase to go along with the monthly designs. If you are interested, we could meet monthly to stitch the designs out together on the third Thursday afternoon. Please provide feedback if you are interested in this.
All class fees go straight to the instructor. Due to the time each teacher puts into preparing for a class, no refunds will be made for canceling a class within one week of the class date. In the same respect, should we need to cancel a class due to not meeting the minimum amount of students, we will cancel the class one week prior class date and offer a full refund or a class credit toward another class.

Plan Ahead 2019
Sleigh Bells BOM 2019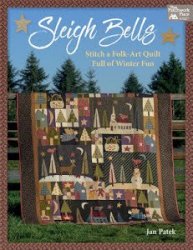 Patty has put together a BOM for Creekside using the Sleigh Bells book/pattern. Sleigh Bells is a folk-art quilt designed by Jan Patek. The quilt is a combination of pieced and appliquéd blocks, to be completed in 11 months. Sign-up will be between November 1 and December 15 and kit pick-up will begin in January. The cost will be as follows:
monthly kit fee: $10
NEW! Bundle the registration fee and 11 monthly kits at a discounted price of $125 and save $10 for the year!
for mail orders, shipping fee will be added each month

Sleigh Bells BOM is non-cancelable, non-refundable and your credit card will be kept in our POS credit card vault for an automatic monthly billing of each kit, OR you may pay for the year upfront.

A discount will be given in December 2019 and January 2020 for borders, binding, and backing in order to finish your quilt.


Eighth Simple Whatnots Miniature Quilts Club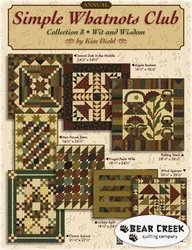 Kim Diehl and Henry Glass Fabrics
Join Barb each month in 2019 in sewing the Eighth Simple Whatnots Miniature Quilts Club and make a miniature quilt each month using Kim Diehl's new fabric collection Wit & Wisdom. Kim has created eight new simple and beautiful miniature quilt patterns exclusively for this club. Many of the patterns have fun added bonuses such as fun recipes, an extra project or tips and tricks. All eight miniature quilts are quick and easy to complete using basic quilting skills. These little miniatures are perfect for decorative wall hangings and table toppers!
Each month you will receive a pattern and fabric to complete a miniature quilt. Batting and backing fabric will not be included each month, but can be purchased each month at a discounted price.
This program is from January 2019 to August 2019.
NEW! Meet each month on the third Saturday of the month (10:30-11:30) to pick up your kit, get tips on the next months sewing project, and share in show in tell with completion of your projects!

NEW! Price is $38.99 per month plus shipping OR pay for the full 8 months upfront for 279.99 and save $32!
The eight miniature projects include:
Smack Dab in the Middle = finished size is 32 1/2 inches by 32 1/2 inches
Apple Baskets = finished size is 16 1/2 inches by 16 1/2 inches
Hen House Stars = finished size is 16 1/2 inches by 24 1/2 inches
Frugal Farm Wife = finished size is 18 1/2 inches by 24 1/2 inches
Charm School = finished size is 21 1/2 inches by 27 1/2 inches
Lickety Split = finished size is 18 1/2 inches by 24 1/2 inches
Wind Spinner = finished size is 20 1/2 inches by 20 1/2 inches
Potting Shed = finished size is 28 1/2 inches by 28 1/2 inches
NEW! Eight Simple Whatnots Miniature Quilts Club is non-cancelable, non-refundable and your credit card will be kept in our POS credit card vault for an automatic monthly billing of each kit OR you may pay for the eight months upfront.
Sign-up will begin November 1st-December 15th . Expected fabric delivery date is January 2019.


Checkout our website www.creeksidequiltingiowa.com for more information

Coupon Merry Christmas to YOU!


On Friday, November 23rd and Saturday, November 24th, we will be having the sale of the year! Whatever you want in the store, is 15% off! This includes all special orders on Pfaff sewing machine...15% off! Sewing Tables will be 15% off! Sewing Chairs will be 15% off! You name it, IF it's in the store...it's yours for 15% off! You want 6 yards of a certain fabric....it's 15% off! Yep, my way of saying Happy Holidays to each of you..and wanting to make your wishes come true! Only exclusion is the items already on sale for more than 15% off...you get their sale discounted price and we will not be able to double dip on sales.



Happy Thanksgiving Everyone! May your holidays begin with happiness of family and friends!

Happy Sewing,
karen steggerda