Creekside Quilting Newsletter 11/27/2018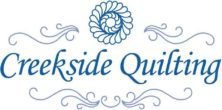 Thanks to everyone who came out for our Holiday Sale! It was lovely to see each of you and listen to some of your quilting stories! Sometimes, I'm not sure what to say, but nevertheless, I love hearing your stories and about your projects! Did everyone eat enough calories to sustain them to the first of the year? I know I did, and chances are, I may have eaten your calories too!
I hope each of you had a lovely holiday weekend and was surrounded by family and friends!


What's New at Creekside Quilting?
It was a quiet week at Creekside Quilting, as far as new items go. We are getting ready for inventory, next Monday, December 3rd, and I held off on orders for the end of November. We will be closed on December 3rd (updating website right now!) due to our inventory.


"If kisses were snowflakes, I'd send you a blizzard" pillow is our December Kimberbell Embroidery Club project. To place an order to be in the monthly club, and receive a Creekside Quilting USB for uploading the embroidery patterns, just sign up online or call the store. Fabric kits will be available December 1st to those in the Kimberbell Club. Just ask for it when you come in to download the project onto the Creekside Quilting USB.

These blenders are a apart of the Cozy Christmas collection. We have the Farm Sweet Farm collection coming at the end of December and today I ordered the Granny Chic line for end of July! We may have someone to lead a sew along...so let us know if you would be interested in this. Looking forward to seeing these completed Lori Holt projects!


Some of the most exciting news I have to share is that we have hired a Certified Pfaff technician to clean and repair Pfaff sewing machines! His name is Stevan Rounds out of Waukee. He will start the week of December 10th...so start bringing your machines in! His prices are as follows:

Clean, oil, and adjustments are $75.
Simple fixes, such as fixing a needle threader or swap out parts are $10 for about 15 minutes of work.
Then bench work, that is more extensive starts at $25.

Although all payments will go directly through Stevan and not through Creekside Quilting, machines will stay at Creekside to be worked on.


November Activities

November 30th is our UFO Friday Afternoon Club...please sign-up if you have UFO's that need to be finished.

November 30th and December 1st is our Holiday Retreat and we are full and have a waiting list started.
What's Happening in December?
December 1st: I am totally excited about is the Kimberbell Machine Embroidery Club. Our first machine applique project will be revealed on December 1st. Creekside Quilting is taking an exclusive dealer's project, making a sample, kitting the sample for purchase, and putting the sample on a flash drive. You must purchase a Creekside Quilting flash drive for $30 for one year of uploads. then every month we will release our Kimberbell design and you may either chose to upload the design on your purchased Creekside Quilting flash drive or you can pass until another month. Each upload for the year is free. You will also get first opportunity to buy the kit each month to go with the Kimberbell project. Should you happen to miss a month, no worries, we will store all the months on the computer and you may upload the design the following month!


NEW! Our only December class so come join Barb and I on December 2nd for Beginning Garment Making Class, Schoolhouse Tunic with award winning sewer, Tracy Fieldmann! Come join us in the fun!

December 3rd we will be closed all day for inventory.

December 11th is Wool Club-open to every one who likes to wool applique

December 17th is English Paper Piecing Club-open to everyone who likes English Paper Piecing

December 19th is our Sew-in Applique-so if you like to hand applique, come join the group

December 21st is Sit and Knit and open to all knitters

December 24th and 25th we will be closed!

December 28th is UFO Friday Afternoon Club

December 31st we will close early and time is yet to be determined


Plan Ahead 2019
NEW! Creekside Quilting will be offering the Patrick Lose Monthly Mini Mats Club starting January 15, 2019! Anyone who wants to participate, will receive a Patrick Lose USB that will be used for 2019 in order to upload the Patrick Lose Monthly Mini Mats monthly designs. Each design has a step by step tutorial and is not embroidery machine specific. The registration cost is $49.99 per year, plus one time cost of $10 for the Patrick Lose USB. We will have kits available each month for purchase to go along with the monthly designs. You may sign up anytime throughout the year.

All class fees go straight to the instructor. Due to the time each teacher puts into preparing for a class, no refunds will be made for canceling a class within one week of the class date. In the same respect, should we need to cancel a class due to not meeting the minimum amount of students, we will cancel the class one week prior class date and offer a full refund or a class credit toward another class.


Sleigh Bells BOM 2019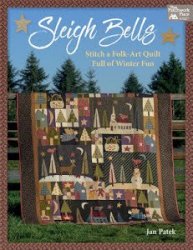 Patty has put together a BOM for Creekside using the Sleigh Bells book/pattern. Sleigh Bells is a folk-art quilt designed by Jan Patek. The quilt is a combination of pieced and appliquéd blocks, to be completed in 11 months. Sign-up will be between November 1 and December 15 and kit pick-up will begin in January. The cost will be as follows:
monthly kit fee: $10
NEW! Bundle the registration fee and 11 monthly kits at a discounted price of $125 and save $10 for the year!
for mail orders, shipping fee will be added each month

Sleigh Bells BOM is non-cancelable, non-refundable and your credit card will be kept in our POS credit card vault for an automatic monthly billing of each kit, OR you may pay for the year upfront.

A discount will be given in December 2019 and January 2020 for borders, binding, and backing in order to finish your quilt.


Eighth Simple Whatnots Miniature Quilts Club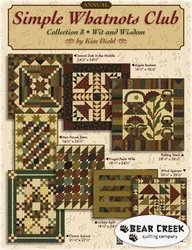 Kim Diehl and Henry Glass Fabrics
Join Barb each month in 2019 in sewing the Eighth Simple Whatnots Miniature Quilts Club and make a miniature quilt each month using Kim Diehl's new fabric collection Wit & Wisdom. Kim has created eight new simple and beautiful miniature quilt patterns exclusively for this club. Many of the patterns have fun added bonuses such as fun recipes, an extra project or tips and tricks. All eight miniature quilts are quick and easy to complete using basic quilting skills. These little miniatures are perfect for decorative wall hangings and table toppers!
Each month you will receive a pattern and fabric to complete a miniature quilt. Batting and backing fabric will not be included each month, but can be purchased each month at a discounted price.
This program is from January 2019 to August 2019.
NEW! Meet each month on the third Saturday of the month (10:30-11:30) to pick up your kit, get tips on the next months sewing project, and share in show in tell with completion of your projects!

NEW! Price is $38.99 per month plus shipping OR pay for the full 8 months upfront for 279.99 and save $32!
The eight miniature projects include:
Smack Dab in the Middle = finished size is 32 1/2 inches by 32 1/2 inches
Apple Baskets = finished size is 16 1/2 inches by 16 1/2 inches
Hen House Stars = finished size is 16 1/2 inches by 24 1/2 inches
Frugal Farm Wife = finished size is 18 1/2 inches by 24 1/2 inches
Charm School = finished size is 21 1/2 inches by 27 1/2 inches
Lickety Split = finished size is 18 1/2 inches by 24 1/2 inches
Wind Spinner = finished size is 20 1/2 inches by 20 1/2 inches
Potting Shed = finished size is 28 1/2 inches by 28 1/2 inches
NEW! Eight Simple Whatnots Miniature Quilts Club is non-cancelable, non-refundable and your credit card will be kept in our POS credit card vault for an automatic monthly billing of each kit OR you may pay for the eight months upfront.
Sign-up will begin November 1st-December 15th . Expected fabric delivery date is January 2019.


Checkout our website www.creeksidequiltingiowa.com for more information

Coupon for the Week of November 27th
Cuddle Fabrics and Kits (Minkee). Everything in our Cuddle Area will be 35% off, no specific yardage requirements. We have both kids and adult fabrics to choose from.

Have a great week and happy sewing!
karen steggerda