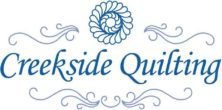 Is anyone else feeling a little overwhelmed? I look at my list to do and I look at my calendar...there is no way all of this is going to get done! The past few years, I have organized the holiday season in a notebook, that begins with preparations in October. Usually, by the end of Thanksgiving weekend, I would have all my presents wrapped, house decorated, Christmas dinner planned out, cookies frozen and ready for delivery, any returns made, Christmas cards ready for sending, and I am just ready to sit down on December 1st and enjoy the beauty of the season. This year? I have a tree up, Christmas presents organized by person for wrapping, and that is as good as it is getting right now! I think I need an elf!
We received a lot of new things this past week and the good news is....the fabric is starting to trickle in again!!! YAY! I had put a hold on deliveries in November and December because it was my first inventory and I was just uncertain as to how it would look to count all this fabric. I have to tell you, I have the best staff in the world!!! Connie came back (thank you Connie! YAY!) and helped us all day, and we just knocked the inventory out in a very successful and timely manner! It was amazing! All that worrying was for not...I truly have the best staff...they knew exactly what they were doing. So HUGE kudos to (in alphabetical order): Barb, Debby, Diane, Dianne, Fran, Janice, Judy, Karen, Marge, Pat, Patty, Rhonda, and Sue! What an amazing crew we are blessed with at Creekside!
What's New at Creekside Quilting?
So the best news is that the Kim Diehl fabric line is starting to trickle in....the picture is a sneak peak as to what has arrived! Barb and I are thinking this is part of the Simple Whatnots Club and so have put it in the back room to hold until the rest of the line comes in. If you haven't yet signed up for this 8 month Simple Whatnots Club sew along, now's the time! We only have so much fabric for so many kits...and this first round of fabric is not disappointing!
Next, our library is a little low, and the blenders are starting to arrive to begin filling in the gaps!
Farm Fresh Kit by Gingiber is darling! I love red barns and when I saw this kit, it was an instant, I have to have! Notice the word "need" never went through my thought process...just a straight, I have to have!
Speaking of, I have to have, is this Yoko Saito book! I love her books, I think her work is gorgeous, and I find her directions a tad bit challenging...but another, I have to have! This is my favorite book that arrived this past week.
We had a surprise visitor in the store last week! Valerie Funk stopped in and her and I talked for almost 45 minutes! It was fun and lovely and I learned so much from her in just that short amount of time! Creekside Quilting purchased her book Quilt Artistry 2018 and her two patterns White Tiger and Funky Feathered Peacock. Truly, her work is amazingly gorgeous! She said she was teaching two classes through the
Des Moines Area Quilter's Guild in May. We did not buy the patterns she will be teaching through the guild. Also...
she told me the story that this lion quilt she designed and was commissioned to create by Paintbrush Studios, was stolen while on display at a quilt museum. If you see or have seen this quilt, please contact her! Seems as though she is having a hard time convincing the police the value of this quilt and that they are not understanding the importance of finding this quilt. No one knows the true value of a quilt, unless they are a quilter.
We received in a small size Tutto Sewing Machine bag on wheels. Thinking about traveling over the holidays or going south this winter? This bag is a great for protecting your sewing machine. We also have the large size on display. We can order this item and have it in the store for you within a week. The bag is also big enough to hold...
this Tutto Embellishment Holder! It can fold up flat or it can stand like an easel on your sewing table. Organization of all of your sewing needs right at your finger tips. Planning a retreat in 2019? These two items will make your trip easier and keep every thing safe for traveling!
We have red, turquoise, black and purple in stock.
The last thing I am going to mention this week, is our new selection of Machine Embroidery Books. I keep hearing from customers, they would like to get more involved with machine embroidery, but don't know where to start.
Upcoming Classes
What's Happening in December?
December 1st: I am totally excited about is the Kimberbell Machine Embroidery Club. We started with this cute snowman pillow and are preparing the January project. We should have the January project on display by the next newsletter.
We will start cutting and kitting the Sleighbells BOM 2019. If you are interested in being guaranteed a kit each month in 2019, sign up now! Once 2019 comes, we can not guarantee exact kit fabrics for late registrations.

BOM is $125.00 for the full year and $18.99 for the Sleighbells pattern book.
A discount will be given in December 2019 and January 2020 for borders, binding, and backing in order to finish your quilt.

Sleighbells BOM 2019 is non-cancelable, non-refundable and your credit card will be kept in our POS credit card vault for an automatic monthly billing of each kit OR you may pay for the eight months upfront.


Eighth Simple Whatnots Miniature Quilts Club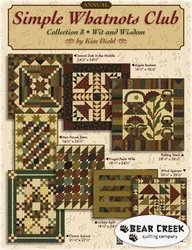 Kim Diehl and Henry Glass Fabrics
Join Barb each month in 2019 in sewing the Eighth Simple Whatnots Miniature Quilts Club and make a miniature quilt each month using Kim Diehl's new fabric collection Wit & Wisdom. Kim has created eight new simple and beautiful miniature quilt patterns exclusively for this club. Many of the patterns have fun added bonuses such as fun recipes, an extra project or tips and tricks. All eight miniature quilts are quick and easy to complete using basic quilting skills. These little miniatures are perfect for decorative wall hangings and table toppers!
Each month you will receive a pattern and fabric to complete a miniature quilt. Batting and backing fabric will not be included each month, but can be purchased each month at a discounted price.
This program is from January 2019 to August 2019.
NEW! Meet each month on the third Saturday of the month (10:30-11:30) to pick up your kit, get tips on the next months sewing project, and share in show in tell with completion of your projects!

NEW! Price is $38.99 per month plus shipping OR pay for the full 8 months upfront for 279.99 and save $32!
The eight miniature projects include:
Smack Dab in the Middle = finished size is 32 1/2 inches by 32 1/2 inches
Apple Baskets = finished size is 16 1/2 inches by 16 1/2 inches
Hen House Stars = finished size is 16 1/2 inches by 24 1/2 inches
Frugal Farm Wife = finished size is 18 1/2 inches by 24 1/2 inches
Charm School = finished size is 21 1/2 inches by 27 1/2 inches
Lickety Split = finished size is 18 1/2 inches by 24 1/2 inches
Wind Spinner = finished size is 20 1/2 inches by 20 1/2 inches
Potting Shed = finished size is 28 1/2 inches by 28 1/2 inches
NEW! Eight Simple Whatnots Miniature Quilts Club is non-cancelable, non-refundable and your credit card will be kept in our POS credit card vault for an automatic monthly billing of each kit OR you may pay for the eight months upfront.
Sign-up will begin November 1st-December 31st . Expected fabric delivery date is January 2019.

January and February 2019 Sneak Peak of Classes
This is called a sneak peak, because remember at the beginning of the newsletter, I started with too long of a to do list and not enough time, well her is one item on my to do list that is just not completed on the website. So this is a sneak peak for you to start thinking about...sign up will start next Tuesday the 18th for the following classes:

January 11th starting at 5-7:30 pm will be our first Sit and Sip. Open sewing time with friends, wine, and snacks! Great way to end the week and start the weekend!
January 20th: Debby will teach another Jelly Roll Rug Class from 11 am-5 pm
January 23rd: Diane T we will hold a 6 Karat Diamonds Class from 1-4 pm. This class will focus on diamonds (not the sparkly kind)
January 26th: Gail Brenneman will be teaching a Hand Embroidery Class called Blooming Heart from 10:30-1:30. You may remember her quilts that were on display in our classroom in October and November? She is going to teach a beginner class!
January 29th: Karen S will host a Jelly Roll Race Quilt Challenge from 1-4 pm

February 2nd: Karen M will teach how to make the Diva Clutch Purse
February 5th: Sharon will teach a Foundation Paper Piecing Class
February 9th: Patty will teach a Beginners Wool Applique Class
February 23rd: Patty will teach a Beginner Wool Applique Class for Ages 12 and up! 10 am to noon.

Beyond February Classes
March 5th: Sharon will teach Intro to English Paper Piecing
June 1st: Carol Moellers Class
October 17th and 18th: Valerie Funk Class

All class fees go straight to the instructor. Due to the time each teacher puts into preparing for a class, no refunds will be made for canceling a class within one week of the class date. In the same respect, should we need to cancel a class due to not meeting the minimum amount of students, we will cancel the class one week prior class date and offer a full refund or a class credit toward another class.


Checkout our website www.creeksidequiltingiowa.com for more information

Coupon
Coupon until Christmas is a Countdown to Christmas on our Facebook page! Each day we will feature a special deal! I found out by a customer last week, that even if you are not a Facebook participant, you can go to our website and click on the Facebook icon to connect to our Facebook page. Checkout our Facebook page today for another fun deal! Our Facebook page is Creekside Quilting Iowa.

Happy Sewing!
karen steggerda