Creekside Quilting Newsletter 01/15/2019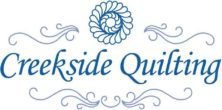 Community Outreach Programs
Our Souper Bowl Soup Can Drive was kicked off last week, and so far we have collected 37 cans of soup and given away 185 Loyalty Points to our customers who donated soup! This is awesome and just warms my heart to see the donations!! The soup cans will be delivered to the Urbandale Food Pantry after the Super Bowl, so please keep bringing in the soup cans and receiving 5 Loyalty points on your account for each can! Together, we all win!
Creekside Quilting is a proud sponsor of the Living History Farms Event How Does Your Garden Grow? Quilt and Textile Show February 14-16 and February 21-23! I will be teaching a workshop entitled "Our Love of 1930's Quilts" on Friday February 21st starting at noon. Then on Saturday, I will be teaching a Hexi Paper Piecing class. Tickets are available on line through Living History Farms and they are taking pre-registrations for all of their classes and workshops! This is going to be a wonderful event! Check out their website
https://www.lhf.org/event/how-does-your-garden-grow-quilt-textile-show/ to see all the wonderful events planned those two weekends! Maybe on the 14th, you could take your honey!
What's New @ Creekside Quilting?
We received in some fun Iowa fabric! Don't worry State Fans, your fabric is on order, it just has not come in yet!
In preparation of our Lori Holt Sew Along, we have received a lot of tools to help make the techniques easier! Susie will be leading this year long sew along starting this Saturday and we still have openings...so if you are interested, sign up this week to get started making those beautiful vintage quilts!
We have bundled the Farm Sweet Farm fabric to make the Farm Sweet Farm quilt top. These bundles are set aside for the class to buy from first, and then will open up to the public next Sunday. If you are interested in buying a bundle, call us and we will set one aside for you!
This cute 2 1/2 x 2 1/2 ruler is a must for all of those small squares and triangles you find in Lori Holt's quilts!
Circle Templates and...
the Farm Sweet Farm Templates are a must!
This is a 10 x 10 design board, so as you are making those 6 x 6 squares, you can lay out all your pieces on this small design board.
Quiltmania arrived late Friday. Please let us know if you want us to set one aside for you, we can hold it for 5 days.
This Pin Pals book is new to the store and the applique can be done by machine, hand or in wool! Fun little projects, which would make great birthday gifts for your sewing friends this year!
What's New in Wool?
WOW! These Buttermilk Basin wool's are gorgeous! We received in a wide variety, this is only a sample. Right now, they are only being sold off the bolt.
And to go with the Buttermilk Basin wool, why not Stacy West's book? Lot's of cute and festive projects!
What's New with Pfaff?

P
faff is holding a special deal on the Passport 2.0 from January 19-February 16th.

Imagine a sewing machine compact enough to whisk away to a sewing class or fit on your bookshelf. Now, imagine this same machine is chock-full of features designed to meet the high demands of the PFAFF® sewer. The

passport™ 2.0 sewing machine is specially designed for small spaces, as well as going places such as classes, retreats or any sewing journey. It is your license to venture out in the world and discover new ways and new places to sew! No limits. Just freedom.
When you order, there is usually a week turn around time for delivery of the machine.
Upcoming Classes and Events in January
Friday, January 11th: was our Wine and Cheese: Sit, Sew, and Sip...evening, and we had a BLAST! Everyone did get some sewing done, but we also had some great conversations, a lot of laughter, and some shopping! It was a fun night!! We will be holding this again on Friday, February 22nd starting at 5 o'clock! (I'm sorry, but I can't resist..."it's always 5 o'clock somewhere ;)! Good ole Jimmy Buffet!)

Tuesday, January 15th: Binding Sister's Small Group

Wednesday, January 16th: Applique Sew-in 10-4 is open to anyone who likes to hand applique! We go to lunch at Mazatlan Mexican Restaurant. It's a great way to get to know others and share in the fun of hand sewing! Don't forget to bring your show and tell!

Friday, January 18th: Sit and Knit Club starting at 1pm with Erica. Bring a friend, your knitting project and a show and tell, and settle in for a nice afternoon of knitting!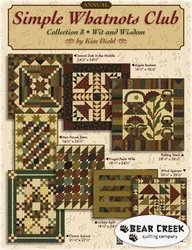 Saturday, January 19th: starts the Simple Whatnots Club at 10:30 am with Barb. Come and learn any new techniques for each project and don't forget, the opportunity to show and tell what you got done on this BOM! Kits are now available and the January project is up on display in back by the Reproduction fabrics!

OR
January 19th: This is a full year sew along! I know you are going to love working with Susie on any of the Lori Holt projects: Farm Girl Vintage, the Farm Sweet Farm online sew along OR the Vintage Christmas from Lori Holt! A monthly gathering! There will be plenty of time to sew on projects, show and tell what you have done, and then also Susie will teach applique and piecing hints and techniques. This class is a great way to get your quilts done in a year!

Sunday, January 20th: we are offering the Jelly Roll Rug class with Debby again from 11 am-5 pm. Please have your first step done, which is sewing all the strips together.

Monday, January 21st: English Paper Piecing Club and is open to anyone who likes to paper piece!
Wednesday, January 23rd: Sewing Diamonds with the 6 Karat Diamond pattern is going to be lead by Diane Tomlinson. This is a class for beyond beginners. This 6 Karat Diamond class is being offered in the afternoon AND in the evening! Sign up today if you want to learn how to make diamonds the easy way!

Friday, January 25th: UFO Friday Afternoon Club from 1-4.

Saturday, January 26th: Learning Hand Embroidery with Gail Brenneman! 10:30-1:30 making the Blooming Hearts Pattern. Embroidery and hand stitching is coming back into popularity, and we are thrilled to have Gail teaching us the proper technique to hand embroidery! Please bring a light box if you have one.


Saturday, January 26th: Stevan Rounds, our new Pfaff Repair Technician will be offering a Learn Your Pfaff Sewing Machine Class. Please bring your machine and 10-6x6 pieces of solid scrap fabric and learn what the different feet in your accessory case can do and learn what some of the (other) stitches your machine has to offer. Class is from 3-4:30. Pre-registration is required.

Tuesday, January 29th: Jelly Roll Racer Challenge starting at 5:45 pm. Winner wins enough batting to finish their quilt! I am overseeing this challenge. You must pre-register for this event at the store or call (515)276-1977 and it is FREE! Just show up with your jelly roll strips connected in ONE long row and all necessary sewing supplies to make this quilt top.



All class fees go straight to the instructor. Due to the time each teacher puts into preparing for a class, no refunds will be made for canceling a class within one week of the class date. In the same respect, should we need to cancel a class due to not meeting the minimum amount of students, we will cancel the class one week prior class date and offer a full refund or a class credit toward another class.





check out our website at www.creeksidequiltingiowa.com




This Week's Coupon

Buy one magazine at full price and get a second magazine from our selection bin for 40% off! You must mention at the register when checking out. This coupon good the week of 1/15/2019-1/22/2019.

Happy Sewing Everyone! Looking forward to seeing you in the store!
karen steggerda