Creekside Quilting Newsletter 01/22/2018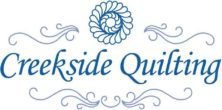 Community Outreach Programs
Our Souper Bowl Soup Can Drive has kicked off with a bang! So far we have collected 92 cans of soup and given away 460 Loyalty Points to our customers who donated soup! This is awesome and just warms my heart to see the donations!! The soup cans will be delivered to the Urbandale Food Pantry after the Super Bowl, so please keep bringing in the soup cans and receiving 5 Loyalty points on your account for each can! Together, we all win!
Creekside Quilting is a proud sponsor of the Living History Farms Event How Does Your Garden Grow? Quilt and Textile Show February 14-16 and February 21-23! I will be teaching a workshop entitled "Our Love of 1930's Quilts" on Friday February 21st starting at noon. Then on Saturday, I will be teaching a Hexi Paper Piecing class. Tickets are available on line through Living History Farms and they are taking pre-registrations for all of their classes and workshops! This is going to be a wonderful event! Check out their website
https://www.lhf.org/event/how-does-your-garden-grow-quilt-textile-show/ to see all the wonderful events planned those two weekends! Maybe on the 14th, you could take your honey!



What's New @ Creekside Quilting?
Due to the weather last Saturday, we postponed the start of the Lori Holt Sew Along with Susie. We will start the sew along in February, so there is still time to sign up and join the group!
The Lori Holt Farm Sweet Farm fabric bundles are ready! They have 28 Fat Eight cuts plus 2 one yard panels.
This beautiful fabric line is in just in time for Valentine's Day projects. It's fittingly called "Romance"!
This vibrant floral fabric line from Timeless Treasures will warm up any day! The colors are rich and the print is bold! Very pretty!
Kona has released a new color for the year, and it's called Splash! My picture does not do the color justice, it really is a very rich turquoise! Buy a charm pack and receive a free pattern from Kona, using this color wave!
The staff at Creekside has been very busy updating our displays! Check out these new displays and products...trust me, my pictures do not do the projects justice!
Barb made this very dynamic quilt using our Coconut Chips Pattern!
Karen M made this classic satchel using our Tiffany Pattern
Patty used our Gathering Hearts pattern to create a bowl of hearts combining both cottons and wool's!
Karen M. put together this Wheel of Fortune pillow out of our Quilt Lovely book!
What's New with Pfaff?
Come on in one blustery afternoon and sit down to one of our sewing machines and play! Pfaff is offering an great deal on their Icons with a Shopping Spree! Valid January 19 - February 28, 2019 Get $1,000 in free accessories with purchase of the creative icon™ sewing and embroidery machine or $500 in free accessories with purchase of the performance icon™ sewing machine.
Plus, take advantage of 60 months 0% financing when you purchase the creative icon™ or performance icon™ with your Synchrony bank credit card from January 19 - February 28, 2019. Equal monthly payments required for 60 months. Exclusions apply.



Pfaff is holding a special deal on the Passport 2.0 from January 19-February 16th. Imagine a sewing machine compact enough to whisk away to a sewing class or fit on your bookshelf. Now, imagine this same machine is chock-full of features designed to meet the high demands of the PFAFF® sewer. The passport™ 2.0 sewing machine is specially designed for small spaces, as well as going places such as classes, retreats or any sewing journey. It is your license to venture out in the world and discover new ways and new places to sew! No limits. Just freedom.
When you order, there is usually a week turn around time for delivery of the machine.

What's New in Wool?
We received in some more Buttermilk Basin patterns! Woolies seem to like the quickness and ease of sewing from a Buttermilk Basin Pattern! Plus the finished projects are cute and festive to display throughout the year! The patterns are July, Joy and Hop.




January Upcoming Classes
We are finishing out the month strong with some wonderful and unique classes and events! Sign up online creeksidequiltingiowa.com or call the store (515)276-1977 to register.
Wednesday, January 23rd: Sewing Diamonds with the 6 Karat Diamond pattern is going to be lead by Diane Tomlinson. This is a class for beyond beginners. This 6 Karat Diamond class is being offered in the afternoon AND in the evening! Sign up today if you want to learn how to make diamonds the easy way!

Friday, January 25th: UFO Friday Afternoon Club from 1-4.


Saturday, January 26th: Learning Hand Embroidery with Gail Brenneman! 10:30-1:30 making the Blooming Hearts Pattern. Embroidery and hand stitching is coming back into popularity, and we are thrilled to have Gail teaching us the proper technique to hand embroidery! Please bring a light box if you have one.


Saturday, January 26th: Stevan Rounds, our new Pfaff Repair Technician will be offering a Learn Your Pfaff Sewing Machine Class. Please bring your machine and 10-6x6 pieces of solid scrap fabric and learn what the different feet in your accessory case can do and learn what some of the (other) stitches your machine has to offer. Class is from 3-4:30. Pre-registration is required.


Tuesday, January 29th: Jelly Roll Racer Challenge starting at 5:45 pm. Winner receives a package of twin size batting to finish their quilt! I am overseeing this challenge. You must pre-register for this event at the store or call (515)276-1977 and it is FREE! Just show up with your jelly roll strips connected in ONE long row, sewing machine and all necessary sewing supplies to make this quilt top.

All class fees go straight to the instructor. Due to the time each teacher puts into preparing for a class, no refunds will be made for canceling a class within one week of the class date. In the same respect, should we need to cancel a class due to not meeting the minimum amount of students, we will cancel the class one week prior class date and offer a full refund or a class credit toward another class.

Check out our website at www.creeksidequiltingiowa.com for more upcoming classes Here is the link to our February Schedule of Classes

This Weeks Coupon
This week, we are offering 15% off all Valentine Patterns in the store. If it has a heart in the design of the pattern, it is considered Valentine! You must mention the coupon at time of purchase to receive the discount.

Happy Sewing Everyone!
karen steggerda




Link to Des Moines Area Quilt Guild President's Challenge
http://www.dmaqg.org/programs/presidents-challenge/