Creekside Quilting Newsletter 02/19/2019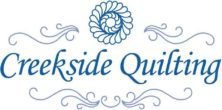 Well I'm back and I landed with memories of...
Fun Patrick Lose Sewing Projects....

San Juan, Puerto Rico
Seeing for the first time in my life, the Caribbean Sea at St. Maartin, and dipping my feet into the warm water....
The lush Rain Forest and marina in Antigua...
but by far, my favorite island was St. Lucia and the Batik Factory!
AND THE VIEW!
Breathtaking!

The gorgeous blueness of the water in Barbados
And I made a friend in St. Kitts...wanted to bring him home, but not sure how my Maggie would have felt about "our" new friend!
Lastly, the gorgeous sunrises
& sunsets
The welcome home scenery was just a little different!
And I couldn't do any of this with out the amazing staff that I have!! A HUGE THANK YOU to Barb, Pat, Sue, Patty, Karen, Marge, Fran, Janice, Rhonda, Diane, Dianne, Debby, Judy, and Laura!! Each of you are so talented and a blessing to have working at Creekside Quilting....THANK YOU!!!

Community Outreach Programs
Don't miss us this week at Living History Farms "How Does Your Garden Grow" Event.

Creekside Quilting is a proud sponsor of the Living History Farms Event How Does Your Garden Grow? Quilt and Textile Show February 14-16 and February 21-23! The Living History Farms description of event: "Wishing for spring? Combat the winter blues with a look at the birds, bees, and flower patterns found in the Living History Farms' historic textile collection. This special exhibit of historic quilts, clothing, handwork, and hats have been selected for their nature motifs and garden themes. Visit with craft and quilting demonstrators and explore hands-on textile activities for kids and adults. Learn from creative demonstrators and bring your own knitting or sewing projects to work on alongside museum crafters. Chat with plant and pollinator specialists and browse the MarketPlace Museum Store for supplies to start your own spring nature projects." I will be teaching a workshop entitled "Our Love of 1930's Quilts" on Friday February 22nd starting at noon. Then on Saturday, I will be teaching a Hexi Paper Piecing class. Tickets are available on line through Living History Farms! This is going to be a wonderful event! Check out their website https://www.lhf.org/event/how-does-your-garden-grow-quilt-textile-show/ to see all the wonderful events planned those two weekends! Maybe on the 14th, you could take your honey ;)!
What's New @ Creekside Quilting?
Cheecky by Urban Chic
Tickled Pink
Sweet Tea by Sweetwater
Buttermilk Basin Hop Pattern
What's New with Pfaff? Just a few days left to take advantage of the Pfaff promotions!

Come on in one blustery afternoon and sit down to one of our sewing machines and play! Pfaff is offering an great deal on their Icons with a Shopping Spree! Valid January 19 - February 28, 2019 Get $1,000 in free accessories with purchase of the creative icon™ sewing and embroidery machine or $500 in free accessories with purchase of the performance icon™ sewing machine. Plus, take advantage of 60 months 0% financing when you purchase the creative icon™ or performance icon™ with your Synchrony bank credit card from January 19 - February 28, 2019. Equal monthly payments required for 60 months. Exclusions apply.
February is National Embroidery Month and to celebrate, Pfaff is offering the following mail-in rebates!
Pfaff Mail-in Rebates! February 1-February 28th enjoy savings on the following sewing machine models with mail-in rebates! $300 mail-in rebate on the Creative 4.5, $200 mail-in rebate on the Creative 3.0, and $100 mail-in rebate on the Creative 1.5.
February Upcoming Classes
Tuesday, February 19th: Binding Sisters Small Group for more information on this group, please contact the store
Wednesday, February 20th: Applique Sew-In starts at 10 anyone who likes to needle turn applique is welcome to join in
Friday, February 22nd: Patty will be leading a Beginning Wool Applique Class in the morning 10-noon.
Friday, February 22nd: Living History Farms How Does Your Garden Grow? Quilt and Textile Show with Creekside Quilting's presentation on Our Love of 1930's Quilts at noon.
Friday, February 22nd: UFO Friday Afternoon Club this group is closed until we re-start in July
Friday, February 22nd: we had so much fun at our Wine and Cheese: Sit, Sew, and Sip...in January, we are going to do it again! Bring any project you would like to work on...sewing, applique, wool, embroidery, knitting, etc and get to know new friends! Pre-registration is required and you pay $5 at the door.
Saturday, February 23rd: Have a young one who would like to learn how to wool applique? Patty will be teaching a Children's Wool Applique Class to those that are ages 12+ how to wool applique from 10-noon
Saturday, February 23rd: Living History Farms How Does Your Garden Grow? Quilt and Textile Show with Creekside Quilting's presentation on learning hand piecing a hexagon at 2 pm.
Saturday, February 23rd: Pat H. will be leading a three lesson series on Beginning to Quilt. Beginning to Quilt Session 1 starts today...
Tuesday, February 26th: Jelly Roll Racer Challenge starting at 5:45 pm. Winner receives a package of twin size batting to finish their quilt! I am overseeing this challenge. You must pre-register for this event at the store or call (515)276-1977 and it is FREE! Just show up with your jelly roll strips connected in ONE long row, sewing machine and all necessary sewing supplies to make this quilt top.
Wednesday, February 27th: with Diane T teaching Piecing Curved Seams from 1 pm-4 pm. Diane has made two different quilt samples for this class and both are hanging in our classroom.
All class fees go straight to the instructor. Due to the time each teacher puts into preparing for a class, no refunds will be made for canceling a class within one week of the class date. In the same respect, should we need to cancel a class due to not meeting the minimum amount of students, we will cancel the class one week prior class date and offer a full refund or a class credit toward another class.
Check out our website at www.creeksidequiltingiowa.com for more upcoming classes Our March schedule of classes is available at www.creeksidequiltingiowa.com

This Weeks Coupon
It's been awhile since we have put our notions on sale, so let's put any item on the wall behind the cutting tables on sale at 15% off regular price. Limit to one item and you must mention the coupon at time of check out.

With more storms predicted and girls state basketball right around the corner, please watch our website and Facebook page @Creeksidequiltingiowa for closing details.

Snuggle down and stay warm! Happy Sewing!
karen steggerda