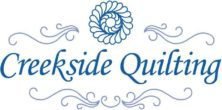 Happy Anniversary to Creekside Quilting! I took over ownership on March 8th last year and it has been an amazing year! I love being here and am just thrilled with all the friendships I have made and my amazing staff! Every morning, I look forward to coming to work and being in the store! Thank you to everyone...you have welcomed me into the community with open hearts and open arms, and I am just thrilled to be a part of this wonderful quilting community!
To celebrate our anniversary, we are hosting a small party all day on Friday, March 8th! Just for coming in the door, pick a bow tie (an 1/8th of a yard of cut fabric) out of our basket! We will be serving cake and cookies and have an hourly drawing of gifts! You must be present to win and the first drawing will be at 11 am and go all day until we close at 5 pm. Come party with us on Friday!



Community Outreach Program for

March 6th-May 18th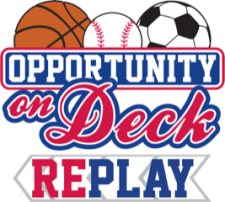 Creekside Quilting is a proud sponsor of Opportunity on Deck/Replay. Opportunity on Deck is a 501(C)3 that strives to serve Iowans by providing free-of-charge athletic
opportunities for children. Beyond free programing, our equipment program, RePlay, focuses on breaking down cost barriers that prevent children from participating in sports by collecting and "RePlaying" sports equipment.

In the program's first year, RePlay has collected and "RePlayed" over 1,500 pieces of equipment. This has provided students ages K-12th grade the opportunity to participate in sports with appropriate and safe gear that they otherwise would not have.

Creekside Quilting will be collecting donations, in the store, from March 6th through May 17th of new or slightly used sports equipment, shoes, and clothing that can be re-gifted to children and schools in need of these items. These donations provide for children in need, an opportunity to level the playing field and participate in sports activities, that they may otherwise not have the opportunity to do. So when you are cleaning out your garage or basements this spring, think of this organization, Opportunity on Deck/Replay. If you have a lot or just don't want to bring it into the store, they will be more than happy to come to your home and pick up your donation(s). For each item you bring into the store, or they pick up from your house, Creekside will add 5 Loyalty points (per item) to your rewards account. This seemed to work great with our Souper Bowl Soup Drive...so let's try it again!

On March 18th, Creekside is sponsoring a golf hole, in the Opportunity on Deck/Replay Golf Outing! This golf outing is a fundraiser out at Copper Creek Golf Course. Please check out their facebook page Opportunity on Deck Replay Golf Outing or for more information email oodreplay@gmail.com or call Anna at (515)402-7804. I know some of you quilters like to play golf! I'm guessing some of you have husbands who like to play golf too! :)
What's

New @ Creekside Quilting?



This week, we start off with the little ones! Here is a quick peak!


This Stacy Iest Hsu Best Friends Forever Playhouse goes great with her

new line of fabric Best Friends Forever!
Whooo Loves Owls? Timeless Treasures does and they have created this cute fabric!
We received in another novelty fabric from Timeless Treasures which has tractors, barns, and a chicken wire print!


Hate to be ordering or receiving any flannel, when we are wanting SPRING, SPRING, SPRING, but how could I resist the charm and cuteness of this Noah's Ark flannel pattern!

I know quite a few of you have stated you are traveling to Paris this year....we'll Viva La France with these two new fun collections!

This Eiffel Tower Panel and coordinating fabrics AND
These Viva France Wovens!

What's New in Wool?
We have set the date, so please mark your calendars for May 14th through May 17th for Wool Week! Patty and Diane are putting together a week of activities you won't want to miss, with some great new teachers, trunk shows, and make and takes. It will be a lot of fun! More information to come!


What's New With Pfaff?
Pfaff sewing machines are the official sponsor of the PBS show Fons ad Porters Love of Quilting for 2019! The Fons and Porter Love of Quilting TV Show host, Sara Gallegos, works with guests to explore both old and new quilting ideas! Pfaff and Pfaff sewing machine dealers are very excited for this opportunity!

Pfaff is running three fun specials in March to celebrate National Quilting Month!
First special, receive a Passport 3.0 for $599
Second special is buy a Power Quilter 16.0 and receive the table overlay for FREE!

Third special for the month is a free gift bundle when you purchase the Performance Icon or the Quilt Expression 720. Both machines are in our store and ready to sew whenever you'd like to come in and try the machines out!
Upcoming Classes and Events in March
TODAY!!

Tuesday, March 5th: Sharon will be teaching Intro to English Paper Piecing from 1:30-3:30 pm Into to English Paper Piecing Hexies are popping up everywhere in sizes from ¼ inch up. Learn the easy technique of English paper piecing and join the fun of this technique. This great take along technique will help you make accurate grandmother's flower garden blocks and a whole lot more. There is still room in her class for a couple more students, if you are interested!


The Kimberbell Machine Applique Club project this month are these cute little bunnies!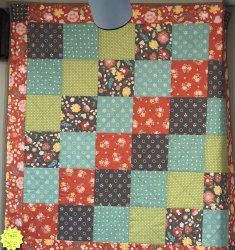 Saturday, March 9th: Beginning Quilting Making Session 2 is from 1-4 pm with Pat H.
Sunday March, 10th: Countdown to Christmas Club from 1:15-3:45 Is there anyone else who had Christmas projects or gifts they wanted to make last year and did NOT get them finished? I sure did! I'd like to be more productive this year and be ready ahead of time instead of waiting until November and burning the midnight oil! I'm going to structure this club, just as we do the UFO's Friday Afternoon Club, where goal setting is a must! The club will run from March to November on the second Sunday, and if we are attentive to our goals, we should have some Christmas projects and gifts ready for celebrating the season come December 2019! (I know, hard to think about right?)
Monday, March 11th: Spring Break Lunch and Learn Part 1 of 2: What To Do With All Those Scraps! from noon to 1pm. Diane T will be hosting a two part series on scrap quilts. This part one Lunch and Learn will show and tell her trunk show of scrap quilts and discuss how she sorts, prepares, and organizes all those scraps to make quilt making easier! Pre-registration is a must by calling the store (515)276-1977 or emailing me at sienagraceproductions@gmail.com
Tuesday, March 12th: Wool Club and there is always room for one more! noon to 4pm
Wednesday, March 13th: Spring Break Lunch and Learn, Our Love for 1930's Quilts from noon to 1 pm. Join Karen S. over the lunch hour as she presents her Living History Farms workshop on Our Love for 1930's Quilts. Learn a little bit about the history of the 1930's quilts, the fabrics and the charm behind the quilts. What keeps us so intrigued with this era of quilt making 80 years later! Bring a sack lunch or call ahead.

Pre-registration is a must by calling the store (515)276-1977 or emailing me at sienagraceproductions@gmail.com
Thursday, March 14th: Spring Break Lunch and Learn Putting Personal Expression in Your Quilts from noon to 1pm. Have you figured out the type and style of quilts you like or do you just buy kits of quilts that appeal to you? Do you keep making quilts you are just not sure of if they really fit who you are and your personality? Learn from Diane T. how to express your personality and style in the quilts you make. Learn how to add your personal touch and style to the kits you buy. Diane will go through some techniques and thought processes you can begin using when picking out projects, designing quilts, so that when you have completed the quilt, you love what you made and it is a reflection of who you are!

Pre-registration is a must by calling the store (515)276-1977 or emailing me at sienagraceproductions@gmail.com
Friday, March 15th: Sit and Knit Club and there is always room for one more! 1-3pm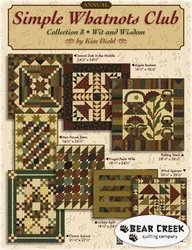 Saturday March 16th: Simple Whatnot's Club 10:30-11:30
Saturday March 16th: Lori Holt Technique and How to Measure Precisely for Little Pieces 1-4pm Lori Holt Technique and How to Measure Precisely for Little Pieces: Susie Hunkin, our Lori Holt expert, will be incorporating monthly Technique Classes into her year long Lori Holt sew along! We all know that cutting small pieces can be a challenge and when working on a Lori Holt quilt, it is important to be precise in the cutting! In March, Susie will be teaching how to measure precisely for cutting those little pieces. Susie will spend part of the class with discussion and the rest of the class time will be available for sewing and asking her questions. If you are already signed up for the Lori Holt year sew along, there is no charge for the class, if you would just like to attend certain months, the cost is $30. This is month one of a series of opportunities!
Sunday, March 17th: Patrick Lose Love and Luck Mug Mat 1:15-3:45 pm Patrick Lose Love and Luck Mug Mat: Come celebrate St. Patrick's day with Karen S. for an afternoon of fun in making the cute Patrick Lose Love and Love Mug Mat. Bring your embroidery machine, embroidery supplies, and your sewing supplies, and we will provide the download and fabric to get you started! This is a perfect way to celebrate St. Patrick's Day and have something to bring you luck throughout the year!
Monday, March 18th: English Paper Piecing Club and there is always room for one more! 1-4
Tuesday, March 19th: Binding Sister's Small Group starting at 1 pm
Wednesday, March 20th: Applique Sew in and there is always room for one more! 10-4
Thursday, March 21st: Spring Break Lunch and Learn Part 2 of 2: What To Do With All Those Scraps Diane T will be hosting a two part series on scrap quilts. This is part two of the Lunch and Learn series, and this time the show and tell will be all your's! Bring in a block you made using scraps and tell how you sort, prepare, and organize your scraps to make quilt making easier! Cost of Lunch and Learn Presentation is Free! Bring a sack lunch OR call in an order.

Pre-registration is a must by calling the store (515)276-1977 or emailing me at sienagraceproductions@gmail.com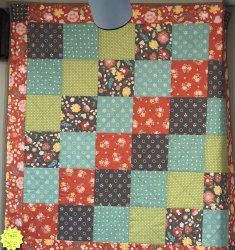 Saturday, March 23rd: Beginning Binding Basics class with Pat H from 1-4 pm Beginner Binding Basics Learn to prepare binding strips, attach them to your quilt edge, and turn mitered corners. We will also discuss a 2 color binding technique that can give your quilt binding a pop of color. Every quilter needs this class to give their quilts a nice finish