Skip Navigation
Website Accessibility
Creekside Quilting Newsletter 03/19/2019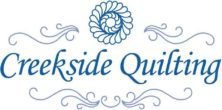 This is what I saw outside my window the other day, at the field next to our store....
Yes! A blue jay! I can't even remember the last time I saw a blue jay! How exciting!!! Spring must be on the way...doesn't mean we wont have more snow, but there is hope! I will take the hope!
What's New @ Creekside Quilting?

It's been a quiet week as far as new products go, but here is a few...

Timeless Treasures Spin Collection came in and the colors are so bright and cheerful! They will make a great blender on those spring and summer quilt projects!



Another great Timeless Treasures collection, food and cooking! They go well with the Spin Collection!

Well, it's the only new book this week and it happens to be a copy of Judy Martin's, Cookies and Quilts. Both Barb and I looked at each other when we came across this book title and said, "yes, we have to try this!"


What's New With Pfaff
Pfaff sewing machines are the official sponsor of the PBS show Fons ad Porters Love of Quilting for 2019! The Fons and Porter Love of Quilting TV Show host, Sara Gallegos, works with guests to explore both old and new quilting ideas! Pfaff and Pfaff sewing machine dealers are very excited for this opportunity!

Pfaff is running three fun specials in March to celebrate National Quilting Month!
First special, receive a Passport 3.0 for $599
Second special is buy a Power Quilter 16.0 and receive the table overlay for FREE!

Third special for the month is a free gift bundle when you purchase the Performance Icon or the Quilt Expression 720. Both machines are in our store and ready to sew whenever you'd like to come in and try the machines out!
Upcoming Classes and Events
Tuesday, March 19th:
Spring Break Lunch and Learn Putting Personal Expression in Your Quilts
from noon to 1pm. Have you figured out the type and style of quilts you like or do you just buy kits of quilts that appeal to you? Do you keep making quilts you are just not sure of if they really fit who you are and your personality? Learn from Diane T. how to express your personality and style in the quilts you make. Learn how to add your personal touch and style to the kits you buy. Diane will go through some techniques and thought processes you can begin using when picking out projects, designing quilts, so that when you have completed the quilt, you love what you made and it is a reflection of who you are! Come on in, as NO pre-registration is required.


Tuesday, March 19th: Binding Sister's Small Group starting at 1 pm

Wednesday, March 20th: Applique Sew-in and there is always room for one more! 10-4

Thursday, March 21st: Spring Break Lunch and Learn Part 2 of 2: What To Do With All Those Scraps Diane T will be hosting a two part series on scrap quilts. This is part two of the Lunch and Learn series, and this time the show and tell will be all your's! Bring in a block you made using scraps and tell how you sort, prepare, and organize your scraps to make quilt making easier! Cost of Lunch and Learn Presentation is Free! Bring a sack lunch. Pre-registration is a must by calling the store (515)276-1977 or emailing me at sienagraceproductions@gmail.com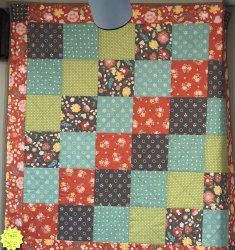 Saturday, March 23rd: Beginning Binding Basics class with Pat H from 1-4 pm Beginner Binding Basics Learn to prepare binding strips, attach them to your quilt edge, and turn mitered corners. We will also discuss a 2 color binding technique that can give your quilt binding a pop of color. Every quilter needs this class to give their quilts a nice finish

Sunday, March 24th: Kimberbell Watercolor Basics 1:15-3:45 Kimberbell Machine Embroidery Club: Embroidered Cards Watercolor Wishes Come join Karen S. for an afternoon of fun in making some cute spring greeting cards using the Kimberbell Embroidered Cards Watercolor Wishes machine embroidery designs! This is a perfect way to prepare some spring "Thinking of You" greeting cards or "Happy Easter"! 10 designs to choose from.
Monday, March 25th: Clothesline Club: We have had such an overwhelming request for more 1930's projects, that we are starting the Clothesline Club! We will meet monthly on the 4th Monday of the month from 1-4 pm. Each month we will focus on a 1930's block and it's history. We will also focus on a color of the month and hand out a scrap piece of reproduction fabric, that can be used in the next month's block. You can choose to make the focus 1930's block, or make a different one, using the scrap piece of reproduction fabric. By the end of the year, you will have made a minimum of 12 blocks to add to your 1930's quilt, and when people comment on your quilt, you can tell them a snip-it of history behind each block! Each month there will be show and tell, a teaching technique, history lesson, and time to sew! The cost is $20 for the year and if you bring a block each month for show and tell, you will receive the next month's pattern and color fabric free!
Friday, March 29th: UFO Friday Afternoon Club 1-4 pm
Friday, March 29th: Wine and Cheese Party Sit and Sip! 5-7:30 Come with a friend to sit, knit, embroidery or sew while enjoying an appetizer (or two) and sipping on a glass (or two) of wine. Pre-registration is required and cost is $5.00 per person at the door.
Saturday, March 30th: Tucker Technique Class: Wing Clipper Tool (Flying Geese) Rosella Hanson, a certified Tucker University instructor, will be doing a seven month series of Tucker Technique Classes. The first one is uses the Wing Clipper Ruler. Learn to make perfect Flying Geese blocks, in all sizes, using the Wing Clipper tool. 1-4 pm

Thursday, April 4th - 6th: is the Central Iowa Shop Hop! All participating central Iowa quilt stores will be offering 15% discounts on most items in their stores. All stores will be open on Thursday night until 7 pm. And of course, to make the adventure a little more exciting, there will be a scavenger hunt and the possibility to win prizes! Mark your calendars for the 3 day event!
Looking Ahead
We are so blessed to have three award winning appliquer's teaching different techniques of needle turn applique in the upcoming months!
April 10th: award winning Bonnie Nelsen will be teaching the technique of Back Basting Applique from 1-3pm.
May 2nd, 9th, and 16th (all one series of classes to complete the project): award winning Karen Burrier will be teaching the technique of Turned Edge Applique by Machine that results in the look of hand applique from 5-7 pm.
June 1st: award winning Carol Moeller"s will be teaching another project focusing on Turned Edge Applique with a sewing machine.
Each instructor is fantastic to learn from and will share with you their way of doing applique, Each project will develop new skills for beautiful applique projects! Pre-registration is available now! Take all three classes if you want...I guarantee, you won't be disappointed!
All class fees go straight to the instructor. Due to the time each teacher puts into preparing for a class, no refunds will be made for canceling a class within one week of the class date. In the same respect, should we need to cancel a class due to not meeting the minimum amount of students, we will cancel the class one week prior class date and offer a full refund or a class credit toward another class.
Check out our website at www.creeksidequiltingiowa.com for more upcoming classes Our April schedule of classes is available at www.creeksidequiltingiowa.com
Community Outreach Program for March 6th-May 18th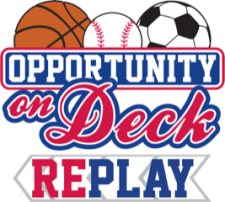 Creekside Quilting will be collecting donations, in the store, from March 6th through May 17th of new or slightly used sports equipment, shoes, and clothing that can be re-gifted to children and schools in need of these items. These donations provide for children in need, an opportunity to level the playing field and participate in sports activities, that they may otherwise not have the opportunity to do. So when you are cleaning out your garage or basements this spring, think of this organization, Opportunity on Deck/Replay. If you have a lot or just don't want to bring it into the store, they will be more than happy to come to your home and pick up your donation(s). For each item you bring into the store, or they pick up from your house, Creekside will add 5 Loyalty points (per item) to your rewards account. This seemed to work great with our Souper Bowl Soup Drive...so let's try it again!

On May 18th, Creekside is sponsoring a golf hole, in the Opportunity on Deck/Replay Golf Outing! This golf outing is a fundraiser out at Copper Creek Golf Course. Please check out their facebook page Opportunity on Deck Replay Golf Outing or for more information email oodreplay@gmail.com or call Anna at (515)402-7804. I know some of you quilters like to play golf! I'm guessing some of you have husbands who like to play golf too! :)
This Week's Coupon March 19th-March 25th

This week spring comes in under a full moon! Let's welcome the start of spring with 15% off all full yard cuts of cotton floral fabrics. Maximum 3 full yard cuts.
Happy Spring! Happy Sewing!
karen steggerda