Creekside Quilting Guest Visit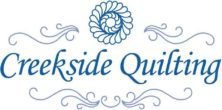 Creekside Quilting is starting their Clothesline Club on Monday, and to help kick it off, Linzee McCray is going to stop by our store on Tuesday morning before the Des Moines Area Quilter's Guild meeting to say "hello" and do a meet and greet!


Linzee is an expert on Feed Sacks material, and 1930's fabrics and quilts. She has published books and patterns, and even has her own Moda line of fabrics, called Feed Sacks! Come visit with her, ask her questions, bring your own 1930's quilts to talk about, and just enjoy her vast wisdom and knowledge. Then plan on going to the DSM Area Quilter's Guild meeting to see her trunk show and her more about her amazing story.

This is a real treat for Creekside Quilting, so please plan on joining us from 10:15-11:45 in welcoming Linzee McCray!