Creekside Quilting Newsletter 03/26/2019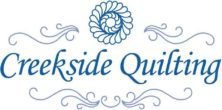 It has been so much fun to see what you have been working on over the winter months! We have had a lot of show and tells the past two weeks, and it is wonderful! You quilter's have been very busy! I love it when you bring in your quilts and tell us what you have been working on and creating! Please keep coming in with your show and tell...you are all amazing with your skills and creativity! Of course, I need to share just one example:

TODAY!!! Yesterday afternoon we started our Clothesline Club, and to help kick it off, Linzee McCray is going to stop by our store on Tuesday morning before the Des Moines Area Quilter's Guild meeting to say "hello" and do a meet and greet!
Linzee is an expert on Feed Sacks material, and 1930's fabrics and quilts. She has published books and patterns, and even has her own Moda line of fabrics, called Feed Sacks! Come visit with her, ask her questions, bring your own 1930's quilts to talk about, and just enjoy her vast wisdom and knowledge. Then plan on going to the DSM Area Quilter's Guild meeting to see her trunk show, buy her patterns, and hear more about her amazing story.
This is a real treat for Creekside Quilting, so please plan on joining us from 10:15-11:45 in welcoming Linzee McCray!

Speaking of our Clothesline Club, there has been such an interest, we opened up another group on the 2nd Monday of the month 1-4 pm.
What's New @ Creekside Quilting?
We got a couple of new fun fabrics in for the knitters and embroidery people! Just a fun fabric, that I think would make a great journal cover! Motivation to keep track of all your projects!
I love these Strawberry Jam Wide Backs!! Speaking of Strawberry Jam, anyone have an easy recipe they would like to share? I've always wanted to make it, yet it seems so difficult! I make freezer jam, but would love to try making the "real" thing!
It's called Celebrate Summer, but it is so cute and could be used in a young person's quilt or a beach bag! I know spring just arrived, but summer is starting to trickle in, and in April....yes Christmas fabrics will start to arrive also....moving on.


The newest Quiltmania and Simply Vintage arrived this past week!
What's New with Pfaff
Only a few more day's left to take advantage of this special from Pfaff. In April, it's all about the Icons and Expressions, which are amazing machines, but if you are looking for a smaller machine to take to retreats, this passport is lovely and lightweight!
Buy a Passport 3.0 for $599
Regularly $799, that's a $200 savings!
Upcoming Classes and Events

Yes, it is the end of March already!! On Friday, March 29th: UFO Friday Afternoon Club 1-4 pm we kick off the afternoon with our UFO club! It's a great feeling ending the month with UFO's and starting the next month with finishing another UFO! We are just cranking out the unfinished projects and it is a good feeling. You can begin to sign up for the UFO Friday Afternoon Club, which will start at the end of July!

Friday, March 29th: Wine and Cheese Party Sit and Sip! 5-7:30 Come with a friend to sit, knit, embroidery or sew while enjoying an appetizer (or two) and sipping on a glass (or two) of wine. Pre-registration is required and cost is $5.00 per person at the door. Only a couple of seats remaining for this fun and festive evening, so get your name in on the pre-registration sheet!


FULL! Saturday, March 30th: Tucker Technique Class: Wing Clipper Tool (Flying Geese) Rosella Hanson, a certified Tucker University instructor, will be doing a seven month series of Tucker Technique Classes. The first one is uses the Wing Clipper Ruler. Learn to make perfect Flying Geese blocks, in all sizes, using the Wing Clipper tool. 1-4 pm



Upcoming Events and Classes in April



Thursday, April 4th - 6th: is the Central Iowa Shop Hop! All participating central Iowa quilt stores will be offering 15% discounts on most items in their stores. All stores will be open on Thursday night until 7 pm. And of course, to make the adventure a little more exciting, there will be a scavenger hunt and the possibility to win prizes! Mark your calendars for the 3 day event!

Sunday April 7th: Countdown to Christmas Club from 1:15-3:45 Is there anyone else who had Christmas projects or gifts they wanted to make last year and did NOT get them finished? I sure did! I'd like to be more productive this year and be ready ahead of time instead of waiting until November and burning the midnight oil!April to November on the first Sunday of the month, and if we are attentive to our goals, we should have some Christmas projects and gifts ready for celebrating the season come December 2019! (I know, hard to think about right?)


Monday, April 8th: Clothesline Club Group 2 We will be doing the exact same thing as group 1, just on the 2nd Monday of the month for a full year! We opened this group up on Friday and we only have a seats left, so if you are interested, call a friend and get signed up!


April 10th: award winning Bonnie Nelsen will be teaching the technique of Back Basting Applique from 1-3pm. Learn the basics as to Back Basting Needle Turn Applique from Bonnie Nelson! She will go over the tools needed, the process, how to make perfect points and curves, and answer any questions as you practice appliqueing a leaf! Needle turn applique adds a dimension to any quilt and looks great incorporated with block piecing! Once you learn the basics, you will be able to start a project and the join our third Wednesday of the month applique group!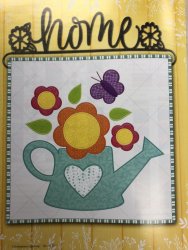 Sunday, April 14th: Come sew this cute Patrick Lose design door hanging to welcome in those May flowers! In the couple of hours, you should be able to get the top done and ready for quilting at home.


Monday, April 15th: English Paper Piecing Club! This group is growing fast and always welcomes new sewers! Don't be shy, come join the fun and get your projects done (or started)!

Tuesday, April 16th: Binding Sisters

Wednesday, April 17th: Applique Sew-in! This is such a fun group and every month I look forward to seeing this group and joining them for lunch! Come join us for the morning or the afternoon or for the whole day! Try to book in the lunch break in order to get to know more people!


Wednesday, April 17th: Learn How to Sew! This is for adults only, we will have the learn how to sew classes for younger students this summer! Creekside is offering a learn how to sew class. We will start with the very basics of machine sewing, and just practice running different stitches on the sewing machine. From this introductory class, we hope you will become more comfortable with a sewing machine, and want to branch out to trying a project or two with us this summer. This is a beginner's class and there is no project associated with the class, just bring a basic sewing kit and come and learn about the sewing machine, and how to use it.


Friday, April 19th: Sit and Knit Club...this is open to anyone who likes to knit. This will be the last class for this season, and will re-group next September or October. Come meet some other knitters to connect with over the summer months.


Saturday, April 20th: Susie Hunkin, our Lori Holt expert, will be incorporating monthly Technique Classes into her year long Lori Holt sew along! In April, Susie will be teaching how to easily read and follow Lori Holt's patterns, while creating fabric pattern values for beautiful, precise blocks! Susie will spend part of the class with discussion, demonstrations, and the rest of the class time will be available for sewing and asking her questions. If you are already signed up for the year sew along, there is no charge for the class, if you would just like to attend certain months, the cost is $30. This is month two in a series of opportunities!

Sunday, April 21st: Closed in celebration of Easter and spending the day with family.



In the Future




May 2nd, 9th, and 16th (all one series of classes to complete the project): award winning Karen Burrier will be teaching the technique of Turned Edge Applique by Machine that results in the look of hand applique from 5-7 pm.


May 14th-May 17th: WOOL WEEK! This pattern is called Sewing Bliss and I thought it would make a great picture for Wool Week promotions because, there will be trunk shows, demonstrations, and make and takes! So mark your calendars for this fun week that Patty and Diane are organizing!


On Saturday, May 18th
, Creekside is sponsoring a golf hole, in the Opportunity on Deck/Replay Golf Outing! This golf outing is a fundraiser out at Copper Creek Golf Course. If anyone would like to join me and we have a foursome, please let me know. Trust me though, when I tell you, I am an awful golfer....this would have to be a foursome, that is doing it to support the fundraiser and just have fun! Please check out their facebook page Opportunity on Deck Replay Golf Outing or for more information email oodreplay@gmail.com or call Anna at (515)402-7804. I know some of you quilters like to play golf! I'm guessing some of you have husbands who like to play golf too! :)
June 1st: award winning Carol Moeller"s will be teaching another project focusing on Turned Edge Applique with a sewing machine.

All class fees go straight to the instructor. Due to the time each teacher puts into preparing for a class, no refunds will be made for canceling a class within one week of the class date. In the same respect, should we need to cancel a class due to not meeting the minimum amount of students, we will cancel the class one week prior class date and offer a full refund or a class credit toward another class.

Check out our website at www.creeksidequiltingiowa.com for more upcoming classes Our April schedule of classes is available at www.creeksidequiltingiowa.com



Community Outreach Program for March 6th-May 18th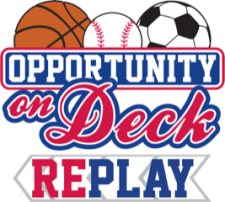 Creekside Quilting will be collecting donations, in the store, from March 6th through May 17th of new or slightly used sports equipment, shoes, and clothing that can be re-gifted to children and schools in need of these items. These donations provide for children in need, an opportunity to level the playing field and participate in sports activities, that they may otherwise not have the opportunity to do. So when you are cleaning out your garage or basements this spring, think of this organization, Opportunity on Deck/Replay. If you have a lot or just don't want to bring it into the store, they will be more than happy to come to your home and pick up your donation(s). For each item you bring into the store, or they pick up from your house, Creekside will add 5 Loyalty points (per item) to your rewards account. This seemed to work great with our Souper Bowl Soup Drive...so let's try it again!

On Saturday, May 18th, Creekside is sponsoring a golf hole, in the Opportunity on Deck/Replay Golf Outing! This golf outing is a fundraiser out at Copper Creek Golf Course. Please check out their facebook page Opportunity on Deck Replay Golf Outing or for more information email oodreplay@gmail.com or call Anna at (515)402-7804. I know some of you quilters like to play golf! I'm guessing some of you have husbands who like to play golf too! :)

This Week's Coupon March 26th-April 1st
Looks like our coupon ends on fools day (April 1st), so let's have a little fun! Let's play a quilting trivia game...its my staff against you! I have put a set of sealed questions in a basket, and if you are interested in receiving a discount, ask one of our staff to get the basket for you to draw out a quilting question. You decide if you or my staff will open the sealed question, and ask the other the question on the piece of paper (this could be really interesting to hear their answers!). It's a foolish game for a bunch of foolish quilters, but a little trivia fun to add to your discount, is definitely no fooling!

Happy Sewing!
karen steggerda