Creekside Quilting Newsletter 04/16/2019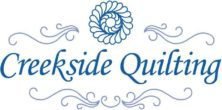 It's HERE! I do believe it is finally arriving!!! I just about walked right by this beautiful, growing plant, and then it dawned on me...it's a flower!! YAY! I think spring is on it's way!
A BIG thank you to Mary Helen for bringing in a donation for Opportunity on Deck and Replay! Another BIG thank you to the couple of people who have called the store asking how they get a hold of Anna, and then reaching out to her for a donation to the organization! Thank you! Thank you! Thank you!
If you missed this, Anna was on WOI TV5 news last week, talking about the good things Opportunity on Deck and Replay are doing for the children of our community! You can go to Creekside Quilting Iowa's Facebook page to see the video and learn more about the program and how to donate.
WOOL WEEK (May 13-17)
Monday: Beginning Wool Appliqué class, with Patty 10-noon.
Tuesday: AM: Wool handbag trunk show with Karen Macon and also bring your own wool handbags to share. PM: Wool Club will meet from noon to 4. For those interested Diane will teach several embroidery stitches.
Wednesday: AM: Trunk show by Chris Hensley. She will lead the make-and-take Paper-mâché boxes with wool appliqué on lids. Kits will be available. Bring sewing kit and an assortment of threads.
Thursday: AM: Trunk show by Cathy Sanders, followed by discussion on how to plan for large projects. Bring any wool questions or problems for help. PM: Make-and- take wool birds. Bring approx. 8x8 wool fabric for bird, contrasting thread, and sewing kit. Pattern will be provided.
Friday: Trunk show by Jean Belzer and Sherrie Davis, followed by decorating forum. Bring wool appliqué that you use for decorating for show and tell. PM: make-and-take project will be heart with pennies. Diane will assist with embroidery stitches. Kit available. Bring thread assortment and sewing kit.
Door prizes daily, discounts on wool, wool patterns, and Valdani threads! Come and spend the week with us and have lots of fun with other "woolies"!

What's New @ Creekside Quilting?

These 12 bolts of gorgeous batiks called Helsinki Batiks by Robert Kaufman are new this past week! This would make a beautiful quilt, and maybe I'm a little bias, as I love black and gold together! I'm thinking of a quilt pattern I saw with honey bees...hum may have to explore that option a little more... you might be seeing a bee pattern in our near future!


Full Spectrum
Cold Snap
and Old Glory in Charm Pack, Layer Cakes and Jelly Roll Sizes! You asked for more charm packs, layer cakes, and jelly rolls...I'm listening!


Another 20 bolts of gorgeous batiks called Serendipity came in from Robert Kaufman! Such soft pastels in a batik!


If you are a black and white person, like I am, then you are going to love this Pen and Ink 2 Line! Great basics to supplement any project!

What's new in our Wool Department?

On Saturday, April 13th, we have been chosen by Rebekah Smith Designs to be one of the select shops in the nation, to first reveal her 4 new patterns!


Folk Hearts For Home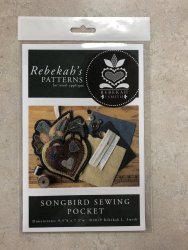 Songbird Sewing Pocket


Thistles Table Runner
Wild Flower Wooley

Rebekah Smith pattern lovers, you will not be disappointed!

What's New with Pfaff Machines?

I love that they added Mail-in Rebates for the Ambition line of sewing machines!

The Ambition 610 has a $50 Mail-in Rebate
The Ambition 620 has a $75 Main-in Rebate
The Quilt Ambition 630 has a $100 Mail-in Rebate
This special is from April 15-May 31

PFAFF® GET CREATIVE Special: It's Mail-In Rebate time for our ambition line, which includes the newly launching quilt ambition 630! Mail-In Rebate forms can be downloaded and printed out from the consumer website www.pfaff.com under the promotions tab. All completed Mail-In Rebates should be mailed in to the LaVergne, Tennessee SVP Worldwide offices, and must be postmarked by June 15, 2019.



Pfaff Creative Icon is on special from April 15th through May 31st! This Mother's Day Special is the ultimate package, which includes receiving a Grand Dream Hoop, 8 Thread Spool Rack, Pfaff Accessory Tote, 2 packages of bobbins, Embroidery Cutwork Needle Kit, 16 x 25 yard Aqua Magic Stabilizer, Large Universal Roller Bag, and an Extension Table with an Adjustable Guide AND up to 72 month 0% interest! Now that's an awesome package that Pfaff has never offered on the Creative Icon!

It's National Serger Month and what better way to celebrate the month than to introduce two new Sergers! Both machines are on special with

$100 off the Coverlock 3.0 and


$200 off the Coverlock 4.0. If you like to sew clothing OR just like to put a clean edge on your quilting blocks, these two machines are amazing and easy to work with!

Upcoming Events and Classes in April

Tuesday, April 16th: Binding Sisters

Wednesday, April 17th: Applique Sew-in! This is such a fun group and every month I look forward to seeing this group and joining them for lunch! Come join us for the morning or the afternoon or for the whole day! Try to book in the lunch break in order to get to know more people!


Wednesday, April 17th: Learn How to Sew! This is for adults only, we will have the learn how to sew classes for younger students this summer! Creekside is offering a learn how to sew class. We will start with the very basics of machine sewing, and just practice running different stitches on the sewing machine. From this introductory class, we hope you will become more comfortable with a sewing machine, and want to branch out to trying a project or two with us this summer. This is a beginner's class and there is no project associated with the class, just bring a basic sewing kit and come and learn about the sewing machine, and how to use it.


Friday, April 19th: Sit and Knit Club...this is open to anyone who likes to knit. This will be the last class for this season, and will re-group next September or October. Come meet some other knitters to connect with over the summer months.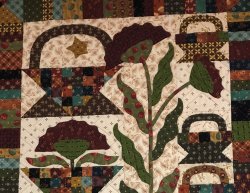 Saturday April 20th: Simple Whatnot's Club 10:30-11:30



Saturday, April 20th: Susie Hunkin, our Lori Holt expert, will be incorporating monthly Technique Classes into her year long Lori Holt sew along! In April, Susie will be teaching how to easily read and follow Lori Holt's patterns, while creating fabric pattern values for beautiful, precise blocks! Susie will spend part of the class with discussion, demonstrations, and the rest of the class time will be available for sewing and asking her questions. If you are already signed up for the year sew along, there is no charge for the class, if you would just like to attend certain months, the cost is $30. This is month two in a series of opportunities!

Sunday, April 21st: Closed in celebration of Easter and spending the day with family.


Monday, April 22nd: Clothesline Club Group 1 starting at 1pm.

Tuesday, April 23rd: Des Moines Area Quilter's Guild Meeting at 1 pm and 7 pm.

Thursday, April 25th: Scissor and Knife Sharpening starting at 10 am. Bring in your scissors and knives to be sharpened, and come back later in the day to pick up.


Thursday, April 25th: Coloring with Threads Embroidery Club This group is new after a large request for more hand embroidery patterns, threads and classes! Judy Larsen will be teaching the technique of how to color on fabric and embellish with thread! Now is the time to add a new dimension of your hand embroidery! Each month she will focus on a new technique or stitch, including exploring the color wheel, stabilizing techniques, expand your stitches and thread repertoire to add the WOW to your embroidery projects! This is a seven month club and we will start with Which Witch's Boot Pattern by Crab Apple Hill! Create this beautiful pattern by the time Halloween gets here!

Friday, April 26th: UFO Friday Afternoon Club. This club will start up again in July! Registration is available now by calling the store.


Friday, April 26th: Wine and Cheese Party Sit and Sip! 5-7:30 Come with a friend to sit, knit, embroidery or sew while enjoying an appetizer (or two) and sipping on a glass (or two) of wine. Pre-registration is required and cost is $5.00 per person at the door. Only a couple of seats remaining for this fun and festive evening, so get your name in on the pre-registration sheet!


Saturday, April 27th: Tucker Technique Class: Split Rex Tool Rosella Hanson, a certified Tucker University instructor, will be doing a seven month series of Tucker Technique Classes. The second class uses the Split Rex Tool. Learn to make perfect blocks, in all sizes, using the Split Rex tool. Rosella will be offering the class in both the morning and afternoon.

In the Future


May 1st: We will start the year long Patrick Lose Monthly Minis Machine Embroidery Applique Club! On the first day of each month, you will receive the pattern for his monthly mini machine embroidery applique. As a specialty store, we are able to offer this to you for $49 a year, (that's a pattern for $4 a month!)! Patrick's patterns are bright and cheerful, and a great way to learn how to perfect your machine embroidery skills!



May 2nd, 9th, and 16th (all one series of classes to complete the project): award winning Karen Burrier will be teaching the technique of Turned Edge Applique by Machine that results in the look of hand applique from 5-7 pm.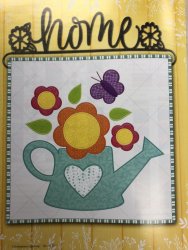 May 3rd: Patrick Lose Make and Take May Flowers. Let's get together and machine applique Patrick Lose's May Flowers from his spring Celebrations Magazine! Register for this Make and Take, bring your sewing machine and sewing accessories and let's sew this fun door hanger quilt together! Kit cost is your registration price! 1-4pm


Monday, May 13th: Kick off Wool Week with a Beginner's Wool Applique class with Patty! Get started and then come the rest of the week for more make and takes to perfect your beginning knowledge! 10-12:30


Tuesday, May 21st: Beginners Needle-turn Applique with Sharon Meisenheimer from 10:30-12:30! One more needle-turn technique to try out in our series! Each technique is so different! Once you find the technique that works best for you and your sewing style, needle-turn will change the way you quilt and open up a whole new avenue of quilt tops to make!


On Saturday, May 18th, Creekside is sponsoring a golf hole, in the Opportunity on Deck/Replay Golf Outing! This golf outing is a fundraiser out at Copper Creek Golf Course. If anyone would like to join me and we have a foursome, please let me know. Trust me though, when I tell you, I am an awful golfer....this would have to be a foursome, that is doing it to support the fundraiser and just have fun! Please check out their facebook page Opportunity on Deck Replay Golf Outing or for more information email oodreplay@gmail.com or call Anna at (515)402-7804. I know some of you quilters like to play golf! I'm guessing some of you have husbands who like to play golf too! :)


June 1st: award winning Carol Moeller"s will be teaching another project focusing on Turned Edge Applique with a sewing machine.


Starting in June, we will be offering 8 different sewing classes for kids 12-18 years old! There will be a variety of classes that will teach different sewing techniques! No need to bring a sewing machine, but they will need to bring their own sewing supplies, such as scissors, seam rippers, and any other class materials requested. So far we have lined up:
June 10th: Kids Camp Hot Pads 10-12:30
June 14th: Burrito Style Pillow Case 1-3
June 21st: Sewing Pajama Pants 1 -4
July 12th: Kids Camp Patchwork Game Board 10:30-1

All class fees go straight to the instructor. Due to the time each teacher puts into preparing for a class, no refunds will be made for canceling a class within one week of the class date. In the same respect, should we need to cancel a class due to not meeting the minimum amount of students, we will cancel the class one week prior class date and offer a full refund or a class credit toward another class.

Check out our website at www.creeksidequiltingiowa.com for more upcoming classes. Our developing May and June schedule of classes is available at www.creeksidequiltingiowa.com

Community Outreach Program for March 6th-May 18th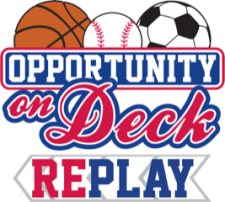 Creekside Quilting will be collecting donations, in the store, from March 6th through May 17th of new or slightly used sports equipment, shoes, and clothing that can be re-gifted to children and schools in need of these items. These donations provide for children in need, an opportunity to level the playing field and participate in sports activities, that they may otherwise not have the opportunity to do. So when you are cleaning out your garage or basements this spring, think of this organization, Opportunity on Deck/Replay. If you have a lot or just don't want to bring it into the store, they will be more than happy to come to your home and pick up your donation(s). For each item you bring into the store, or they pick up from your house, Creekside will add 5 Loyalty points (per item) to your rewards account. This seemed to work great with our Souper Bowl Soup Drive...so let's try it again!

This Weeks Coupon
Join us this week for an Easter Egg Hunt throughout the store! We have hid eggs in the store, some have discounts in them, some have a trivia question in them, and some have a piece of candy! Find an egg and bring it to the cutting table with your order!

Happy Sewing!
Karen Steggerda