Skip Navigation
Website Accessibility
Creekside Quilting Newsletter 04/30/2019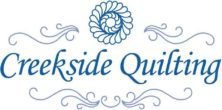 A BIG THANK YOU to all the visitors we had during the Drake Relays! It was fun to meet you, to hear your stories, and to see your projects! Thanks for stopping in while in town!
Look who turned 1 over the weekend!
I think he had a wonderful time at his birthday party! First time to try chocolate, and of course, he loved it!
Our UFO Friday Afternoon Club has over and over again repeated "I would not have finished this project without the motivation from our class!"
Linda Kramer's quilt is one example of this!
She just has a couple of blocks left and plans to have the quilt completed by the end of June when this years group ends, and the next year's group begins in July! We have plenty of room for more people if you want to join us for year two of the UFO Friday Afternoon Club!
What's New @ Creekside Quilting?
Karen M. used our Creekside Quilting pattern called
Rebecca
to create this beautiful quilt out of our William Morris fabrics! The quilt is absolutely stunning! We have
kits
made up for this project!
This gorgeous Moda Nova line of fabric came in late yesterday afternoon! Barb, Pat, and I worked hard getting it into the system, fat quarters cut and on display so that it would be ready for you today! Come take a look! It's an interesting design, with a look of modern, a few grunges, and a sense of 1930's. Love this line!
Val Beecher wrote Creekside a pattern for beginner knitters called the
Garter Stitch Cup Cozy
. It looks great on our
travel mugs
!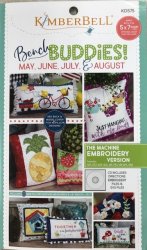 NEW
Kimberbell Bench Buddies
May through August projects arrived this past week! Looking forward to stitching one out on our
Pfaff Creative Icon
! The CD is designed to stitch out the patterns on any embroidery machine!
Sue Spargo's new book
Fresh Cut
has arrived just in time for Wool Week, May 14th-17th!
Bee In My Bonnet (Lori Holt) has a couple of apron patterns that are easy to make. This one is called "
Easy as Pie
", which summer is a great time to make pies! And the other pattern is called,
"
One Yard Apron
". With the Iowa State Fair coming up right around the corner, I know a lot of you will be baking this summer!
Lastly, we received in some
Riley Blake Rolie Polie's
in basic and bright colors! 40 pieces in the roll.
What's New With Pfaff?
Creekside Quilting is putting the Pfaff Performance Icon demo's on sale at 35% off MSRP. The machines will come like brand new, with a full Pfaff warranty, and a free cleaning over the next year by our Pfaff Certified Technician, Stevan Rounds. This is a wonderful machine with all the bells and whistles and at 35% off MSRP, will make a wonderful addition to any sewing room! Come in, sit down, and try it out! This offer is good on our demo's only and while supplies last.
Biggest Workspace
Pfaff has engineered the market's largest workspace: a 69% increase in area, 12.2" (310mm) width and 5.51" (140mm) height. The height under the sewing head has been increased to 3" (76.2mm) allowing plenty of room for your hands and providing a better view of your sewing project.
Power, Stability and Precision
The sewing machine base design reduces vibrations, giving you the power and stability you need for the most precise results. The needle piercing power is almost double from previous models, sewing in heavy fabrics has never been easier.
Unprecedented Lighting Design
The innovative lighting technology gives you the most even work light for the brightest sewing experience. LED lighting is perfectly positioned at the most beneficial points to eliminate shadows.
Multi-Touch Screen with a Smart Computerized Interface
Pfaff supersized (10.1"/257mm), interactive tablet full-color display, with customizable interface and the largest screen in the market works like a smartphone or tablet.
The Graphical User Interface
is specially designed to meet your needs.
Innovative and Exclusive Stitch Techniques
Experience unique, advanced stitch techniques: Floating Stitches, Radiant Stitches, Single, Double and Triple Ribbon Stitches, Lace Edge Stitches and Stacking Stitches for sophisticated design. Comprehensive Connectivity with WiFi and mySewnet™ mySewnet™ enabled with cloud storage and automatic firmware updates via WiFi. When connected to the free PFAFF® CreatorCue™ app, step-by-step sewing instructions and tutorials from the Help Center can be viewed from the comfort of your sofa, cutting table, ironing board, or even while shopping! Every step syncs automatically between the app and your machine via your mySewnet™. Stitches can be loaded from the app to the machine.
Automatic Needle Threader
Pfaff automatic needle threader is available on the most advanced PFAFF® sewing machine for the utmost efficiency and convenience. The thread paths with telescopic thread guides allow you to use all of your favorite threads, even if they are on larger spools.
Enhanced Original IDT™ Integrated Dual Feed
technology from PFAFF®, precisely feeds all types of fabric from the top and bottom for perfect stitching every time. It has it's own power source for more control and a built-in sensor will let you know when to activate or deactivate it!
Upcoming May Classes


May's Kimberbell Project! Marge did an excellent job putting this tote bag together. Ready for download on May 1st! We have a few extra Kimberbell Denim Tote Bags, should you need it, and if we run out, just let us know and we will special order you a bag!


Wednesday, May 1st: We will start the year long Patrick Lose Monthly Minis Machine Embroidery Applique Club! On the first day of each month, you will receive the pattern for his monthly mini machine embroidery applique. As a specialty store, we are able to offer this to you for $49 a year, (that's a pattern for $4 a month!)! Patrick's patterns are bright and cheerful, and a great way to learn how to perfect your machine embroidery applique skills!
Thursday, May 2nd, 9th, and 16th (all one series of classes to complete the project): award winning Karen Burrier will be teaching the technique of Turned Edge Applique by Machine that results in the look of hand applique. Class is from 5-7 pm all three Thursday evenings.



LOWERED THE PRICE TO JOIN! Sunday, May 5th 1:15-3:45 Count Down to Christmas! Is there anyone else who had Christmas projects or gifts they wanted to make last year and did NOT get them finished? I sure did! I'd like to be more productive this year and be ready ahead of time instead of waiting until November and burning the midnight oil! As a group, we will be motivated to get our projects and gifts done, so that each month we have something to show and tell with the group, and by Christmas completed projects! Bring your sewing, knitting, embroidery, wool applique projects and get started early! By starting in May, there is only 7 months until Christmas! Start early and be organized and ready this year!


Tuesday, May 7th starting at 1pm Foundation Paper Piecing. Enjoy the fun and accuracy of paper piecing. Sharp points and perfect pieces will be yours with this easy technique that can be used for blocks of all size. Control for sewing small pieces and odd angles with perfect points will be yours when you sew on a paper foundation. We will experiment with this technique which will enable you to be more accurate than you ever dreamed possible. Patterns will be furnished for 4 different blocks to use for practice and to better execute the technique.


Wednesday, May 8th: Scrappy Happy Stitchers
Come join a new Scrap Quilt group at Creekside meeting monthly!
Share ideas and discussions with other like minded quilters!
We'll meet on the 2nd Wednesday of the Month starting May 8th from 10-11:30!
A scrappy trunk show by Diane T will start out the first get together.
Come and share ideas, learn some new tips and techniques, and of course, meet new friends! 10-11:30
Monday May 13th:
Clothesline Club 1-4
***DURING WOOL WEEK, THERE WILL BE NO BINDING SISTERS, SEW-IN APPLIQUE GROUP, OR SIT AND KNIT AT THE STORE!***
Monday, May 13th: Kick off Wool Week with a Beginner's Wool Applique class with Patty! Get started and then come the rest of the week for more make and takes to perfect your beginning knowledge! 10-12:30


WOOL WEEK!
Tuesday, May 14th- Friday, May 17th
Monday: Beginning Wool Appliqué class, with Patty 10-noon.
Tuesday: AM: Wool handbag trunk show with Karen Macon and also bring your own wool handbags to share. PM: Wool Club will meet from noon to 4. For those interested Diane will teach several embroidery stitches.
Wednesday: AM: Trunk show by Chris Hensley. She will lead the make-and-take Paper-mâché boxes with wool appliqué on lids. Kits will be available. Bring sewing kit and an assortment of threads.
Thursday: AM: Trunk show by Cathy Sanders, followed by discussion on how to plan for large projects. Bring any wool questions or problems for help. PM: Make-and- take wool birds. Bring approx. 8x8 wool fabric for bird, contrasting thread, and sewing kit. Pattern will be provided.
Friday: Trunk show by Jean Belzer and Sherrie Davis, followed by decorating forum. Bring wool appliqué that you use for decorating for show and tell. PM: make-and-take project will be heart with pennies. Diane will assist with embroidery stitches. Kit available. Bring thread assortment and sewing kit.
Door prizes daily, discounts on wool, wool patterns, and Valdani threads! Come and spend the week with us and have lots of fun with other "woolies"!


Monday, May 20th: Clothesline Club 10:15-noon.


Monday, May 20th: English Paper Piecing Club 1-3
Tuesday, May 21st: Beginners Needle-turn Applique with Sharon Meisenheimer from 10:30-12:30! One more needle-turn technique to try out in our series! Each technique is so different! Once you find the technique that works best for you and your sewing style, needle-turn will change the way you quilt and open up a whole new avenue of quilt tops to make!
Saturday, May 25th: Looking for something to do Memorial Day Weekend? Rosella Hanson, a certified Tucker University instructor, will be doing a seven month series of Tucker Technique Classes. This is the third in the series of 7. Learn to make perfect Tucker Technique V blocks using the V-block Deb Tucker Ruler. 1-4
June 1st: award winning Carol Moeller will be teaching another project focusing on Turned Edge Applique with a sewing machine.


Wednesday, June 5th:
Make this
Allegiance Quilt
to display your patriotism or as a special Quilt of Valor. Diane T designed this quilt, previously published in
Love of Quilting
and will teach quick piecing methods, including accuracy tips for strips sets and 4 at a time flying geese. Creekside has built a great selection of patriotic fabrics sure to fit your needs!
Starting in June, we will be offering 8 different sewing classes for kids 12-18 years old! There will be a variety of classes that will teach different sewing techniques! No need to bring a sewing machine, but they will need to bring their own sewing supplies, such as scissors, seam rippers, and any other class materials requested. So far we have lined up:

June 10th: Kids Camp Hot Pads 10-12:30

June 14th: Burrito Style Pillow Case 1-3
June 21st: Sewing Pajama Pants 1 -4
July 12th: Kids Camp Patchwork Game Board 10:30-1
All class fees go straight to the instructor. Due to the time each teacher puts into preparing for a class, no refunds will be made for canceling a class within one week of the class date. In the same respect, should we need to cancel a class due to not meeting the minimum amount of students, we will cancel the class one week prior class date and offer a full refund or a class credit toward another class.
Check out our website at www.creeksidequiltingiowa.com for more upcoming classes. Our developing May and June schedule of classes is available at www.creeksidequiltingiowa.com
Community Outreach Program for March 6th-May 18th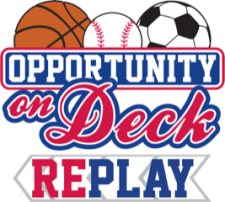 Creekside Quilting will be collecting donations, in the store, from March 6th through May 17th of new or slightly used sports equipment, shoes, and clothing that can be re-gifted to children and schools in need of these items. These donations provide for children in need, an opportunity to level the playing field and participate in sports activities, that they may otherwise not have the opportunity to do. So when you are cleaning out your garage or basements this spring, think of this organization, Opportunity on Deck/Replay. If you have a lot or just don't want to bring it into the store, they will be more than happy to come to your home and pick up your donation(s). For each item you bring into the store, or they pick up from your house, Creekside will add 5 Loyalty points (per item) to your rewards account. This seemed to work great with our Souper Bowl Soup Drive...so let's try it again!
This Weeks Coupon 4/30-5/6

It's Kentucky Derby week and I would love to reward anyone who wears their Kentucky Derby Hat into the store to receive 20% off one item of their choosing! All normal exclusions apply! I know some of you have a hat in your closet, so dust it off and wear it in!
Happy Sewing!
Karen Steggerda