Creekside Quilting Newsletter 05/14/2019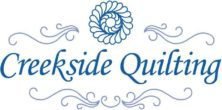 We are so excited that Wool Week is HERE!!!! Starting today, Patty and Diane have organized a 4 day event of trunk shows, make and takes, a learn how to wool applique class, and give away's! On Saturday afternoon, Patty and Diane, set up the classroom, and you will not believe your eyes when you walk in this week! It is GORGEOUS!! All the amazing talent! Thank you to everyone who contributed a wool appliqued item to help set the stage and mood for a successful week! Come join in on the fun!! Never tried wool? Trust me when I say, you are in good hands this week as there will be plenty of teachers and support to help get you started!

A few photos to share of our classroom!




***DURING WOOL WEEK, THERE WILL BE NO SEW-IN APPLIQUE GROUP, OR SIT AND KNIT AT THE STORE!***
WOOL WEEK!
Tuesday, May 14th- Friday, May 17th
Tuesday: 10:00 AM: Wool handbag trunk show with Karen Macon and also bring your own wool handbags to share. 12:00 PM: Wool Club will meet from noon to 4. For those interested Diane will teach several embroidery stitches.
Wednesday: 10:00 AM: Trunk show by Chris Hensley. She will lead the make-and-take Paper-mâché boxes with wool appliqué on lids. Kits will be available. Bring sewing kit and an assortment of threads. If you can't make it in the morning, the supplies will still be set up for the afternoon to make the kit.
Thursday: 10:00 AM: Trunk show by Cathy Sanders, followed by discussion on how to plan for large projects. Bring any wool questions or problems for help. 12:30 PM: Make-and- take wool birds. Bring approx. 8x8 wool fabric for bird, contrasting thread, and sewing kit. Pattern will be provided.
Friday: 10:00 AM Trunk show by Jean Belzer and Sherrie Davis, followed by decorating forum. Bring wool appliqué that you use for decorating for show and tell. 12:30 PM: make-and-take project will be heart with pennies. Diane will assist with embroidery stitches. Kit available. Bring thread assortment and sewing kit.
Door prizes daily, discounts on wool, wool patterns, and Valdani threads! Come and spend the week with us and have lots of fun with other "woolies"!
***DURING WOOL WEEK, THERE WILL BE NO SEW-IN APPLIQUE GROUP, OR SIT AND KNIT AT THE STORE!***
This will be our last week collecting items for Opportunity on Deck/Replay in the store, so if you have things you want to donate, please bring them over this week! Thanks to everyone who has dropped off items for Opportunity on Deck/Replay! We have also been told, that several of our customers donated by calling Opportunity on Deck/Replay and made mention they learned about donating through Creekside's publicity of the event! HUGE KUDO's to everyone!! We are a proud sponsor of the first ever
Opportunity on Deck/Replay Golf Outing
event this weekend, and it looks as though it will be decent weather to play on Saturday. It's not too late to register and play if you are looking for something fun to do on Saturday! Thanks again for helping us support this local charity!
What's New @ Creekside Quilting?
Amy Butler's Natural Beauty line of fabric came in, and it really is a beautiful floral arrangement!
Out of Print by Robert Kaufman is a new collection of 10 bolts of unique fabric focusing on writing!
Also by Robert Kaufman, Betty's Luncheonette. A combination of plaids in 7 different shades!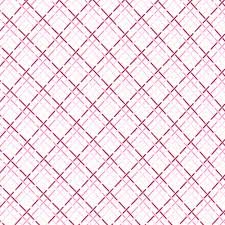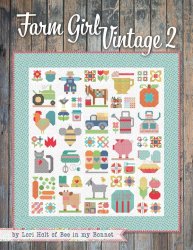 Would you like to receive one of the first copies of Farm Girl 2 by Lori Holt? Pre-order your's today with us! The book is scheduled to arrive in store in September! Please call the store to reserve your copy today!
Start preparing for this quilt by taking a class with Susie Hunkin, our Lori Holt quilt maker expert!
Saturday, May 18th:
Susie Hunkin, will be incorporating monthly
Technique Classes
into her year long Lori Holt sew along! Susie will spend part of the class with discussion, demonstrations, and the rest of the class time will be available for sewing on a Lori Holt project and asking her questions. If you are already signed up for the year sew along, there is no charge for the class, if you would just like to attend certain months, the cost is $30 per month.
A Day in Paris by Zen Chic Moda fabric line!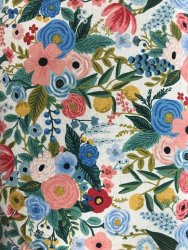 This is a gorgeous new canvas we received from
RJR called Wildwood Garden Party Canvas
, and I have talked Karen M. into making a purse out of it for a store sample. This is one of my favorite fabrics that has come in this spring!
Quilts Somewhat in the Middle
by Susan Smith is a new book for our book shelves! It's a little bit of piecing, a little bit of applique, a little bit of modern and a little bit of traditional...somewhat in the middle is a perfect name!
Yoko Saito's book
Mystery Quilt
has been released again and the pattern is one of my favorites! If you are a Yoko fan, this is a must to add to your collection!
The
All Iowa Shop Hop
booklets came in last week and are on sale in the store. Even if you are not a shop hopper, the store maps and information is great to keep in your car for when you are traveling through Iowa. Also, the patterns there are more patterns this year to choose from. We have the fabric, and can pre-sale the fabric. Let us know what you are wanting and how much, and we will cut it for you and save it until June 1st.
Upcoming May and June Classes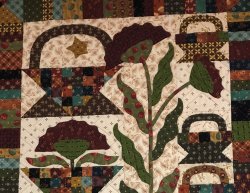 Saturday May 18th: Simple Whatnot's Club 10:30-11:30



Saturday, May 18th: Susie Hunkin, our Lori Holt expert, will be incorporating monthly Technique Classes into her year long Lori Holt sew along! Susie will spend part of the class with discussion, demonstrations, and the rest of the class time will be available for sewing and asking her questions. If you are already signed up for the year sew along, there is no charge for the class, if you would just like to attend certain months, the cost is $30.
Monday, May 20th: Clothesline Club 10:15-noon.


Monday, May 20th: English Paper Piecing Club 1-3
Tuesday, May 21st: Beginners Needle-turn Applique with Sharon Meisenheimer from 10:30-12:30! One more needle-turn technique to try out in our series! Each technique is so different! Once you find the technique that works best for you and your sewing style, needle-turn will change the way you quilt and open up a whole new avenue of quilt tops to make!


Wednesday, May 22nd starting at 5:30 pm. Buckeye Beauty is the first class! Take your skills beyond beginner by making this timeless quilt block.
Learn how to strip piece, make 4 patches, and half square triangles. (Hint-light and dark fabric contrast makes this quilt work.) Because this block finishes at 6" it can be used for any quilt size-baby to king sized.
Make it modern by choosing 2 or 3 colors with a neutral background or make it scrappy, traditional patchwork-your choice! This block can be set many ways such as clusters or 4 row, or hourglass shapes.
Saturday, May 25th: Looking for something to do Memorial Day Weekend? Rosella Hanson, a certified Tucker University instructor, will be doing a seven month series of Tucker Technique Classes. This is the third in the series of 7. Learn to make perfect Tucker Technique V blocks using the V-block Deb Tucker Ruler. 1-4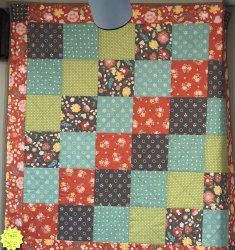 Wednesday, May 29th starting at 5:30 pm, Beginning Quilt Making Session 1. You will first practice rotary cutting with fabric provided with class fee. Once comfortable with rotary cutting, you will begin to cut the fabric you purchased for this quilt and begin to sew the blocks together. This is one of two classes. Sign up for both classes on line, but only need to pay one price. Learn the basics of how to make a quilt. This is a two part class and you need to register for both days.

***Friday, May 31st: NO SIP AND SEW WINE AND CHEESE PARTY IN MAY***


Tuesday, June 4th starting at 1 pm is Sharon M.'s class on Intro to English Paper Piecing! Hexies are popping up everywhere in sizes from ¼ inch up. Learn the easy technique of English paper piecing and join the fun of this technique. This great take along technique will help you make accurate grandmother's flower garden blocks and a whole lot more.
Wednesday, June 5th: Make this Allegiance Quilt to display your patriotism or as a special Quilt of Valor. Diane T designed this quilt, previously published in Love of Quilting and will teach quick piecing methods, including accuracy tips for strips sets and 4 at a time flying geese. Creekside has built a great selection of patriotic fabrics sure to fit your needs! 1-4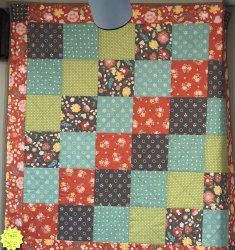 Thursday, June 6th starting at 5:30, Beginning Quilt Making Session 2. Session 1 must be completed before taking session 2. Learn the basics of how to make a quilt. This is a two part class and you need to register for both days.
Saturday, June 8th 22nd, and July 6th: Eva Marie is back with a 3 part series class! Improvisational Piecing Series! Join Eva Marie on June 8th, 22nd and July 6th! There is no specific pattern, you just improvise as you go. This class will teach you five different improv techniques; free piecing, slash and insert, wavy lines, deep curves, and minimalist composition. Our class project incorporates all five techniques or do your own thing with what you learn. 1-4pm


Wednesday, June 12th: Scrappy Happy Stitchers Come join a new Scrap Quilt group at Creekside meeting monthly! Share ideas and discussions with other like minded quilters! We'll meet on the 2nd Wednesday of the Month starting May 8th from 10-11:30! A scrappy trunk show by Diane T will start out the first get together. Come and share ideas, learn some new tips and techniques, start a project using all those scraps, show and tell, and of course, meet new friends! Cost is $10 for the whole year! 10-11:30 am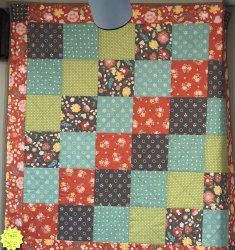 Thursday, June 20th: Beginning Binding Basics starting at 5:30 pm. Learn to prepare binding strips, attach them to your quilt edge, and turn mitered corners. We will also discuss a 2 color binding technique that can give your quilt binding a pop of color. Every quilter needs this class to give their quilts a nice finish.
Starting in June, we will be offering 8 different sewing classes for kids 12-18 years old! There will be a variety of classes that will teach different sewing techniques! No need to bring a sewing machine, but they will need to bring their own sewing supplies, such as scissors, seam rippers, and any other class materials requested. So far we have lined up:

June 10th: Kids Camp Hot Pads 10-12:30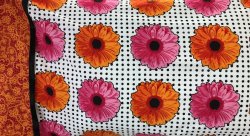 June 14th: Burrito Style Pillow Case 1-3
June 21st: Sewing Pajama Pants 1 -4
July 12th: Kids Camp Patchwork Game Board 10:30-1
All class fees go straight to the instructor. Due to the time each teacher puts into preparing for a class, no refunds will be made for canceling a class within one week of the class date. In the same respect, should we need to cancel a class due to not meeting the minimum amount of students, we will cancel the class one week prior class date and offer a full refund or a class credit toward another class.
Check out our website at www.creeksidequiltingiowa.com for more upcoming classes. Our developing May and June schedule of classes is available at www.creeksidequiltingiowa.com
Community Outreach Program for March 6th-May 18th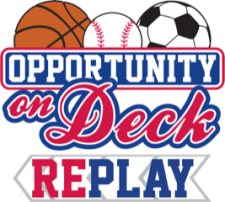 Creekside Quilting will be collecting donations, in the store, from March 6th through May 17th of new or slightly used sports equipment, shoes, and clothing that can be re-gifted to children and schools in need of these items. These donations provide for children in need, an opportunity to level the playing field and participate in sports activities, that they may otherwise not have the opportunity to do. So when you are cleaning out your garage or basements this spring, think of this organization, Opportunity on Deck/Replay. If you have a lot or just don't want to bring it into the store, they will be more than happy to come to your home and pick up your donation(s). For each item you bring into the store, or they pick up from your house, Creekside will add 5 Loyalty points (per item) to your rewards account. This seemed to work great with our Souper Bowl Soup Drive...so let's try it again!
This Weeks Coupon 5/14 through 5/20

It's Wool Week, so of course, we need to celebrate with all wool fabric, needles, threads, patterns, scissors, and books are on sale 15% off!
Have a fun week! Looking forward to seeing you in the store! Happy Sewing!
Karen Steggerda