Creekside Quilting Newsletter 05/21/2019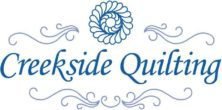 Janice and I went to Market last week in Kansas City, and I think it is safe to say we were both Wowed and overwhelmed!! It was amazing! 19 aisles of vendors and products!! Here are a few photo's from the International Quilt Market in Kansas City last week! The pictures speak for themselves....the market was amazing! WOW! I also posted a few on our Facebook page should you want to see a few others.
What's New at Creekside?
Tulsa Town is the Southwest Region pattern for the All Iowa Shop Hop. Buy a pattern from any participating store (like us!) and then during the All Iowa Shop Hop, when you present your passport for stamping AND this pattern, you will receive a fat quarter. Collect enough fat quarters to make this quilt pattern! Just an added perk to the All Iowa Shop Hop, which begins June 1st! Pre-order any fabrics now!
This is part of Missy Carpenter's new fabric line called Rustic Homestead!
And Missy Carpenter's Petals and Pennies pattern arrived last week to go along with the Rustic Homestead fabrics!!
Patrick Lose is changing up his fabric lines, and this was our last shipment of his older lines. We will receive his brand new lines starting in September! We have put his collection in our patriotic section....just in time for the 4th of July quilts that I'm sure many of you are planning.
Scrappy Fat Quarter Quilts is a new book for the scrappy quilt lovers!

Yes, you are seeing this correctly!! Christmas fabric is starting to arrive in the store! Crazy? Maybe, but also just in time to get started on those Christmas projects and joining our Countdown to Christmas Open Sew! This line is from Moda and is called To Be Jolly! More Christmas fabrics are coming, and if the rest are as festive as this line from Moda, we are in for a very fun season!
This charming Buttermilk Basin Christmas line, will add a little primitive to your Christmas quilts!
I bought at Market, two signed copies of the Dresdent Quilt Workshop book! Lots of wonderful ideas for quilts highlighting the Dresden Plate!
And to go with all our applique classes we have had over the past two months, this Back Basting Applique Step by Step book will make a great addition to any library. The details, explanations, and pictures in this book will help perfect your applique!
This is such an interesting fabric, I just couldn't resist! This gorgeous fabric is a digital print! Such vibrant colors and great for a child's quilt back!
Patrick Lose's summer magazine arrived in the store on Friday! The Celebrations in Quilting Summer issue has a lot of wonderful Patrick patterns in it, that just don't disappoint!
Love the brightness and boldness of this RJR Hopscotch fabric line! We have put them in our Blenders library of the store. Great addition to any Patrick, Tula, Kaffe or child's quilt you might be working on!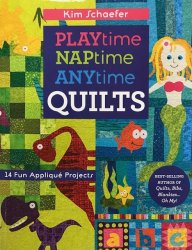 Speaking of children's quilts....how about this darling book of patterns! Playtime, Naptime, Anytime Quilts...a very fitting name for the variety of quilt patterns in the book!

Upcoming May and June Classes
Tuesday, May 21st: Beginners Needle-turn Applique with Sharon Meisenheimer from 10:30-12:30! One more needle-turn technique to try out in our series! Each technique is so different! Once you find the technique that works best for you and your sewing style, needle-turn will change the way you quilt and open up a whole new avenue of quilt tops to make!


Saturday, May 25th: Looking for something to do Memorial Day Weekend? Rosella Hanson, a certified Tucker University instructor, will be doing a seven month series of Tucker Technique Classes. This is the third in the series of 7. Learn to make perfect Tucker Technique V blocks using the V-block Deb Tucker Ruler. 1-4


NEW DATE!! Tuesday, May 28th, starting at 5:30 pm. Buckeye Beauty is the first class! Take your skills beyond beginner by making this timeless quilt block. Learn how to strip piece, make 4 patches, and half square triangles. (Hint-light and dark fabric contrast makes this quilt work.) Because this block finishes at 6" it can be used for any quilt size-baby to king sized. Make it modern by choosing 2 or 3 colors with a neutral background or make it scrappy, traditional patchwork-your choice! This block can be set many ways such as clusters or 4 row, or hourglass shapes.

***We will be close Monday, May 27th in observance of Memorial Day! Please stop in and see us on Tuesday, May 28th!***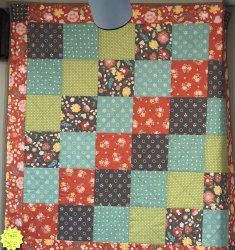 Wednesday, May 29th starting at 5:30 pm, Beginning Quilt Making Session 1. You will first practice rotary cutting with fabric provided with class fee. Once comfortable with rotary cutting, you will begin to cut the fabric you purchased for this quilt and begin to sew the blocks together. This is one of two classes. Sign up for both classes on line, but only need to pay one price. Learn the basics of how to make a quilt. This is a two part class and you need to register for both days.

***Friday, May 31st: NO SIP AND SEW WINE AND CHEESE PARTY IN MAY***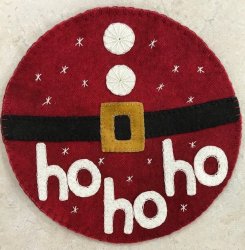 Sunday, June 5th: 1:15-3:45 Countdown to Christmas Open Sew Is there anyone else who had Christmas projects or gifts they wanted to make last year and did NOT get them finished? I sure did! I'd like to be more productive this year and be ready ahead of time instead of waiting until November and burning the midnight oil! As a group, we will be motivated to get our projects and gifts done, so that each month we have something to show and tell with the group, and by Christmas completed projects! Free to everyone! Bring your sewing, knitting, embroidery, wool applique projects and get started early! Start preparing now and be ready this year!


Tuesday, June 4th starting at 1 pm is Sharon M.'s class on Intro to English Paper Piecing! Hexies are popping up everywhere in sizes from ¼ inch up. Learn the easy technique of English paper piecing and join the fun of this technique. This great take along technique will help you make accurate grandmother's flower garden blocks and a whole lot more.


Wednesday, June 5th: Make this Allegiance Quilt to display your patriotism or as a special Quilt of Valor. Diane T designed this quilt, previously published in Love of Quilting and will teach quick piecing methods, including accuracy tips for strips sets and 4 at a time flying geese. Creekside has built a great selection of patriotic fabrics sure to fit your needs! 1-4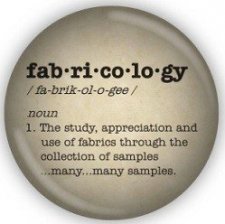 NEW!! Thursday, June 6th at 1pm OR Friday, June 7th at 5 pm: Do you know the definition of fabricology is the "study, appreciation, and use of fabrics through the collection of samples...many...many samples!" And as Judy Larsen texted me, that according to Quilting Digest, a Fabricologist is "a person who has perfected the art of stashing fabric. An expert accumulator of cloth intended for future use!" This is going to be my fun new words!!

Are you familiar with the TV show Chopped? Well here it is, combining the two, in fabric form!

Contestants will be given a basket of fabric, in which, they need to make a 12x12 quilt themed block using all the materials in the basket, in the first 60 minutes of the challenge. The block can be pieced or appliqued. We will have judges on hand to determine the top three contestants that will go for the final challenge, quilting the block in the following hour. The last three contestants will be judged on their quilting and the overall appearance of the quilt block.

The winner of the challenge will be rewarded with a $50 gift card to Creekside Quilting, 2nd place winner will receive a $25 gift card and 3rd place winner will receive a $15 gift card. All other contestants will receive a $5 gift card to Creekside Quilting, just for participating! Everyone wins!

The fabric is provided, you just need to bring your sewing supplies. Entry fee to play is $15. Sign up today at the store and then tell your friends to come and cheer you on!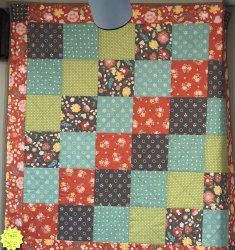 Thursday, June 6th starting at 5:30, Beginning Quilt Making Session 2. Session 1 must be completed before taking session 2. Learn the basics of how to make a quilt. This is a two part class and you need to register for both days.
Saturday, June 8th 22nd, and July 6th: Eva Marie is back with a 3 part series class! Improvisational Piecing Series! Join Eva Marie on June 8th, 22nd and July 6th! There is no specific pattern, you just improvise as you go. This class will teach you five different improv techniques; free piecing, slash and insert, wavy lines, deep curves, and minimalist composition. Our class project incorporates all five techniques or do your own thing with what you learn. 1-4pm


Wednesday, June 12th: Scrappy Happy Stitchers Come join a new Scrap Quilt group at Creekside meeting monthly! Share ideas and discussions with other like minded quilters! We'll meet on the 2nd Wednesday of the Month starting May 8th from 10-11:30! A scrappy trunk show by Diane T will start out the first get together. Come and share ideas, learn some new tips and techniques, start a project using all those scraps, show and tell, and of course, meet new friends! Cost is $10 for the whole year! 10-11:30 am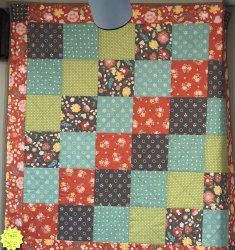 Thursday, June 20th: Beginning Binding Basics starting at 5:30 pm. Learn to prepare binding strips, attach them to your quilt edge, and turn mitered corners. We will also discuss a 2 color binding technique that can give your quilt binding a pop of color. Every quilter needs this class to give their quilts a nice finish.


NEW!! Friday, June 21st: What a wonderful way to celebrate the beginning of summer than spending the day sewing, knitting or appliqueing from sun up to sun set! Come join Creekside Quilting for their Sunrise to Sunset Summer Solstice Retreat. Yes you guessed it, we will open our doors at 5:30 am in order to set up and begin sewing at 5:41 am (sunrise) and finish up our projects for the day, at 8:53 pm (sunset). It's the longest day of the year, a celebration of the beginning of summer, and a perfect way to spend our day sewing, appliqueing, or knitting! There will be a light continental breakfast provided, snacks throughout the day, a sandwich luncheon, and a salad bar for dinner. Water and coffee will be provided but any other beverages you prefer, please bring with you for the day. If you have a snack you want to share with the group, please bring it, along with the recipe. Of course, what would a retreat be without games! We will do a game or two and prizes throughout the day! Come join me in a fun day of sewing, appliqueing, or knitting as we welcome in summer! Register by calling or coming into the store. Cost is $35

Starting in June, we will be offering 8 different sewing classes for kids 12-18 years old! There will be a variety of classes that will teach different sewing techniques! No need to bring a sewing machine, but they will need to bring their own sewing supplies, such as scissors, seam rippers, and any other class materials requested. So far we have lined up:

June 10th: Kids Camp Hot Pads 10-12:30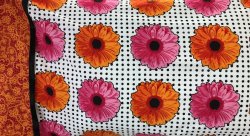 June 14th: Burrito Style Pillow Case 1-3
June 21st: Sewing Pajama Pants 1 -4
July 12th: Kids Camp Patchwork Game Board 10:30-1
All class fees go straight to the instructor. Due to the time each teacher puts into preparing for a class, no refunds will be made for canceling a class within one week of the class date. In the same respect, should we need to cancel a class due to not meeting the minimum amount of students, we will cancel the class one week prior class date and offer a full refund or a class credit toward another class.
Check out our website at www.creeksidequiltingiowa.com for more upcoming classes. Our developing May and June schedule of classes is available at www.creeksidequiltingiowa.com
Community Outreach Program for May 21st through July 31st:
ALS is a devastating disease, and when I saw this Hopes and Dreams Quilt Challenge come across my email, I knew, as a store, we just needed to support the cause! The challenge is presented by Quilter's Dream Batting,which we carry in our store and I know many of you love using.
ALS is a devastating disease that leaves a person's body paralyzed while their mind and spirit are alert and active. By participating in the Hopes & Dreams Quilt Challenge you help raise awareness about ALS (Lou Gehrig's Disease), bring warmth and hope to the lives of ALS patients, and also help raise much needed funds for research for a treatment and a cure.
Donated quilts are given to ALS patients or used to raise research money for ALS by being photographed, displayed, auctioned or raffled. In addition to contributing you quilt to a wonderful cause -- ALL donated quilts are eligible to win exciting and wonderful prizes.
The Hopes & Dreams Quilt Challenge is non-judged and all donated quilts are entered into general prize drawings. There are also incredible prize packages for winners in seven (7) different categories.

We will have the entry forms in the store to fill out at the time of drop off....
Minimum quilt size 35"x 44" or larger. Lap or bed quilts of all sizes are welcomed.

We encourage the addition of a 4" removable or hidden sleeve on the backside of the quilting for displaying.

Please note the size of your finished quilt on the Entry Form.

Tied quilts are welcomed, as are knit or crochet blankets.

Handcrafted items of all types gratefully accepted.
Bring any quilt(s) to the store, you would like to donate to this cause, by July 31st, and Creekside Quilting will mail all quilts to the challenge on August 1st. It doesn't have to be a new quilt, go to your UFO's and finish one or two up and bring to the store.
Together we are stronger!
This Weeks Coupon 5/21 through 5/27
In honor of Memorial Day, if you have served in the United States Armed Forces or have a loved one who has, write their name down on one of our waving flags you can get when you walk into the store and we will give you 15% off an item of your choice. All exclusions apply. Only one name per customer per visit.

Whew! This was a long email!!! So many new and exciting things, I just couldn't stop!!

Happy Sewing!
karen steggerda