Skip Navigation
Website Accessibility
Creekside Quilting Newsletter 07/16/2019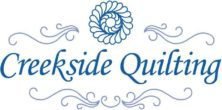 We are LOVING Debby Drottz and her GORGEOUS Laura Heine quilts! These three quilts were made by Debby and she is sharing them with us in our classroom! Anyone taking any of Debby's Laura Heine's class series, is in really good hands! Debby is a great teacher AND an amazing quilter!
We have one spot open for the Laura Heine Pin Cushion class being offered this Friday (HERE).
Then in August, Debby is teaching the Live, Laugh, Love Pillow. This class is a great place to start if you are just beginning to work with Laura Heine designs! Register HERE
Look at these vibrant fall Batiks from Robert Kaufman. The line is called Cornucopia 10! We received in 20 bolts and here are just a few pictures to make you drool! With the right pattern, they would make an amazing quilt for fall! You can see the full line HERE
BQ5 is a new pattern (order HERE), and it just might be the pattern you are looking for to showcase the Robert Kaufman Cornucopia 10 Batiks! There are large block spaces available in this pattern...just for showing off your favorite fabrics!
I took the Carol Moeller's class on Thursday, and it was a real treat to work with her! She is an amazing designer and quilter! We bought a few patterns from her on her Country Charm quilt that she taught. You can order the pattern HERE or the kit (HERE).
A NEW book to add to our Library! This Mini Wonderful Curves book is awesome if you are a Sew Kind of Wonderful Ruler fan! Check it out HERE

Woolie LOVERS are going to LOVE this new book by Sue Spargo! Once again, she doesn't disappoint! Order HERE

You asked for it, and we made them! The first block of our mystery quilt has a kit and it is ready for purchase HERE


A Quilter's Village Mystery Quilt has started off with a BANG!!
If you are interested in joining our online Facebook group to share your blocks over the next few months, find our page on Facebook called Creekside Quilting Mystery Quilt, A Quilter's Village. This is a closed group only for those who are downloading the mystery quilt blocks, so request to join and once approved, you can start submitting your block photos.
Block Two of our A Quilter's Village, designed by Diane Tomlinson, is available for free download from 07/16/2019-07/28/2019 HERE Block Two is called A Square in a Square!
Interested in ordering the Square in a Square kit? Order HERE

Clothesline Club ONLINE?? Say What? Yep, we had such a huge response to this join this group, that I have decided to offer this group on line starting July 22nd! Next Monday, you will be able to register online to join this group, and will receive the monthly history of our quilt blocks based on the Kansas City Star 1930's published patterns AND then the pattern I made from the directions of the Kansas City Star article. There will be a Facebook Group to share and chat about the blocks. Once again, this group will go live on Monday, July 22nd and you can watch for it and register for this HERE Don't like downloads or Facebook, we will have the kits available in the store next week!
Pictured is the July block and each month Barb will make up the sample and prepare kits. You can sign up for this year long club and be guaranteed a kit each month, or you can pick and choose on a monthly basis what you would like to do, but a kit may or may not be available. Registration for the Year Long Club will be available a couple more weeks and then it will be a month to month registration. Register for the year long Club HERE buy the stand HERE Order just the July pattern HERE Order just the July kit HERE



What's New with Pfaff?
Creekside Quilting is more than happy to order any Pfaff sewing machine for you, yet we do not keep a stock of sewing/embroidery machines in the store. On any machines we order for our customers, we require a 50% non-refundable down payment. We do not have demo machines of the Pfaff Hobbylock 2.0 or the Smarter Machines in the store, but we can order you one. It usually takes Pfaff a week to send us a machine, and then we have our technician, Steven Rounds, check the machines the next Wednesday he is in our store.
Upcoming July Classes and Events
Tuesday, July 16th from 10:00-noon is Sharon's Applique Group. This month the focus is on Points and Curves and you can register HERE

Tuesday, July 16th from 1-4 is Binding Sisters. This is a closed group

Wednesday, July 17th is our all day Applique Sew-in and is open to anyone who like to hand applique any method! Learn More HERE


Friday, July 19th is our first in a series of 3 Laura Heine Classes from 10:30-4. This month's class is the Mini Tomato Pin Cushion Collage Class. Register for the class HERE
Just want the kit? Order HERE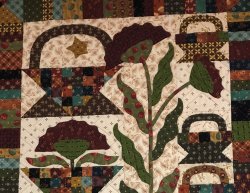 Saturday, July 20th: Simple Whatnot's Club 10:30-11:30



Saturday, July 20th: Susie Hunkin, our Lori Holt expert, bring any Lori Holt project or quilt blocks to work on and have Susie there to help with any questions or issues you are having with a pattern! The cost is $15 for the afternoon. Register HERE


Monday, July 22nd: Clothesline Club Forever 30's. 1 pm

Tuesday, July 23rd: Des Moines Area Quilters Guild Meeting at 1 pm and 7 pm. Learn more HERE


NEW CLASS! Thursday, July 25th and Thursday August 1st: Beginning Wool Hooking! Diane Theise will focus on the process of rug hooking and go over tools, wool, and finishing techniques. Learn More and Register HERE
Friday, July 26th: UFO Club will begin again for the upcoming 2019-2020 year starting at 1pm! Come join us and get those UFO's done! Register HERE! Come Join Us!!!
Friday, July 26th: starting at 5 pm is Sit, Sew, and Sip with Wine and Cheese! Register HERE

Saturday, July 27th: Tucker Technique Make up Session starting at 9 am. Did you miss a class in Rosella's Tucker Technique Series? Bring your rulers, sewing supplies, and make up the class you missed with Rosella. Register HERE


Saturday, July 27th: Tucker Technique Diamond Rects class. Register HERE



All class fees go straight to the instructor. Due to the time each teacher puts into preparing for a class, no refunds will be made for canceling a class within one week of the class date. In the same respect, should we need to cancel a class due to not meeting the minimum amount of students, we will cancel the class one week prior class date and offer a full refund or a class credit toward another class.

Check out our website at www.creeksidequiltingiowa.com for more upcoming classes. Our developing June and July schedule of classes is available at www.creeksidequiltingiowa.com
Community Outreach Project
KEEP BRINGING THE QUILTS INTO THE STORE!!! EVERY TIME A QUILT COMES IN FOR ALS, IT TRULY BRINGS A TEAR TO MY EYE!!! THANK YOU! THANK YOU! THANK YOU! KEEP THEM COMING UNTIL THE END OF THE MONTH! THIS WARMS MY HEART MORE THAN YOU WILL EVER KNOW, AS MY DEAR FRIEND'S FAMILY IS STRUGGLING WITH THIS AWFUL DISEASE, AND....WELL...THANK YOU FOR SUPPORTING SUCH A WONDERFUL CAUSE! Read more about this community outreach project HERE To mail in your own quilt, click HERE for an entry form and mailing instructions
Lastly
I had the wonderful opportunity to present at the Winterset Quilt Guild Meeting last night! The ladies were so welcoming and fun! Just a very lively and spirited group with some amazingly, talented quilters! They meet the 3rd Monday of every month so if you live in the Winterset area and looking for a group of quilters, check them out! I had so much fun last night...thanks, ladies for the invite and warm welcome!



This Week's Coupon
This week's coupon is 15% off all in stock notions. Limit to three. Please let us know when checking out that you want to use the coupon. OR you can order online and and use the coupon code Never Enough Notions!
Happy Sewing! karen steggerda