Creekside Quilting Newsletter 07/30/2019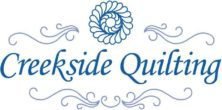 Look at all of these BEAUTIFUL quilts being donated to the Quilter's Dream Batting Hopes and Dreams Quilt Challenge for ALS!!! 19 quilts were turned in during this challenge and 380 loyalty points were given out to the quilters! THANK YOU so much for supporting this community service project! I could not be happier...this just warms my heart!! I will be taking the quilts later today to Fed Ex for mailing, so there's still a little bit of time left to drop off a quilt and add to our collection.

What' New @ Creekside Quilting?

Well, last week was a little slow, but this week, we sure made up for it! Everyday was like Christmas when UPS or Fed Ex showed up!


These two new Christmas books are not just for table runners! The patterns could be extended into full quilts or the patterns could be used for applique items. Sweet Christmas can be ordered HERE and Merry Christmas HERE

These two Gradient Holiday fabrics by Moda are just breath taking! Can be ordered HERE or HERE




We received in 17 bolts of Robert Kaufman's Holiday Flourish Metallic 12 which can be found HERE




The next item is a suggestion from a customer, and I think they will be very popular! They are called Mini Bolts and a great way to store and organize fabrics! They are easy to use, measure 7 1/2 x 11 3/4" and would fit on any book shelf, file cabinet, or however you store your fabrics! Order HERE


x


Back by popular demand is Best Press Refills or you can order in your own gallon HERE


Thinking Christmas Stocking Suffer's or quilt friend gifts yet? Here are a few products that will delight any sewer!

Simplicity Vintage Tins can be ordered HERE or HERE




Simplicity Vintage Notebooks to track all those projects can be ordered HERE or HERE or HERE




Simplicity Vintage Manicure Set can be ordered HERE




And lastly, with all the security that surrounds our computers these days, a notebook to write down all those passwords! Order HERE or HERE or HERE



The Clothesline Club Online Sew Along Group will be up and ready on August 1st...check out our website page What's New this Thursday!


Janice has put together kits of 4 of these Sunbonnet Sue Dye Cuts with Fusible Backing. Yep, they are already cut for you and have the fusing on their back, so all you have to do is cut the blocks, fuse down the pieces, and quilt! Come see Janice's quilt in our store! You can order a package of 4 Sunbonnet Sue's HERE


Iowa State Fair is right around the corner and Creekside Quilting will be there daily supporting the Fabrics and Threads Department. This year we are sponsoring 3 adult divisions and providing a free Singer Featherweight machine to the junior division winner. We are also sponsoring the 2nd and 3rd place winner in the Textiles department! I will be in the Patrick Lose Classroom daily, as we are also providing all the Pfaff sewing machines for Patrick's daily classes! HERE is a calendar of the classes being offered and as you can see, I will be teaching 3 different classes also! One is a kids class, and I am super excited about that! You can register for all classes in the Iowa State Fair Patrick Lose Classroom HERE.

Lost and Found: On Friday, July 19th, a collapsible cane was left in our store. If it is yours, we have it waiting for you! :)


Our Downloadable Mystery Quilt Block A Quilter's Village Mystery Quilt continues on with Block #3 reveal! This block is called Pinwheel House and can be downloaded from our What's New Website page HERE along with the kit. Please remember to share your blocks on our Facebook page Creekside Quilting Mystery Quilt: A Quilter's Village!

What's New with Pfaff



Iowa State Fair Specials include Creekside Quilting will be offering a free Pfaff Passport 3.0 with any sale of an Icon...the Creative Icon or the Performance Icon. The Pfaff Passport 3.0 is a great machine to sew on and light weight for retreats, travel, or a second home.

Pfaff August Promotions

Pfaff Ambition 610 is on sale for $699. Click HERE for details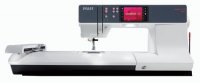 Pfaff Creative 3.0 is on sale for $2999. Click HERE for details
Pfaff Creative 4.5 is on sale for $4999. Click HERE for details

Pfaff Creative Icon Sewing and Embroidery Machine has a mail in rebate of $700 in addition to our Iowa State Fair in store sale price. Click HERE for details.

Pfaff Expression 710 is on sale for $1999. Click HERE for details.

Pfaff is giving a FREE extension table ($100+ value) with the purchase of an Ambition or an Expression sewing machine. Click HERE for details.

Come in and check out the prices we have in our store and compare them to other dealers!

August Classes and Events




Click HERE for upcoming August Classes and Events at Creekside Quilting! Just click on a class to find the description of the class and to register.


We had 2 sweet visitors at our UFO Club last Friday! The sisters were hand piecing a 9 patch quilt! Thanks Jan for bringing your granddaughters to our club! They were lovely!


And Sherry got another project done in our UFO Club! Congratulations Sherry! it's not to late to join our UFO Club and get those projects out and finished! Click HERE to join

Community Outreach Program

Our next Community Outreach Program is Hatched in Africa! We are honored to have Santi Brouwer come visit our store on Saturday. September 7th! Santi creates these beautiful embroidery designs and she will be having a trunk show at our store with some of her amazing quilts! Register HERE

Here is a little information about HATCHED IN AFRICA GIVES BACK WITH YOUR HELP
In May 2010 we introduced to you our community project that we support. Proceeds of the Sales of the Fantasy Parrot goes to supporting this community in desperate need of help. Why these children?
There are many people in need but these children are close to our heart. There was a great need to care for and feed the children in the Laerdrif community as they have been orphaned by Aids and now have the elderly caring for them. The community really struggles with affording basics like food, clothing and schooling as there is little and most days no income going their way. We have a special friend of our family that is a welfare worker and it is her personal daily mission to provide for this community. She is always looking for fresh fruit and vegetables!
The project is a creche where the children gather and get food daily. They feed 50 to 80 children. The community gets no assistance from the government and rely completely on private donations.

Click HERE to read more about Hatched in Africa and to see some of the amazing embroidery designs!
Please visit their Facebook page and see for yourself how you are helping us to provide for them... http://www.facebook.com/loveandpeacehomebase

This Weeks Coupon
This Friday and Saturday is Tax Free day for several back to school items, unfortunately, Creekside Quilting does not fit the requirements. BUT what we can do is give our shopping customers 6% off their total purchase this Friday and Saturday. You can shop on line and use the coupon code Back to Quilting. Certain exclusions apply.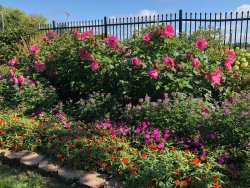 Happy Sewing! karen steggerda