Creekside Quilting Newsletter 08/06/2019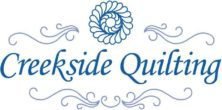 Here are the pictures of classes I will be teaching in the Patrick Lose Classroom in the Varied Industries building during the Iowa State Fair! Click HERE to register before August 8th!
Creekside Quilting is sponsoring the Patrick Lose Classroom with 12 Pfaff Ambition Essentials!
We are selling these machines during the fair for $599. Please let me know if you are interested in purchasing one...we have limited amounts. Learn more about the Ambition Essential HERE They are a GREAT machine, light weight IDT system, auto start, needle threader, thread cutter, LED light, and 110 decorative stitches! I will be in the classroom area 10-noon and 2-4. Come see me and say "hello!"
Look at this awesome panel from Robert Kaufman's Raven Moon collection! Other fabrics from this line we received in include:
Order HERE

To accompany Raven Moon, we also received in Robert Kaufman's Eerie Alley 4. Order HERE
Robert Kaufman's Winter Shimmer is just that! Shimmering with a little metallic and soft basic colors! These 14 bolts of beauty will make a very tranquil addition to your Christmas skirt, stockings etc. Order HERE
Pat's Tulip quilt is just gorgeous! Pattern can be found in Lori Holt's Quilty Fun! Come on in the store and find the rabbits! It's what the quilt is named after!
We are ready for the next Tucker Technique class with Rosella Hanson! Order your ruler HERE Register for the class HERE
Don't forget to download our Downloadable Mystery Quilt Block A Quilter's Village Mystery Quilt as it continues on with Block #3 reveal! Free download continues until August 11th. This block is called Pinwheel House and can be downloaded from our What's New Website page HERE along with the kit. Please remember to share your blocks on our Facebook page Creekside Quilting Mystery Quilt: A Quilter's Village!


Santi Brouwer from Africa, will be our guest on Saturday, September 7th for a trunk show and meet and greet. She is in America visiting stores and a customer recommended she stop here! We are thrilled to have her visit us and tell us more about her company Hatched in Africa and her embroidery designs! Santi creates these beautiful embroidery designs and she will be sharing them with a trunk show at our store with some of her amazing quilts! Register HERE
Click HERE to read more about Hatched in Africa and to see some of the amazing embroidery designs!


Clothesline Club is now online! You can now get monthly the history of quilt blocks we are studying and the pattern we are using in Creekside's popular Clothes Line Club! Click HERE to read more and join in on the fun! Barb is sharing her Churn Dash block with Sunbonnet Sue in the middle....very charming Barb!
What's New with Pfaff



Creekside Quilting's Iowa State Fair Special includes a free Pfaff Passport 3.0 with the sale of a specially priced Icon...the Creative Icon or the Performance Icon. The Pfaff Passport 3.0 is a great machine to sew on and light weight for retreats, travel, or a second home. Pfaff Passport details HERE Creative Icon details HERE Performance Icon HERE We also have special pricing on all machines in the store...come in or call and sit down and try one out! You'll love the IDT system.

For ALL Iowa State Fair Specials on Pfaff Sewing Machines click HERE

Pfaff August Promotions

Pfaff Ambition 610 is on sale for $699. Click HERE for details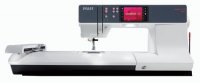 Pfaff Creative 3.0 is on sale for $2999. Click HERE for details
Pfaff Creative 4.5 is on sale for $4999. Click HERE for details

Pfaff Creative Icon Sewing and Embroidery Machine has a mail in rebate of $700 in addition to our Iowa State Fair in store sale price. Click HERE for details.

Pfaff Expression 710 is on sale for $1999. Click HERE for details.

Pfaff is giving a FREE extension table ($100+ value) with the purchase of an Ambition or an Expression sewing machine. Click HERE for details.

Come in and check out the prices we have in our store and compare them to other dealers!

August Classes and Events

Click HERE for upcoming August Classes and Events at Creekside Quilting! Just click on a class to find the description of the class and to register.

This Weeks Coupon
It's State Fair time, and there will be lots of ribbon winners! To celebrate your win, bring your winning ribbon into the store anytime during the fair, and receive 20% off up to 3 yards of regular priced 44/45" fabric, OR a book, OR a pattern. Get started early for next years fair! Order online using the coupon code I'm A Ribbon Winner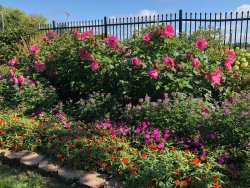 Happy Sewing! karen steggerda