Skip Navigation
Website Accessibility
Creekside Quilting Newsletter 08/13/2019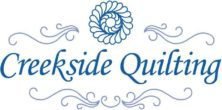 We are having SO MUCH FUN at the Patrick Lose Classroom at the Iowa State Fair!!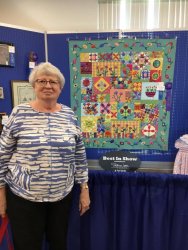 Congratulations Mary Shotwell for your Best of Show Applique Quilt...it is totally gorgeous!


Congratulations Theresa McFarling for winning Creekside Quilting's Best Applique Award!


To Peggy Gilmore, I LOVE your quilt and the story behind it!


Sharon Meisenheimer, one of our best loved teachers at Creekside..totally talented!


Karen Burrier, another wonderful teacher at Creekside! Karen, I plan on doing your applique method of Applique on the Lori Holt Granny's Garden!


Danyell Klein, one of these years, I'm going to have one in my store! Congratulations!


To my favorite mother-daughter Iowa State Fair team...Linda Arndt and Becky Tew!
Becky's first quilt AND first time entering at the Iowa State Fair!

Another first time entrant is Dennis Kuyper....your quilts and the stories behind them are heartwarming, so very special, and amazing!!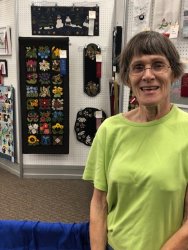 Deb Kimball, you are always a star!

AND then there is Ezekiel!!! Talking with the animals is absolutely the BEST!
AND look at those boots! What a cool kid!
Please come see me at the fair! I have totally have LOVED seeing so many friends!


Upcoming Event!
Santi Brouwer from Africa, will be our guest on Saturday, September 7th for a trunk show and meet and greet. She is in America visiting stores and a customer recommended she stop here! We are thrilled to have her visit us and tell us more about her company Hatched in Africa and her embroidery designs! Santi creates these beautiful embroidery designs and she will be sharing them with a trunk show at our store with some of her amazing quilts! Register HERE
Click HERE to read more about Hatched in Africa and to see some of the amazing embroidery designs!


Starting August 30th, Creekside Quilting is participating in a Strip Poker Chip Run with Adel Quilting & Dry Goods, Ben's Five and Dime in Panora, The Iowa Quilt Block and The Stitch! Read more about this HERE Download the postcard to play HERE

Creekside is Hiring!
We are looking for a person to do monthly embroidery projects for the store and possibly hold a monthly Embroidery Club

We are also looking for a person to do knitting projects and host our monthly Sit and Knit Club

We are also looking for a person to be a monthly floater and commit to two Saturday's a month and one Sunday. Our hours on Saturday are 9:30-5:15 and Sunday 12:45-2:15.

Please come in and request an application and return to the store before the 7th of September. I will be doing interviews the week of September 9th.

What's New @ Creekside Quilting?


NEW Fireside Backings from Moda came in this past week!


AND more! The softest backing to put on any quilt for your loved ones!
All you modern quilters, we received in this book hot off the press An Improv Handbook for Modern Quilters!
Love Love Love this new pattern, Easy Stand Up Zipper Cases! And we have the cork to go with it too!


Block #4 Reveal is the Mosaic House! Don't forget to download our Downloadable Mystery Quilt Block A Quilter's Village Mystery Quilt as it continues on with Block #4 reveal! Free download continues until August 26th. This block is called Mosaic House and can be downloaded from our What's New Website page HERE along with the kit. Please remember to share your blocks on our Facebook page Creekside Quilting Mystery Quilt: A Quilter's Village!


What's New with Pfaff



Creekside Quilting's Iowa State Fair Special includes a free Pfaff Passport 3.0 with the sale of a specially priced Icon...the Creative Icon or the Performance Icon. The Pfaff Passport 3.0 is a great machine to sew on and light weight for retreats, travel, or a second home. Pfaff Passport details HERE Creative Icon details HERE Performance Icon HERE We also have special pricing on all machines in the store...come in or call and sit down and try one out! You'll love the IDT system.

For ALL Iowa State Fair Specials on Pfaff Sewing Machines click HERE

Pfaff August Promotions

Pfaff Ambition 610 is on sale for $699. Click HERE for details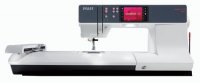 Pfaff Creative 3.0 is on sale for $2999. Click HERE for details
Pfaff Creative 4.5 is on sale for $4999. Click HERE for details

Pfaff Creative Icon Sewing and Embroidery Machine has a mail in rebate of $700 in addition to our Iowa State Fair in store sale price. Click HERE for details.

Pfaff Expression 710 is on sale for $1999. Click HERE for details.

Pfaff is giving a FREE extension table ($100+ value) with the purchase of an Ambition or an Expression sewing machine. Click HERE for details.

Come in and check out the prices we have in our store and compare them to other dealers!

August Classes and Events

Click HERE for upcoming August Classes and Events at Creekside Quilting! Just click on a class to find the description of the class and to register.


Remember a year ago when I challenged others to complete the Maple Street 101 block of the month in 9 weeks? Well, I did get mine finished in under a year...but not in 9 weeks! LOL! It was a fun thought! We still have fabric and the patterns but we are out of the kits! Email me a picture if you got this quilt done also!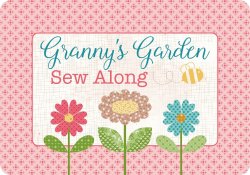 Anyone want to join me on the weekly Lori Holt Granny's Garden sew along? Check out Lori's blog HERE or contact me and I will help you get registered for the sew along....starts August 26th

This Weeks Coupon
Buy 2 skeins of Blue Sky Yarn and get the 3rd skein 50% off. There are no limits to this coupon...have fun and enjoy preparing your knitting projects for this fall!


Signing off from the Iowa State Fair! karen steggerda