Creekside Quilting Newsletter Update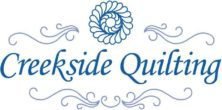 Good Morning!
Since last week, when Century Link went down, we have been having issues with our internet, Point of Sale system, credit card system, and now our website.
I know that the companies involved with this, are working on fixing all the issues, and I'm afraid, all we can do is be patient until everything gets figured out. You can ask Barb and Julia, that being patient when technology goes down, is not my strong suite....both can attest to my "frustrations".
With that being said, I'm sorry, but our newsletter will be delayed in sending this week. We will get this out to you as soon as we can and the website is working to it's full capacity.
Please check us out on Facebook or Instagram at Creekside Quilting Iowa for updates and our flash sale this week.
I will get the newsletter out at the earliest. Thank you for your patience and understanding!
Happy place, happy thoughts, happy sewing! karen steggerda