Creekside Quilting Newsletter 10/01/2019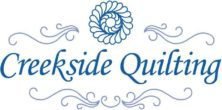 What's New @ Creekside Quilting?
Tula Pink and her Monkey Wrench line by Free Spirit! Order HERE


Barb has created and put together this pre-cut and ready to sew kit! Everything is cut and ready for you to put together and quilt! Now how easy is that! Order the kit HERE
The Quick Curve Ruler is here and Debby will be teaching the Posh Penelope Class on November 2nd using this ruler! Learn a new technique! Learn how to use a new ruler! Order Ruler HERE Register for Class HERE
Posh Penelope Pattern is also new to Creekside Quilting! Order HERE


For the Posh Penelope Class you will also need the Sew Square 6 Ruler....Order HERE


We are starting a monthly book club called Patchwork Sister's Book Club! Our first meeting will be October 30th at 1 pm and we are reading For the Love of Quilts by Ann Hazelwood! Sharon Jorgenson will be leading us as we stitch and discuss this months book. So bring your sewing, knitting, embroidery, and join in what's sure to be a lively discussion. Register for this month's book talk by purchasing the book HERE or in the store.
What's New In Our Wool Department?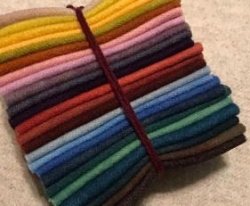 We are having a wool retreat on October 11th and 12th. You can sign up for both days HERE or just Friday HERE or just Saturday HERE. Come join in for fun, food and prizes! And of course, lots of stitching!!
These two BareRoots patterns are quick and fun to embroidery!
Start with Halloween ( Order HERE) and
move onto Christmas! Order HERE
Creekside Mystery Block!
Block 7 of our Mystery Quilt Village Quilt is the Monkey Wrench House! Order your free download
View Our October Calendar of Classes HERE
Tuesday, October 1st is our first Lunch and Learn on the Kimberbell baby burp cloths! Come and learn all about Kimberbell's easy fringe technique on Tuesday, October 1st from 12:10-12:50 at a Lunch and Learn. Bring your lunch and learn how to machine embroidery the exclusive design, which comes in both 4 x 4 and 5 x 7 sizes with two different expressions. You'll love stitching both and "that's no lion"! Free Class! Registration is required....Register HERE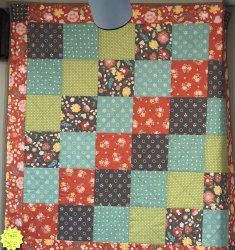 Tuesday, October 1st Beginning Quilt Making with Pat from 5:30-8:30 pm. Wanna start quilting? This class is for you! Learn to quilt in two sessions with our master teacher, Pat H. You will learn so much and have a great time learning at the same time! Register HERE
Monday, October 7th is Clothesline Club Group 2 starting at 1 pm. This is a change of date.


Wednesday, October 9th: We are starting a new Clothesline Club session! This will be the second Wednesday of the month at 10:30 am for about an hour and a half. If you are interested, please register HERE
Tuesday, October 8th is Wool Club starting at noon!. Just starting wool applique, this group of ladies are amazing and will be willing to help you get started or answer any questions you may have on your project! Come join the fun and laughter that can be found in this group!
Thursday, October 10th is the Braided Twist Class with Judy starting at 1 pm. Find out more information and register HERE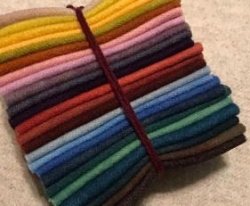 Friday and Saturday October 11th and 12th is our first ever Wool Retreat! Sign up for Friday HERE Saturday HERE or for the whole weekend HERE


Tuesday, October 15th from 10:00-noon is Sharon's Applique Group. This month the focus is on Flowers and you can register HERE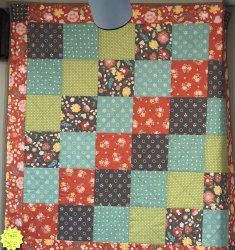 Tuesday, October 15th starting at 5:30, Beginning Quilt Making Session 2. Session 1 must be completed before taking session 2. Learn the basics of how to make a quilt. This is a two part class and you need to register for both days. Register HERE
Thursday, October 17th: Want to learn to machine embroidery but don't know where to start? Join us on Oct. 17, Nov. 20th, and Dec. 19th at 10:30 a.m. and learn how to download machine embroidery designs, how to do redo work designs, how to do machine embroidery applique, and how to do in the hoop projects. We will be using the Modern Machine Embroidery book for our projects. Come learn the basics of machine embroidery! Sign up for all three classes or one at a time. Find registration for the classes HERE


Monday, October 21st from 1-4 pm will be the English Paper Piecing Monthly Group. Everyone is welcome to join in the fun with your paper piecing projects. Learn more HERE
Friday, October 25th UFO's Friday Afternoon Club Learn More and Register
HERE Come finish those PhD's (Projects Half Done)!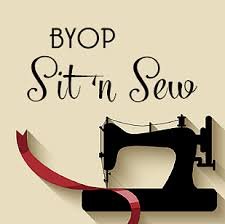 Friday, October 25th Sip, and Sew at 5-7 pm! Bring your own project, and end your week and month, sewing with friends! Come and pay $5 at the door.


Monday, October 28th: Clothesline Club at 1 pm.


Tuesday, October 29th at 10 am is Foundation Paper Piecing with Sharon M. Register HERE followed by


Tuesday, October 29th at 1 pm is Beginner Needleturn Applique! Register HERE Spend your day with Sharon!


Wednesday, October 30th: Patchwork Sister's Book Club from 1-2pm. Register HERE
Drum roll please! Last weeks winner of our "Share a Picture of your Fur Baby Helping You Sew" is Polly Mumma! I will have your free pattern and fat quarter under the front counter for you to pick-up! Thanks to everyone who participated! I loved all the pictures submitted to us on Facebook! Thank you!
Happy Sewing! karen steggerda