Creekside Quilting Newsletter 10/08/2019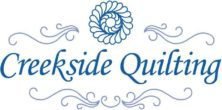 The vintage Sunbonnets in this quilt were made by Shelia Fucaloro's mom, and Shelia has completed the quilt to give to her father! What a very loving gift! We love the patchwork boarder...it was absolutely beautiful and the story behind the quilt was just so heartwarming! I had to share!
What's New @ Creekside Quilting?
NEW BATIKS from Hoffman Fabrics!

Free Spirit's Sanderson Blues came in also! So many people ask for the blue's and whites, but they are so hard to get into the store! Here is a just a few to add to your stash! Order HERE
Pillow Talk is a new book release. Pillows are easy to make and add charm to any room in the house! Order HERE
For the Lori Holt fans, we finally received in the Seams Sew Easy quilt ruler. It attaches to your sewing machine so you always sew straight lines! Order HERE
I just couldn't resist buying these for the store....sewing decorated bandages by Riley Blake! LOL! Order HERE
There are some really cute patterns in the Patrick Lose Celebrations in Quilting Fall Issue! This issue is filled with new patterns that are festive, yet easy to make! Order HERE

What's New with Pfaff in October?
Receive a mail in rebate when you buy an Pfaff Expression Sewing Machine. The Quilt Expression 720 is one of my favorite machines, and it sews like a dream! No more corners that don't line up! The IDT system (found on all Pfaff's) takes care of all of that for you!
Choose an Ambition or Passport sewing machine for $699.

What's New in Our Wool Department?


Marcia Jacobs has a new pattern out and of course we had to kit it! Order HERE for Marcia's pattern Winter Crazy and order HERE for the kit!

Creekside Mystery Block!


Block 7 of our Mystery Quilt Village Quilt is the Monkey Wrench House! Order your free download HERE
And the kit HERE

Barb's Monthly Dresden


This Dresden Plate Fright Night by Suzn Quilts was created by Barb, and she has kits available too! Kit can be found HERE

View Our October Calendar of Classes HERE
Tuesday, October 8th is Wool Club starting at noon!. Just starting wool applique, this group of ladies are amazing and will be willing to help you get started or answer any questions you may have on your project! Come join the fun and laughter that can be found in this group!
Wednesday, October 9th: We are starting a new Clothesline Club session! This will be the second Wednesday of the month at 10:30 am for about an hour and a half. If you are interested, please register HERE
Thursday, October 10th is the Braided Twist Class with Judy starting at 1 pm. Find out more information and register HERE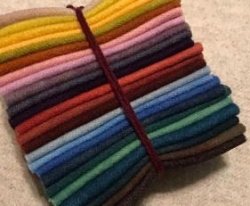 Friday and Saturday October 11th and 12th is our first ever Wool Retreat! Bring your projects and come and sew with friends! Sign up for Friday HERE Saturday HERE or for the whole weekend HERE


Tuesday, October 15th from 10:00-noon is Sharon's Applique Group. This month the focus is on Flowers and you can register HERE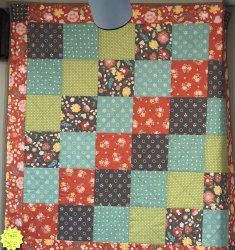 Tuesday, October 15th starting at 5:30, Beginning Quilt Making Session 2. Session 1 must be completed before taking session 2. Learn the basics of how to make a quilt. Register HERE
Thursday, October 17th: Want to learn to machine embroidery but don't know where to start? Join us on Oct. 17, Nov. 20th, and Dec. 19th at 10:30 a.m. and learn how to download machine embroidery designs, how to do redo work designs, how to do machine embroidery applique, and how to do in the hoop projects. We will be using the Modern Machine Embroidery book for our projects. Come learn the basics of machine embroidery! Sign up for all three classes or one at a time. Find registration for the classes HERE We have the towels in the store for purchase, just register for the class and bring your supplies!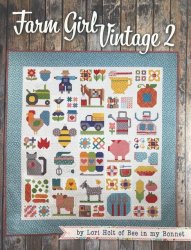 Saturday, October 19th: Farm Girl Vintage 2 Class with Susie Hunkin! Susie is our Farm Girl Vintage expert instructor, and she will teach you all the Lori Holt techniques, tricks and secrets to creating this beautiful quilt! You can sign up to come on a month to month basis HERE or register for 6 months HERE


Sunday, October 20th from 1-4. Sit and Knit Club starting the third Sunday's at 1:30 pm! Come join Elaine and other knitters for a monthly sit and knit club. This club is open to anyone who likes to knit, and would like to knit with other knitters! It's a time to share ideas, get suggestions, develop skills, and relax! The club is free, the classroom is reserved for you from 1-4, so grab a friend, your project(s), and take an afternoon to sit and knit with Elaine!


Monday, October 21st from 1-4 pm will be the English Paper Piecing Monthly Group. Everyone is welcome to join in the fun with your paper piecing projects. Learn more HERE
Friday, October 25th UFO's Friday Afternoon Club Learn More and Register
HERE Come finish those PhD's (Projects Half Done)!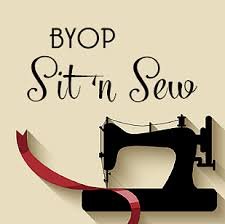 Friday, October 25th Sip, and Sew at 5-7 pm! Bring your own project, and end your week and month, sewing with friends! Come and pay $5 at the door.
Monday, October 28th: Clothesline Club at 1 pm.
Tuesday, October 29th at 10 am is Foundation Paper Piecing with Sharon M. Register HERE
Tuesday, October 29th at 1 pm is Beginner Needleturn Applique! Register HERE Spend your day with Sharon!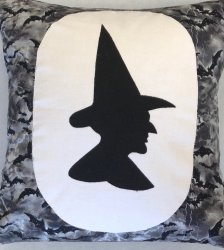 Wednesday, October 30th: This Witch Silhouette Pillow Pattern is new to Creekside. We are offering a class on this at 10:00 am on Wednesday, October 30th. Class is free if you buy the kit from us. Order Kit HERE Want to create your own kit from your scraps, not a problem, register for class HERE Come join us for a fun Halloween's Eve and have your pillow ready for display on Halloween!
Wednesday, October 30th: Patchwork Sister's Book Club from 1-2pm. Register HERE Already have the book, but still want to join, register HERE

First Half of November Classes View November Class Calendar HERE
Friday, November 1st Lunch and Learn Kimberbell November Project starting at 12:10 pm with Jane to see the tips, techniques to this month's Kimberbell project
Saturday, November 2nd Posh Penelope Class with Debby. Register HERE


Tuesday, November 5th starting at 1:30 pm is Sharon M.'s class on Intro to English Paper Piecing! Hexies are popping up everywhere in sizes from ¼ inch up. Learn the easy technique of English paper piecing and join the fun of this technique. This great take along technique will help you make accurate grandmother's flower garden blocks and a whole lot more. Register for the class HERE

All class fees go straight to the instructor. Due to the time each teacher puts into preparing for a class, no refunds will be made for canceling a class within one week of the class date. In the same respect, should we need to cancel a class due to not meeting the minimum amount of students, we will cancel the class one week prior class date and offer a full refund or a class credit toward another class.

Check out our website at www.creeksidequiltingiowa.com for more upcoming classes.


See the monarch butterfly! It was as close as I could get with out scaring it away! Happy Sewing Everyone! karen steggerda