Creekside Quilting Newsletter 10/22/2019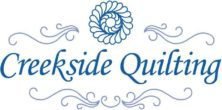 We have two very exciting announcements! Drum roll please!
First,
November 12th Mary Blythe
, author of he new book, Wool Applique Heirlooms and co-founder of The Woolen Needle, will be doing a book signing, a trunk show, and sitting in on our Wool Club for show and tell. She may even stay for the afternoon and do some stitchin' with the wool group! We have her NEW book Wool Applique Heirlooms on order and should be in the store by the end of the week. If you would like to reserve one of her new books, please email me at sienagraceproductions@gmail.com OR call the store, and we will set one aside.
Second, next
September 8th and 9th, 2020
, we are hosting a visit from Rebekah L. Smith! She will be in our store teaching 4 different classes over the two day period! Here's pictures of her classes and you can sign up for classes online or in the store.
Register
HERE
for workshops and to find out more information!
What's NEW @ Creekside Quilting?
Quiltfolk Issue #12! Can you believe we started carrying this magazine when it was on issue #4! Order
HERE
In our wool department, we have a new Wool Cutter for rent! For those of you who are needing to cut your wool for Rug Hooking or other projects, but are not yet ready to invest in this piece of equipment, rent it in our store by the hour. You must reserve the cutter in advance, and all cutting needs to done at the store. For more information, call the store.
What's New with Pfaff in October?
Receive a mail in rebate when you buy an Pfaff Expression Sewing Machine. The Quilt Expression 720 is one of my favorite machines, and it sews like a dream! No more seams that don't line up! The IDT system (found on all Pfaff's) takes care of all of that for you!
Choose an Ambition or Passport sewing machine for $699.
October Classes and Events
Friday, October 25th UFO's Friday Afternoon Club Learn More and Register
HERE Come finish those PhD's (Projects Half Done)!
Friday, October 25th Stitch and Sip from+ 5-7 pm! Bring your own project, and end your week and month, sewing with friends, while enjoying a glass of wine and snacks! More information HERE


Monday, October 28th: Clothesline Club at 1 pm.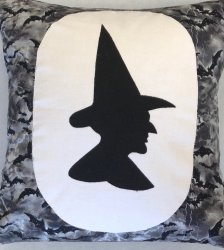 Wednesday, October 30th:
This Witch Silhouette Pillow Pattern is new to Creekside. We are offering a class on this at 10:00 am on Wednesday, October 30th. Class is free if you buy the kit from us. Order Kit
HERE
Want to create your own kit from your scraps, not a problem, register for class
HERE
Come join us for a fun Halloween's Eve and have your pillow ready for display on Halloween!
Wednesday, October 30th: Patchwork Sister's Book Club from 1-2pm. Register HERE
November Classes OR View November Class Calendar HERE
Friday, November 1st Lunch and Learn Kimberbell November Project starting at 12:10 pm with Jane to see the tips, techniques to this month's Kimberbell project. Register HERE


Saturday, November 2nd Posh Penelope Class with Debby. Register HERE

Friday, November 8th is the second in the series of the Machine Embroidery Class.


Saturday, November 9th Rosella is back with her last class in the Tucker Technique 7 Class Series! Class is 10-4! Register HERE


Monday, November 11th join our Lunch and Learn with Judy Larson who will demonstrate our new wool cutter, how to use the wool cutter and make a simple pumpkin pin! On December 9th she will be demonstrating how to make the flower using the wool cutter!


Monday, November 11th: Clothesline Club group 2


Tuesday, November 12th is Wool Club starting at noon!

Tuesday, November 12th: Beginning Binding Basics with Pat H starting at 5:30 pm Register HERE

Friday, November 22nd and Saturday, November 23rd is our Second Holiday Retreat 2019! Grab a friend and come join in for a festive fun two days of sewing, knitting, applique....bring your holiday projects and let's knock them out! Friday is 5 pm-9 pm and Saturday is 8 am-4 pm. Register HERE

All class fees go straight to the instructor. Due to the time each teacher puts into preparing for a class, no refunds will be made for canceling a class within one week of the class date. In the same respect, should we need to cancel a class due to not meeting the minimum amount of students, we will cancel the class one week prior class date and offer a full refund or a class credit toward another class.

Check out our website at www.creeksidequiltingiowa.com for more upcoming classes.


Block 8 of our Quilter's Village Mystery is a Star Puzzle House! You can download your free version for the next 2 weeks HERE Order the kit HERE Want past block patterns or kits? Order online HERE or buy in the store.



This Week's Coupon



We regularly produce live videos showcasing and selling our product. If you want to be notified by Facebook when we go "Live", follow these instructions:
Head to our Facebook page here: https://www.facebook.com/creeksidequiltingiowa/
Visit one of our Live visit posts. Here is a link to one! https://www.facebook.com/creeksidequiltingiowa/videos/2509597672603414/

At the top right of the post, click on the three little dots.

Choose "Turn on live notifications.

This will make sure you get a notification when we go live! It DOES NOT mean you have to watch our video at all, but of course we would love for you to join our fun!
Marketing Update
Starting weekly on Thursdays, we will be sending out emails notifying you of our new products, sale items, and best-selling items! We are so excited to be able to provide these updates on what is going on in our store. If you don't want to see any of these emails, please follow the "Unsubscribe" option at the bottom of the email. We look forward to serving all of you!

Also, we are doing weekly LIVE Facebook posts on new fabrics in the store. This week we are featuring a demo on how to use the Olfa Rotary Cutter to make B's Caprice pattern, Yo-Yo Trees! Go to our Facebook page today, to register for LIVE notifications from us!
Happy Sewing! karen steggerda