Creekside Quilting Newsletter 11/05/2019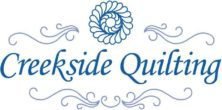 I'd say celebrating my birthday with Creekside Quilting customers and staff was tons of fun! Julia and I gave away a lot of prizes for those who participated in our Facebook trivia game! I hope everyone that participated had fun and those who won, like their prizes! I also was able to celebrate my birthday with family, including my son who lives in CA and his girlfriend...
Justin and Amisha. I also was blessed to celebrate my birthday trick or treating with this little prince charming....
I had a very fun birthday! And thanks to everyone who stopped in the store or emailed me birthday wishes!
What's New @ Creekside Quilting?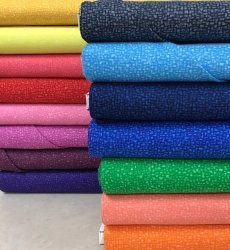 It's a rainbow of color coming to our blender area of the store! The bright colors of Windham's Bedrock fabrics adds a nice touch to any quilt. Order
HERE
We also got these wonderful blenders in by RJR Hopscotch and Jinny Beyer's collection. Order
HERE
Kansas Troubles Milestone's fabrics have arrived for those registered for the Sleigh Bells Block of the Month. These three fabrics are being held for people registered in our Sleigh Bells BOM until December 31st to purchase one 1 1/2 yard cut for your boarder. Receive a 15% off to finish off your quilt.
The November Tiny Dresden Club is ready for pick up! Patterns and Kits can be found on our What's New website page
HERE
Look as these new blues in our wool department! WOW! Linda has done a great job getting our wool, cut, packaged and ready for sale!
November and December Upcoming Classes and Events
Friday, November 8th is the second in the series of the Machine Embroidery Class. Jane has so much knowledge on machine embroidery and she loves to share her tips and techniques in classes. Learn how to download machine embroidery designs, how to do redo work designs, how to do machine embroidery applique, and how to do in the hoop projects. Class is 10:30-1:00 ish Register HERE


Saturday, November 9th Rosella is back with her last class in the Tucker Technique 7 Class Series! She will be teaching the Half Square Triangle, Quarter Square Triangle and the Combination Block. These are the block directions that come with the tool. Class is 10-4! Register HERE


Monday, November 11th join our Lunch and Learn with Judy Larson who will demonstrate our new wool cutter, how to use the wool cutter and make a simple pumpkin pin! Register HERE
Monday, November 11th: Clothesline Club group 2 at 1 pm


Tuesday, November 12th is Wool Club starting at noon! ALSO, November 12th Mary Blythe, author of he new book, Wool Applique Heirlooms and co-founder of The Woolen Needle, will be doing a book signing, a trunk show, and sitting in on our Wool Club for show and tell. She may even stay for the afternoon and do some stitchin' with the wool group! All the fun starts at noon!

Order your book HERE and have her sign it at Wool Club on November 12th!


Tuesday, November 12th: Beginning Binding Basics with Pat H starting at 5:30 pm Learn to prepare binding strips, attach them to your quilt edge, and turn mitered corners. We will also discuss a 2 color binding technique that can give your quilt binding a pop of color. Every quilter needs this class to give their quilts a nice finish.Register HERE


Wednesday, November 13th is our 3rd group of the Clothesline Club starting at 10:30 am. It's not to late to join this group so register HERE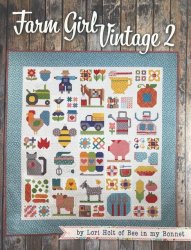 Farm Girl Vintage 2 with Susie Hunkin starting at 1 pm on Saturday, November 16th! Susie will spend part of the class with discussion, demonstrations, techniques, tips, and the rest of the class time will be available for sewing and asking her questions. Register HERE


Sit and Knit with Elaine on Sunday, November 17th starting at 1:30 pm. This club is open to anyone who likes to knit, and would like to knit with other knitters! It's a time to share ideas, get suggestions, develop skills, and relax!

Wednesday, November 20th is the Applique Sew-in Group starting at 10:00 am and lasting all day! If you like to needle-turn applique, then this fun and festive group is for you! Bring any needle-turn applique project and be ready to sew, laugh, eat lunch, and show and tell your projects! This group is all about applique, so come and join in the fun!


Friday, November 22nd and Saturday, November 23rd is our Second Holiday Retreat 2019! Grab a friend and come join in for a festive fun two days of sewing, knitting, applique....bring your holiday projects and let's knock them out! Friday is 5 pm-9 pm and Saturday is 8 am-4 pm. Register HERE


Monday, November 25th Clothesline Club Group 1 starting at 1 pm

Thursday, November 28th we will be closed for the Thanksgiving Holiday


Wednesday, December 4th
is our next Patchwork Sister's Book Club and we are reading Lily Girl's Christmas Quilt. Register for the club
HERE
. Buy this month book
HERE!
Don't forget to bring a project to sew or knit on while we discuss the book!
We are killing it in our UFO Club this year and depleting our stashes!! Coome join us!
Friday, December 6th
is our UFO Club and open to everyone! Bring your unfinished projects and come sew with us, while making goals to finish those projects up! Register
HERE
All class fees go straight to the instructor. Due to the time each teacher puts into preparing for a class, no refunds will be made for canceling a class within one week of the class date. In the same respect, should we need to cancel a class due to not meeting the minimum amount of students, we will cancel the class one week prior class date and offer a full refund or a class credit toward another class.
Check out our website at www.creeksidequiltingiowa.com for more upcoming classes.
Block 9
of our Quilter's Village Mystery Quilt is a Quilter's Flower Garden! You can download your free version for the next 2 weeks
HERE
Order the kit
HERE
Want past block patterns or kits? Order online
HERE
on our What's New page or buy in the store.
happy sewing! karen steggerda