Skip Navigation
Website Accessibility
Creekside Quilting Newsletter 11/12/2019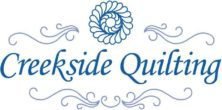 Oh the weather outside is frightful! Yes, I think winter is arriving and it could be long....so...I just want to update everyone on our store closing policy due to inclement weather. IF Des Moines Public Schools close early, chances are good we will too! We will send out an email if we are closed for the day, closing early or opening late. We will also post this on our website www.creeksidequiltingiowa.com We will do our best to contact people in our classes if a class is postponed or delayed, but please call (515)276-1977 if you are uncertain.
What's New @ Creekside Quilting?
It's been a fun week at Creekside Quilting, receiving all kinds of new fabric lines! We love it when everyday feels like Christmas!
Patrick Lose's new line Straight Grains came in this past week, and it adds a lot of bright color to our blender section!
Deb Strain's new fabric line by Moda is called Explore and for all those camper's out there, now is the time to get started for spring camping! Order
HERE
There's a panel also! Order
HERE
And this pattern, The Mountains Are Calling, was made especially for the Explore fabrics! Order
HERE
Primitive Gathering by Moda has a new fabric line called Urban Farmhouse Gatherings! All black, whites, and grays! Order
HERE
Henry Glass and Co., released this blue and cream line called Blush and Blue! Order
HERE
Maywood Fabrics Woolies Flannel is new and....you should feel this flannel! Its thick and soft and unbelievably beautiful! Would make a wonderful strip quilt or backing! Order
HERE
What's New in Creekside's Wool Department?
New colors from Shades of Grace!
New wool from the Woolen Needle in Christmas reds AND
Christmas greens!
What's New with Pfaff?
Just in time for the holiday gift giving, Pfaff has released some amazing low prices on several sewing machines!
Pfaff Passport 2.0 is on sale for $499
Pfaff Passport 3.0 is on sale for $695
Pfaff Ambition 610 is on sale for $599
Pfaff Quilt Ambition 630 is on sale for $1,495
Pfaff Ambition Essential is on sale for $499
Pfaff Expression 710 is on sale for $2,595
Pfaff Quilt Expression 720 is on sale for $2,995
Pfaff Performance Icon is on sale for $5,999
Come in, sit down, and try one of these amazing machines with the IDT system! You will see a noticeable difference in the precision and accuracy of your points and corners!
November and December Upcoming Event
TODAY!! Tuesday, November 12th is Wool Club starting at noon! Mary Blythe will be here to do a show and tell, answer questions and sign her new book!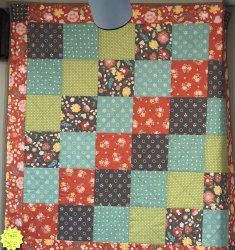 TODAY!! Tuesday, November 12th: Beginning Binding Basics with Pat H starting at 5:30pm New to attaching binding or just want a refresher course....Register HERE


November 13th: Clothesline Club Group 3 at 10:30 am. It's not too late to start with this group! Register HERE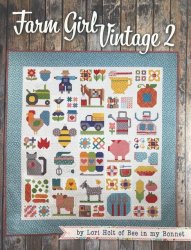 Farm Girl Vintage 2 with Susie Hunkin starting at 1 pm on Saturday, November 16th! Susie will spend part of the class with discussion, demonstrations, techniques, tips, and the rest of the class time will be available for sewing and asking her questions. Register HERE


Sit and Knit with Elaine on Sunday, November 17th starting at 1:30 pm. This club is open to anyone who likes to knit, and would like to knit with other knitters! It's a time to share ideas, get suggestions, develop skills, and relax!

Wednesday, November 20th is the Applique Sew-in Group starting at 10:00 am and lasting all day! If you like to needle-turn applique, then this fun and festive group is for you! Bring any needle-turn applique project and be ready to sew, laugh, eat lunch, and show and tell your projects! This group is all about applique, so come and join in the fun!
TWO SPOTS LEFT!! Friday, November 22nd and Saturday, November 23rd is our Second Holiday Retreat 2019! Grab a friend and come join in for a festive fun two days of sewing, knitting, applique....bring your holiday projects and let's knock them out! Friday is 5 pm-9 pm and Saturday is 8 am-4 pm. Register HERE
Starting Saturday, November 23rd: 5th Weekend Challenge!
Stop in Creekside and purchase our 5 fat quarter challenge bundle. You may join at any time during the current challenge. Design your creation with our selected 5 fabric fat quarter bundle. You must use all 5 fabrics in your creation. You may add one other fabric and one embellishment but nothing else. You may create ANYTHING you wish using our 5 fat quarter bundle!!!
All entries need to be turned back in to Creekside Quilting by the end of the business day on February 29, 2020. All entries will be displayed in the store and customers and staff will vote for their favorite throughout the next 30 days. Tell your family and friends to stop in and vote for your creation during that thirty day voting period. They can even browse and shop while they are voting. Winners to be announced on March 31, 2020.
1st place $75 store gift card
2nd place $50 store gift card
3rd place - $25 store gift card
Then get prepared for the next 5th Weekend Challenge!
Monday, November 25th
Clothesline Club Group 1 starting at 1 pm


Thursday, November 28th
, We will be CLOSED for the Thanksgiving Holiday! Please visit us on Friday or Saturday of the holiday weekend!
Monday, December 2nd
We will be closed all day for inventory!
Wednesday, December 4th is our next Patchwork Sister's Book Club and we are reading Lily Girl's Christmas Quilt. Register for the club by calling the store @ (515)276-1977. Buy this month book HERE Don't forget to bring a project to sew or knit on while we discuss the book!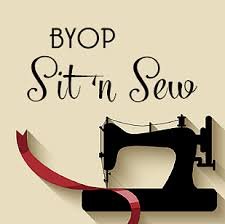 We are killing it in our UFO Club this year and depleting our stashes!! Come join us! Friday, December 6th is our UFO Club and open to everyone! Bring your unfinished projects and come sew with us, while making goals to finish those projects up! Register HERE to join our fun Fridays!
Monday, December 9th join our Lunch and Learn with Judy Larson who will demonstrate our new wool cutter, how to use the wool cutter and make a simple pumpkin pin! Register by calling the store @ (515)276-1977
All class fees go straight to the instructor. Due to the time each teacher puts into preparing for a class, no refunds will be made for canceling a class within one week of the class date. In the same respect, should we need to cancel a class due to not meeting the minimum amount of students, we will cancel the class one week prior class date and offer a full refund or a class credit toward another class.

Check out our website at www.creeksidequiltingiowa.com for more upcoming classes.


Block 10 of our Quilter's Village Mystery is the first sashings! You can download your free version for the next 2 weeks HERE Order the kit HERE Want past block patterns or kits? Order online HERE or buy in the store.

This Week's Coupon!

On Monday, for Veteran's Day, we had 40% off a select line of patriotic fabrics, that could be bought in the store or ordered online. Watch our Facebook and Instagram pages for our sales! Thank you to all who serve or have family members that serve!


These three amazing young kids: Luke, Dylan, and Madison Corey, all serve in some capacity of the United States Armed Forces, and I could not be prouder of each of them and their accomplishments!

Happy Sewing Everyone! karen steggerda