Creekside Quilting Newsletter 11/19/2019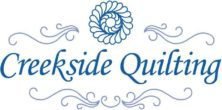 We had a great turn out for our guest speaker Mary Blythe! She did an excellent job sharing with us her wool quilts, signed books, funny stories from market, and a lot of information about wool applique! Everyone who attended walked away with only positive comments and smiles! We have a few autographed books left in the store, you can order HERE

What's New @ Creekside Quilting?


Janice has used our Explore fabric (Order HERE) and the Perfect 10 Pattern (Order HERE) to create this awesome quilt! Order KIT HERE


LOVE! LOVE! LOVE the softness and flexibility of this Zen Chic Breeze fabric line! Order HERE


AND look how cute the Zen Chic Breeze fabric looks in this Zen Chic Pattern Blue Labyrnth! Order HERE


Patrick Lose Celebrations in Quilting Winter Magazine! It has a lot of fun projects in it for the holidays and this winter! Order HERE


Barb has completed another darling hot pad for December! Order the book Pot Holders for All Seasons HERE The kits should be ready for pick up by the end of the week...Reserve your kit HERE

What's New in the Wool Department?

Mary Blythe and her Blythe Girl Patterns are what's new in our wool department!! Order HERE




What's New with Pfaff?

Just in time for the holiday gift giving, Pfaff has released some amazing low prices on several sewing machines!

Pfaff Passport 2.0 is on sale for $499
Pfaff Passport 3.0 is on sale for $695
Pfaff Ambition 610 is on sale for $599
Pfaff Quilt Ambition 630 is on sale for $1,495
Pfaff Ambition Essential is on sale for $499
Pfaff Expression 710 is on sale for $2,595
Pfaff Quilt Expression 720 is on sale for $2,995
Pfaff Performance Icon is on sale for $5,999

Come in, sit down, and try one of these amazing machines with the IDT system! You will see a noticeable difference in the precision and accuracy of your points and corners!

November and December Upcoming Events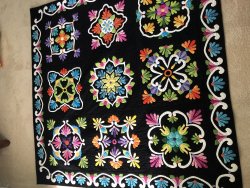 Wednesday, November 20th is the Applique Sew-in Group starting at 10:00 am and lasting all day! If you like to needle-turn applique or back basting applique, then this fun and festive group is for you! Bring any hand applique project and be ready to sew, laugh, eat lunch, and show and tell your projects! This group is all about applique, so come and join in the fun!
TWO SPOTS LEFT!! Friday, November 22nd and Saturday, November 23rd is our Second Holiday Retreat 2019! Grab a friend and come join in for a festive fun two days of sewing, knitting, applique....bring your holiday projects and let's knock them out! Friday is 5 pm-9 pm and Saturday is 8 am-4 pm. Register HERE
Monday, November 25th Clothesline Club Group 1 starting at 1 pm

Thursday, November 28th, We will be CLOSED for the Thanksgiving Holiday! Please visit us on Friday or Saturday of the holiday weekend!

Saturday, November 30th, we will be participating in Small Business Saturday with a variety of sales throughout the store and online. Watch for more information to come next week!


Starting Saturday, November 30th: 5th Weekend Challenge!
Stop in Creekside and purchase our 5 fat quarter challenge bundle. You may join at any time during the current challenge. Design your creation with our selected 5 fabric fat quarter bundle. You must use all 5 fabrics in your creation. You may add one other fabric and one embellishment but nothing else. You may create ANYTHING you wish using our 5 fat quarter bundle!!!


All entries need to be turned back in to Creekside Quilting by the end of the business day on February 29, 2020. All entries will be displayed in the store and customers and staff will vote for their favorite throughout the next 30 days. Tell your family and friends to stop in and vote for your creation during that thirty day voting period. They can even browse and shop while they are voting. Winners to be announced on March 31, 2020.
1st place $75 store gift card
2nd place $50 store gift card
3rd place - $25 store gift card
Then get prepared for the next 5th Weekend Challenge!
Monday, December 2nd We will be closed all day for inventory!

Wednesday, December 4th is our next Patchwork Sister's Book Club and we are reading Lily Girl's Christmas Quilt. Register for the club by calling the store @ (515)276-1977. Buy this month book HERE Don't forget to bring a project to sew or knit on while we discuss the book!


We are killing it in our UFO Club this year and depleting our stashes!! Come join us! Friday, December 6th is our UFO Club and open to everyone! Bring your unfinished projects and come sew with us, while making goals to finish those projects up! Register HERE to join our fun Fridays!
Monday, December 9th join our Lunch and Learn with Judy Larson who will demonstrate our new wool cutter, how to use the wool cutter and make a simple pumpkin pin! Register by calling the store @ (515)276-1977
All class fees go straight to the instructor. Due to the time each teacher puts into preparing for a class, no refunds will be made for canceling a class within one week of the class date. In the same respect, should we need to cancel a class due to not meeting the minimum amount of students, we will cancel the class one week prior class date and offer a full refund or a class credit toward another class.

Check out our website at www.creeksidequiltingiowa.com for more upcoming classes.


Block 10 of our Quilter's Village Mystery is the first set of sashings! You can download your free version for the next week HERE Order the kit HERE Want past block patterns or kits? Order online HERE or buy in the store.


Clothesline Club Online Group next block is Little Boys Britches and it is ready for download. You can join our online group and receive the monthly history of the block and the pattern HERE or you can order this block history and pattern HERE

One last item!
Add these delicious pumpkins bars to your holiday cooking this week! Recipe can be downloaded
HERE
Happy Sewing! karen steggerda