Skip Navigation
Website Accessibility
Creekside Quilting Newsletter 12/03/2019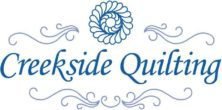 Looking for a Christmas gift idea? A Creekside Gift Card keeps on giving all year! Order online
HERE
by scrolling down to the bottom of the page.
Hope everyone had a wonderful Thanksgiving weekend and possibly a little time to quilt! I spent the day with this birthday girl! Happy 24th Anna!
Thanks to everyone for your patience and understanding Monday, as we completed our inventory count! It was a long day, but I do have to tell you, I have the best staff around....I could hear plenty of laughter throughout the day while they were were weighing bolts of fabric and counting, counting, counting! There may have been a couple of times I heard them singing to the Christmas music....they made a not-so-fun chore such a fun and happy day!
What's New @ Creekside Quilting?
Moda Memoirs Fabric line by 3 Sisters, order HERE


Looking for a 2020 planner? Every year these engagement calendars fly off the shelf....in fact, we have another order coming in the first part of next week! Call us to reserve your copy today!

What's New in our Wool Department?


Bowl Me Over is a new book! I think you could applique these cute pillows in fabric or wool. Order HERE


Cute little wool pattern that fits in our enamel trays found in our wool department! Order snowman pattern HERE and enamel tray HERE


A new embroidery stitching book with excellent directions to make perfect stitches! Order HERE

Mary Blythe talked about this chalk pencil and we received a shipment in before Thanksgiving! They are great to use on fabric or wool, because it easily wipes off! Order HERE


Another Mary Blythe fabric came in to add to our collection of wool patterns! Order HERE

What's New with Pfaff?

Creekside Quilting will be offering a "You Name the Machine Sale" this holiday season! Wanting to buy a new sewing machine this holiday season...come in and let me know what you are wanting in a sewing machine, and let me see if we can't make your holiday wishes come true...in both machine and price!

December Upcoming Events
Wednesday, December 4th is our next Patchwork Sister's Book Club and we are reading Lily Girl's Christmas Quilt. Register for the club by calling the store @ (515)276-1977. Buy this month book HERE Don't forget to bring a project to sew or knit on while we discuss the book! Order the book HERE
We are killing it in our UFO Club this year and depleting our stashes!! Come join us! Friday, December 6th is our UFO Club and open to everyone! Bring your unfinished projects and come sew with us, while making goals to finish those projects up! Register HERE to join our fun Fridays!
Monday, December 9th join our Lunch and Learn with Judy Larson who will demonstrate our new wool cutter, how to use the wool cutter and make a simple pumpkin pin! Register by calling the store @ (515)276-1977
Monday December 9th : Clothesline Club Group 2 at 1 pm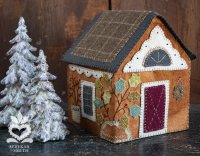 Tuesday, December 10th is Wool Club starting at noon!. Just starting wool applique, this group of ladies are amazing and will be willing to help you get started or answer any questions you may have on your project! Come join the fun and laughter that can be found in this group! Register for the Rebekah L. Smith Workshops at Creekside Quilting HERE
Wednesday, December 11th : Clothesline Club Group 3 at 10:30 am. It's not too late to start with this group! Register HERE
Farm Girl Vintage 2 with Susie Hunkin starting at 1 pm on Saturday, December 21st! Susie will spend part of the class with discussion, demonstrations, techniques, tips, and the rest of the class time will be available for sewing and asking her questions. Register HERE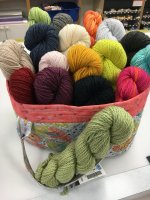 Sit and Knit with Elaine on Sunday, December 15th starting at 1:30 pm. This club is open to anyone who likes to knit, and would like to knit with other knitters! It's a time to share ideas, get suggestions, develop skills, and relax!
Monday, December 16th from 1-4 pm will be the English Paper Piecing Monthly Group. Everyone is welcome to join in the fun with your paper piecing projects. Learn more HERE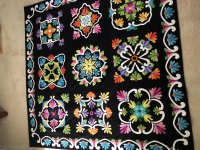 Wednesday, December 18th is the Applique Sew-in Group starting at 10:00 am and lasting all day! If you like to needle-turn applique or back basting applique, then this fun and festive group is for you! Bring any hand applique project and be ready to sew, laugh, eat lunch, and show and tell your projects! This group is all about applique, so come and join in the fun!
CLOSED Christmas Eve
CLOSED Christmas Day
Monday, December 30th: Clothesline Club Group 1 at 1 pm.

New Year's Eve Closing At 4 pm
CLOSED New Year's Day

We have exciting things coming up in 2020, so watch our newsletter for things to develop!
All class fees go straight to the instructor. Due to the time each teacher puts into preparing for a class, no refunds will be made for canceling a class within one week of the class date. In the same respect, should we need to cancel a class due to not meeting the minimum amount of students, we will cancel the class one week prior class date and offer a full refund or a class credit toward another class.

Check out our website at www.creeksidequiltingiowa.com for more upcoming classes.


A Mystery Quilt Sashing Block 11 download HERE for free for the next two weeks and order the kit HERE


Stay warm and cozy this week as you prepare for the holiday season! Happy Sewing! karen steggerda