Creekside Newsletter 12/10/2019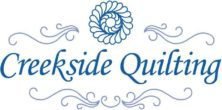 Happy Holidays Everyone! My gift to you this holiday season is...buy a $100 gift card for someone and I will give you a $25 gift card for yourself! Happy Holidays! May your holiday season be filled with joy, love and peace! karen steggerda
Creekside Quilting's Community Service Project this holiday season was partnered up with Patrick Lose Studios in providing 7 bolts of fabrics to Western Homes Communities in Cedar Falls, Iowa. They wanted to do a Pillowcase Project, where this holiday season residents would have the opportunity to have a bright new pillowcase to cozy up their winter rooms! They reached a goal of making 150 pillowcases in the month of October and selling them at their Annual Holiday Show and Sale on November 16th. Creekside, Patrick, and the residents of Western Home Communities are all thrilled the project was such a great success and that it will bring much happiness to many, many people!
What's New @ Creekside Quilting?
Barb has created the December Dresden and kits are available
HERE!
I have just loved all of these tiny Dresdens, and each month I say, "Oh this one is my favorite!" I hope no one every really makes me choose just one!
Back by popular demand, these darling spray bottles will delight every quilter on our upcoming snowy days! Great gift or stocking stuffer! Order
HERE
This may be my new favorite book! Quilting on the Go by Jessica Alexanddrakis has a lot of paper piecing projects in it that really are meant to be taken on the go. She even explains and has pictures on what she carries with her and how she packs her project holder! Order
HERE
Seems as though the fad right now is creating quilts that do not have the same block size throughout the quilt....this is another great tool book for finishing off blocks at a certain size! I like to call these types of quilts "messy quilts" because there is no rhyme or reason to them, but they sure are beautiful, creative, and fun to look at! This is a great book for all you Clothesline Club members! :) Order
HERE
Just a couple of fun fabrics by Jinny Beyer and RJR Fabrics, to add to our blender area.
Order
HERE
Does anyone realize how hard it is to keep the Iowa State fabric in stock! Crazy! Order on this page
HERE
University of Iowa will be in the store later this week....it's going to fly off the shelves also I have a feeling! Good luck to both teams and their bowl competitions!
This is a new kit from Moda called Sarah's Story! Looks to be a little applique along with the piecing! Look at all those basket blocks! I love basket quilts....this would be a fun quilt to make...Order
HERE
What's New in Our Wool Department?
Now might be a great time to ask that special someone to give you a gift you can use in 2020! Rebekah L Smith is teaching classes here at Creekside Quilting in September 2020 and I am just honored she is coming to our store! You can register for any of her classes she is teaching
HERE
So with Rebekah L Smith coming, we better start preparing by keeping her books in stock! Order
HERE
AND order
HERE
What's New With Pfaff?
If you purchase a Pfaff Ambition Essential, I will give you an extension table for FREE!!! So come on in and test the machine out! It's a great little machine with the IDT system built in.
Creekside has marked down all their Pfaff sewing machines for the holiday season...come in and test any of our machines!
Upcoming Classes and Events @ Creekside Quilting...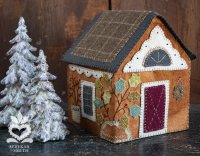 Tuesday, December 10th is Wool Club starting at noon!. Just starting wool applique, this group of ladies are amazing and will be willing to help you get started or answer any questions you may have on your project! Come join the fun and laughter that can be found in this group! Register for the Rebekah L. Smith Workshops at Creekside Quilting HERE
Wednesday, December 11th : Clothesline Club Group 3 at 10:30 am. It's not too late to start with this group! Register HERE
Farm Girl Vintage 2 with Susie Hunkin starting at 1 pm on Saturday, December 21st! Susie will spend part of the class with discussion, demonstrations, techniques, tips, and the rest of the class time will be available for sewing and asking her questions. Register HERE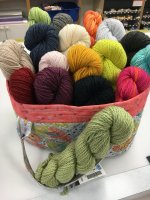 Sit and Knit with Elaine on Sunday, December 15th starting at 1:30 pm. This club is open to anyone who likes to knit, and would like to knit with other knitters! It's a time to share ideas, get suggestions, develop skills, and relax!
Monday, December 16th from 1-4 pm will be the English Paper Piecing Monthly Group. Everyone is welcome to join in the fun with your paper piecing projects. Learn more HERE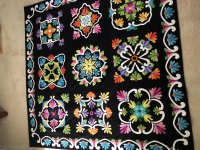 Wednesday, December 18th is the Applique Sew-in Group starting at 10:00 am and lasting all day! If you like to needle-turn applique or back basting applique, then this fun and festive group is for you! Bring any hand applique project and be ready to sew, laugh, eat lunch, and show and tell your projects! This group is all about applique, so come and join in the fun!
CLOSED Christmas Eve
CLOSED Christmas Day
Monday, December 30th: Clothesline Club Group 1 at 1 pm.


Once again our UFO group is killing it with finishing those UFO's! It's not too late to join us if you want to make finishing up UFO projects in 2020 a priority. All money collected returns to everyone at the end of the year in gift cards and notions as rewards! Don't let the challenge of finishing your UFO's keep you from joining us, we truly have a great time together...and are accomplishing so much every month! Register HERE

New Year's Eve Closing At 4 pm
CLOSED New Year's Day

January NEW Classes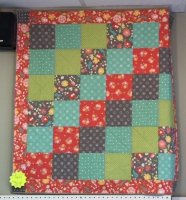 Saturday, January 11th at 1 pm starts the Beginning Quilting Making Series of classes with Pat! This is session 1 of 3. Register HERE


Thursday, January 16th at 10:30 bring your embroidery machine and make these cute zippered bags with Jane! Register HERE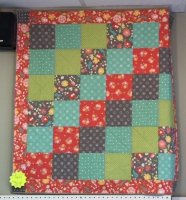 Saturday, January 25th at 1 pm is session 2 of the Beginning Quilt Making Classes with Pat! Register HERE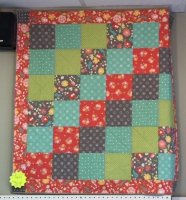 Saturday, February 8th is session 3 called Binding Basics starting at 1 pm with Pat. Register HERE

We have exciting things coming up in 2020, so watch our newsletter for things to develop!
All class fees go straight to the instructor. Due to the time each teacher puts into preparing for a class, no refunds will be made for canceling a class within one week of the class date. In the same respect, should we need to cancel a class due to not meeting the minimum amount of students, we will cancel the class one week prior class date and offer a full refund or a class credit toward another class.

Check out our website at www.creeksidequiltingiowa.com for more upcoming classes.


A Mystery Quilt Sashing Block 11 download HERE for free for the next week and order the kit HERE


Homer and I say, "Stay warm and cozy this week as you prepare for the holiday season!"
Happy Sewing! karen steggerda