Friday, December 20th starting at 10 am to 5 pm
Come join us for games, prizes, cookies and punch!
It's sure to be a fun day!



What's New @ Creekside Quilting?



We could not be more excited....today we are announcing our 2020 Block of the Month and I'm pretty sure it is going to be a BIG hit!



State Fair Samplers
Modern Quilts and Summer Fun
36 Quilt Blocks
Pattern By: Leila Gardunia

This quilt was inspired by the quilt block tiles embedded along the outside of the Jacobson Center at the Iowa State Fairgrounds.

The patterns will be distributed on the second Saturday of each month with Karen Thompson, who will be leading us with updates, tips, tricks, and show and tell on each months quilt blocks!

If you don't know Karen Thompson, she is a wonderful member of our quilting community. Karen has been crafting almost her entire life. In her words: "I made my dad a mud pen holder covered with glitter as a birthday present when I was very young. At least I like to think I was very young or I would have to admit I was playing in the mud at an inappropriate age. I learned to cross stitch and crochet from a very kind lady at church when I was ten and those are the two crafts I feel most comfortable with. My mum encouraged me in most of my crafting endeavours, but had little patience for my asking for supplies for new projects when I had so many unfinished ones. That trait has continued into adulthood, but now I fund my own supplies." She entered her first quilt into the "My First Quilt" division of the Des Moines quilt show after taking a beginner quilting class here at Creekside. She is thrilled to be getting a chance to take part (and lead!) one of Leila's BOM quilts and she "can't wait to embark on this journey with you!"

If you can't make it to the second Saturday class, then you can pick them up at the store, or we can mail them out to you, anytime after the second Saturday of the month discussion.

There will also be an opportunity to order each month's kit to make the blocks when you attend the monthly meeting.

For the year of patterns and classroom discussions, the cost is $44. Yep! That's right...$44 for the entire year of 36 patterns and 12 classroom discussions! Register HERE
You can call, stop in, or sign up for the BOM group starting TODAY!!
To view all 36 blocks, it is hanging up in the front of the store.
Our first meeting will be held on January 11 from 10am - 12pm in the Creekside classroom!

REGISTER HERE

As promised, the Iowa fabric has arrived! Order HERE
Our Clothesline Club has been focusing on Red and White Quilts this month...this book is a great addition to any library.... Order HERE


And speaking of our Clothesline Club, I didn't even know this book existed! I was thrilled when I found it and love all the quilt blocks in it....do I see another sampler quilt in my future? Order HERE


All Free Motion Quilters, here is a tool you may want to try! We are offering a Free Motion Quilting class in February 2020...watch for more information in the upcoming weeks! Order HERE


Debby has brought in two new items for display...the first one is Suburbs Order pattern HERE


and the other one is a bag made from this pattern, Frankie the Frenchie. Order HERE Both are as darling as can be!


I love this Poppy Project Bag and wish I had time to make it! Order HERE

And for those of you requesting this item, it finally arrived.....


The Lori Holt Aida cloth in 10 count. Order HERE



What's New With Pfaff?



FLASH SALE from 10-4 TODAY ONLY ON PFAFF QUILT EXPRESSION 720!!
SALE PRICED @ $2999!



MSRP is $3999


If you purchase a Pfaff Ambition Essential, I will give you an extension table for FREE!!! So come on in and test the machine out! It's a great little machine with the IDT system built in.

Creekside has marked down all their Pfaff sewing machines for the holiday season...come in and test any of our machines!

Upcoming Classes and Events @ Creekside Quilting...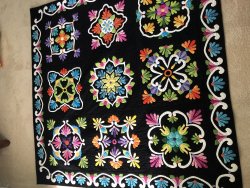 Wednesday, December 18th is the Applique Sew-in Group starting at 10:00 am and lasting all day! If you like to needle-turn applique or back basting applique, then this fun and festive group is for you! Bring any hand applique project and be ready to sew, laugh, eat lunch, and show and tell your projects! This group is all about applique, so come and join in the fun!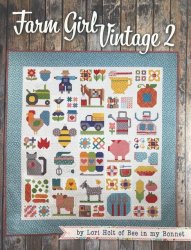 Farm Girl Vintage 2 with Susie Hunkin starting at 1 pm on Saturday, December 21st! Susie will spend part of the class with discussion, demonstrations, techniques, tips, and the rest of the class time will be available for sewing and asking her questions. Register HERE
CLOSED Christmas Eve
CLOSED Christmas Day
Monday, December 30th: Clothesline Club Group 1 at 1 pm.

New Year's Eve Closing At 4 pm
CLOSED New Year's Day

January Classes and Events
Wednesday, January 8th : Clothesline Club Group 3 at 10:30 am. It's not too late to start with this group! Register HERE
Saturday, January 11th at 10 am: is our first State Fair Sampler meeting. Register HERE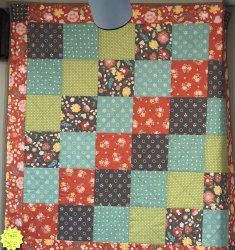 Saturday, January 11th at 1 pm starts the Beginning Quilting Making Series of classes with Pat! This is session 1 of 3. Register HERE
Monday, January 13th : Clothesline Club Group 1 at 1 pm.
Tuesday, January 14th is Wool Club starting at noon!. Just starting wool applique, this group of ladies are amazing and will be willing to help you get started or answer any questions you may have on your project! Come join the fun and laughter that can be found in this group! Register for the
Rebekah L. Smith Workshops at Creekside Quilting HERE
Thursday, January 16th at 10:30 bring your embroidery machine and make these cute zippered bags with Jane! Register HERE

Friday, January 24th at 1pm: Once again our UFO group is killing it with finishing those UFO's! It's not too late to join us if you want to make finishing up UFO projects in 2020 a priority. All money collected returns to everyone at the end of the year in gift cards and notions as rewards! Don't let the challenge of finishing your UFO's keep you from joining us, we truly have a great time together...and are accomplishing so much every month! Register HERE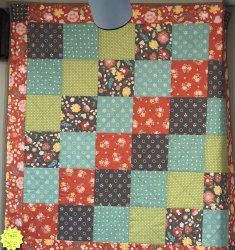 Saturday, January 25th at 1 pm is session 2 of the Beginning Quilt Making Classes with Pat! Register HERE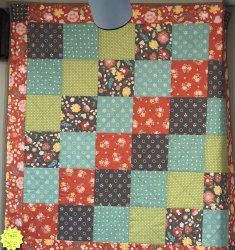 Saturday, February 8th is session 3 called Binding Basics starting at 1 pm with Pat. Register HERE

We have exciting things coming up in 2020, so watch our newsletter for things to develop!
All class fees go straight to the instructor. Due to the time each teacher puts into preparing for a class, no refunds will be made for canceling a class within one week of the class date. In the same respect, should we need to cancel a class due to not meeting the minimum amount of students, we will cancel the class one week prior class date and offer a full refund or a class credit toward another class.
Check out our website at www.creeksidequiltingiowa.com for more upcoming classes.
A Mystery Quilt Sashing Block 12 download HERE for free for the next two weeks and order the kit HERE
Keep working on preparing for the holidays!
Happy Sewing! karen steggerda