Creekside Quilting Newsletter 02/04/2020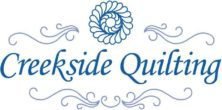 I delivered over 120 pounds of soup cans to the Urbandale Food Pantry yesterday afternoon! That 120 pounds equals 105 soup cans and 525 loyalty points given out!! A HUGE thank you to everyone who contributed to our Souper Bowl Soup Can Drive! The food pantry was very busy yesterday, so I know they appreciated the donation! THANK YOU!!
What's New @ Creekside Quilting?
Debby has brought into the store to share with us, her Radiance Quilt! She used the new Tula line of fabric, Monkey Wrench. See fabrics
HERE


This is the pattern Debby used, Radiance and it can be ordered
HERE


And the pattern calls for the Classic Curves Ruler, which can be ordered
HERE
Barb's February Dresden is Love Letters and it is so sweet for the upcoming holiday! You can order the pattern
Here
and the kit
HERE
B's Carpice pattern, Crossing Ohio 2x24 makes a great quilt for the Valentine season, yet it is not filled with hearts and cupids! Order the kit
HERE
Pat's Frosted Cookies quilt using the Riley Blake Pemberley line of fabric, view fabric line
HERE
and the Perfect 5 Quilts book, order
HERE
and the kit can be ordered
HERE


B's on the Point Mini Quilt has a kit also!
A bonus to this kit, is that all pieces are cut and ready for sewing! Kit includes everything you need, including batting and backing...a great project for a beginning quilter! Order kit
HERE
The Tilda fabric bundles have arrived! We have bundles in fat quarters and fat eights! Happy Camper charm pack can be ordered
HERE
Old Rose can be ordered
HERE
and
Meadow Basics can be ordered
HERE
Spring will get here and Patrick Lose Celebrations in Quilting magazine has arrived just in time to start planning the spring projects! Order your copy
HERE
Lastly, just a few more red blenders for our Lily's Girls Red and White Quilt Club! And that should do it for the week!
What's New with Pfaff?
The Creative line of embroidery machines is on sale this month through Pfaff! Each has a mail in rebate attached to the selling price.
The Creative 4.5 has a $300 mail in rebate, the Creative 3.0 has a $200 mail in rebate, and the Creative 1.5 has a $100 mail in rebate.
The Creative Icon has a $500 rebate. All machines will need to be ordered upon purchase with a 50% non-refundable deposit.
Upcoming Classes and Events for February
Saturday, February 8th at 10 am: is our State Fair Sampler meeting. As Karen and Maria from our BOM group stated, this quilt is a great "skill builder"! It's not to late to come join in the fun! Register HERE


Saturday, February 8th is Binding Basics starting at 1 pm with Pat. Want to brush up on binding basics, register for the class and get those bindings on perfectly! Register HERE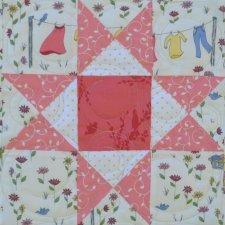 Monday, February 10th : Clothesline Club Group 2 at 1 pm.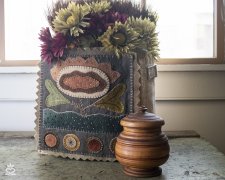 Tuesday, February 11th is Wool Club starting at noon!. Just starting wool applique, this group of ladies are amazing and will be willing to help you get started or answer any questions you may have on your project! Come join the fun and laughter that can be found in this group! If you are new to the group, you can register HERE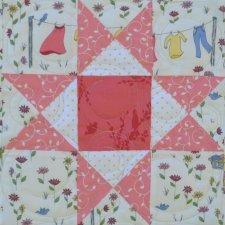 Wednesday, February 12th : Clothesline Club Group 3 at 10:30 am.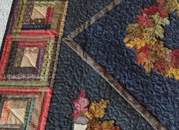 Thursday, February 13th at 10:30 am Free Motion Machine Quilting made EASY Session 1. Let me take the "SCARE" out of domestic machine free motion quilting! I will show you the simple basics of machine quilting along with some tricks and techniques I have learned to help you become a confident quilter!
Explore with me the different ways to machine quilt your project, what you will need and how to set up your machine for success! You will learn to easily sandwich and baste your project, get into the groove of the machine quilting movements, practicing on paper with a simple Quilting Aide (instructions and supplies to build your own will be available for purchase at the time of class). Get a handle on your newly learned skill on your machine! Register HERE
Saturday, February 15th starts the Simple Whatnot's Club at 10:30 am


Simple Whatnot's Club is back with Esther's Heirloom, Shirtings by Kim Diehl and kicking off on Saturday, February 15th at 10:30 am! Join the 2020 Club HERE. Barb will be leading you, once again, through the eight monthly patterns, addressing tricky pattern issues, and of course there will be show and tell! The patterns and the fabric are exclusive first to the club members. The average cost of the monthly pattern/kit is $38.99, but as a club member, you will receive the pattern/kit for an annual fee of $284, ($35.50 per month). Register HERE for the in-store club!

The eight miniature patterns are:
Breezy = finished size is 18 1/2 inches by 18 1/2 inches
Cracker Crumbs = finished size is 20 1/2 inches by 20 1/2 inches
Esther's Garden Box = finished size is 14 1/2 inches by 14 1/2 inches
Farmer's Market = finished size is 20 inches by 20 inches
Hickory Dickory = finished size is 18 1/2 inches by 22 1/2 inches
Laundry Line = finished size is 36 1/2 inches by 36 1/2 inches
Live outside the DSM area and are not able to join the Saturday morning club? You can do this club online also, by registering HERE The monthly shipping of $8.50 is included in the price. You will receive the pattern, kit, and Barb's notes for each pattern.
Farm Girl Vintage 2 with Susie Hunkin starting at 1 pm on Saturday, February 15th! Susie will spend part of the class with discussion, demonstrations, techniques, tips, and the rest of the class time will be available for sewing and asking her questions. Register HERE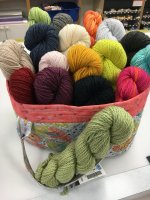 Sit and Knit with Elaine on Sunday, February 16th starting at 1:30 pm. This club is open to anyone who likes to knit, and would like to knit with other knitters! It's a time to share ideas, get suggestions, develop skills, and relax!
Monday, February 17th from 1-4 pm will be the English Paper Piecing Monthly Group. Everyone is welcome to join in the fun with your paper piecing projects. Learn more HERE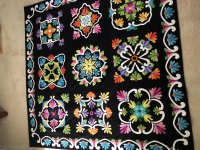 Wednesday, February 19th is the Applique Sew-in Group starting at 10:00 am and lasting all day! If you like to needle-turn applique or back basting applique, then this fun and festive group is for you! Bring any hand applique project and be ready to sew, laugh, eat lunch, and show and tell your projects! This group is all about applique, so come and join in the fun! Register HERE


Saturday, February 22nd from 10:30-4 Posh Penelope Class is BACK! Come join Debby for a very fun technique class! Register HERE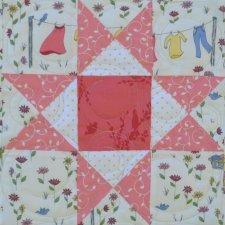 Monday, February 24th Clothesline Club group 1 at 1:00 pm.
Wednesday, February 26th at 1 pm is our next Patchwork Sister's Book Club meeting! Christmas Wish Quilt is our February book by Ann Hazelwood. You can purchase the book HERE or Register for our book club HERE


Wednesday, February 26th at 2:30 pm Lily Girl's Red and White Quilt Group. If you don't remember the goals you set for the month, give me a call!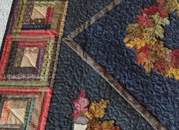 Free Motion Machine Quilting made EASY Session 2 on Thursday, February 27th starting at 10:30. Once you have learned the basics of how to begin, come back for Session #2 and I will rid you of the "jitters" and you will work on your small project with help standing by! After a quick review, we will work out the bugs, learn how to mark your project if desired, and you will be on your way to finishing your own quilt project (or just come with basted scrap sandwiches to do some serious practicing with help standing by) ! Register HERE


Another UFO Finished!! Friday, February 28th at 1 pm: Once again our UFO group is killing it with finishing those UFO's! It's not too late to join us if you want to make finishing up UFO projects in 2020 a priority. All money collected returns to everyone at the end of the year in gift cards and notions as rewards! Don't let the challenge of finishing your UFO's keep you from joining us, we truly have a great time together...and are accomplishing so much every month! Register HERE


Leap into March with our Sit, Sew, and Sip Happy Hour from 5-7 on Friday, February 28th! Bring any project to work on, finish up, or start for the new month! Snacks and beverages will be provided! $5 at the door. Register HERE to reserve your spot!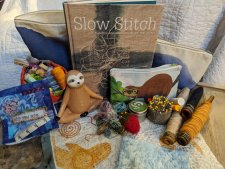 Saturday, February 29th at 10 am. The first class was such a success, that Cora will be offering the class again! Please join us for a two hour workshop for exploring your mess making potential and learning how to incorporate mindfulness skills and self-care practice into your creative stitching process. This introductory class is also meant to identify your direction and focus for the New Year and to set a 2020 self-care intention that will support your soul as well as your craft. Mental Health Matters: Learning Self-Care through Stitching and Mess-Making Register HERE Check out Cora's Facebook page for more updates and information.
Check out our February Calendar of Classes and Events HERE

We have exciting things coming up in 2020, so keep watching our newsletter for things to develop!

All class fees go straight to the instructor (unless materials are involved). Due to the time each teacher puts into preparing for a class, no refunds will be made for canceling a class within one week of the class date. In the same respect, should we need to cancel a class due to not meeting the minimum amount of students, we will cancel the class one week prior class date and offer a full refund or a class credit toward another class.

Check out our website at www.creeksidequiltingiowa.com for more upcoming classes.
Block 15 Tree 2 and Tall Flower of our Mystery Quilt is available for the next two weeks for free download! You can download the pattern HERE and purchase the kit HERE
Watch our Facebook and Instagram pages for Flash Sales, Video Tutorials, and a box opening this upcoming week! Happy Stitching! karen steggerda