Skip Navigation
Website Accessibility
Creekside Quilting Newsletter 02/18/2020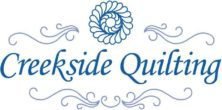 Diane Tomlinson was in the store the other day, cutting some wool for her rug hooking project, and it turned into a little demonstration on how to use our wool cutter for cutting wool strips for rug hooking. We have the wool cutter available for rent, for anyone interested in using it for their rug hooking creations. Thanks Diane for the demonstration! Diane's scrappy sew along quilt is also on the cover of
April's American Patchwork and Quilting magazine. Diane is also the creator, designer, and author of our Mystery Village BOM. Order
HERE
any patterns you might have missed over the past few months.
We have come to the end of our A Mystery Village BOM...all that is left are the boarders. Thank you for joining along in this mystery adventure! We had people from 15 different states join in the BOM and that just makes me smile! Please feel free to email me your finished quilts...I'd love to see them! Maybe we should display them in the classroom this summer? Let me know your thoughts! You can download the pattern
HERE
and the kit
HERE
If you start now, you will be ready for Easter with this darling quilt called Bunny Town. Order the patterns
HERE
In honor of Black History Month, this Underground Railroad Sampler quilt book, authored by Elenor Burns, is filled with patterns of quilts used in the Underground Railroad. Grab a bundle of Kansas Troubles fat quarters along with this book, and create a gorgeous reproduction era quilt. Order the book
HERE
. Order the Kansas Troubles fat quarter bundle
HERE
.
Kim Diehl has done it again with this charming book of quilt patterns in Simple Patchwork! Order the book
HERE
or join our Simple Whatnot's Club
HERE
and get 8 different patterns along with the Kim Diehl fabric kits to make 8 new charming quilts in 2020.
We love Alison Glass at Creekside and this book is a fantastic addition to the patterns and quilt samples already on display throughout the store. Order the book
HERE
Little Farmstead Living by Julie Thomas is filled with beautiful books on taking the simple items in life and turning any space into a country charm. Order the book
HERE
Suzi Parron has authored Following the Barn Trail, and this book makes a great conversation piece on any coffee table. The pictures are worth studying on any Friday night! Order the book
HERE
These gift cards will be expiring on February 29th! So come on in, or order on line, and use these gift cards.


Don't forget! Our 5th Weekend Challenge needs to be turned in this month! In case you did forget here are the rules....
Stop in Creekside and purchase OUT CHOSEN 5 fat quarter challenge bundle. You may join at any time during the current challenge. Design your creation with our selected 5 fabric fat quarter bundle. You must use all 5 fabrics in your creation. You may add one other fabric and one embellishment but nothing else. You may create ANYTHING you wish using our 5 fat quarter bundle!!!

All entries need to be turned back in to Creekside Quilting by the end of the business day on February 29, 2020. All entries will be displayed in the store and customers and staff will vote for their favorite throughout the next 30 days. Tell your family and friends to stop in and vote for your creation during that thirty day voting period. They can even browse and shop while they are voting. Winners to be announced on March 31, 2020.
1st place $75 store gift card
2nd place $50 store gift card
3rd place - $25 store gift card
Then get prepared for the next 5th Weekend Challenge!
What's New with Pfaff?

The Creative line of embroidery machines is on sale this month through Pfaff! Each has a mail in rebate attached to the selling price.
The Creative 4.5 has a $300 mail in rebate, the Creative 3.0 has a $200 mail in rebate, and the Creative 1.5 has a $100 mail in rebate.
The Creative Icon has a $500 rebate. All machines will need to be ordered upon purchase with a 50% non-refundable deposit.


What's New in Our Wool Department?
I can almost bet there are a few of you wanting to get your hands on this new book by Staci West, Buttermilk Basin Vintage Vibe! I have looked at the book, and can hardly wait to get started on a project or two...I love Buttermilk Basin! Order book HERE


Beginning Wool Applique on Thursday, March 5th at 1 pm. Come learn the basics of wool applique! Register HERE

Upcoming Classes and Events for February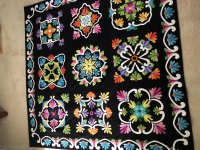 Wednesday, February 19th is the Applique Sew-in Group starting at 10:00 am and lasting all day! If you like to needle-turn applique or back basting applique, then this fun and festive group is for you! Bring any hand applique project and be ready to sew, laugh, eat lunch, and show and tell your projects! This group is all about applique, so come and join in the fun! Register HERE


Saturday, February 22nd from 10:30-4 Posh Penelope Class is BACK! Come join Debby for a very fun technique class! Register HERE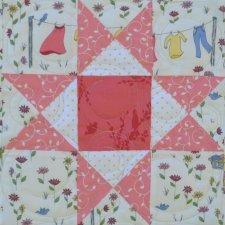 Monday, February 24th Clothesline Club group 1 at 1:00 pm.
Wednesday, February 26th at 1 pm is our next Patchwork Sister's Book Club meeting! Christmas Wish Quilt is our February book by Ann Hazelwood. You can purchase the book HERE or Register for our book club HERE


Wednesday, February 26th at 2:30 pm Lily Girl's Red and White Quilt Group. If you don't remember the goals you set for the month, give me a call!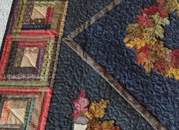 Free Motion Machine Quilting made EASY Session 1 and 2 on Thursday, February 27th starting at 10:30. Due to weather conditions on Feb 13 we postponed the Free Motion class to Feb 27. Bring your machine, your quilting foot, and your machine instruction book for tension setting, thread and bobbins. We will get you free motion quilting before you head home! Once you have learned the basics of how to begin, you will work on your small project with help standing by! After a quick review, we will work out the bugs, learn how to mark your project if desired, and you will be on your way to finishing your own quilt project (or just come with basted scrap sandwiches to do some serious practicing with help standing by)! Register HERE


Another UFO Finished!! Friday, February 28th at 1 pm: Once again our UFO group is killing it with finishing those UFO's! It's not too late to join us if you want to make finishing up UFO projects in 2020 a priority. All money collected returns to everyone at the end of the year in gift cards and notions as rewards! Don't let the challenge of finishing your UFO's keep you from joining us, we truly have a great time together...and are accomplishing so much every month! Register HERE


Leap into March with our Sit, Sew, and Sip Happy Hour from 5-7 on Friday, February 28th! Bring any project to work on, finish up, or start for the new month! Snacks and beverages will be provided! $5 at the door. Register is a must! Register HERE to reserve your spot!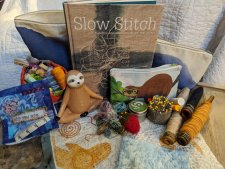 Saturday, February 29th at 10 am. The first class was such a success, that Cora will be offering the class again! Please join us for a two hour workshop for exploring your mess making potential and learning how to incorporate mindfulness skills and self-care practice into your creative stitching process. This introductory class is also meant to identify your direction and focus for the New Year and to set a 2020 self-care intention that will support your soul as well as your craft. Mental Health Matters: Learning Self-Care through Stitching and Mess-Making Register HERE Check out Cora's Facebook page for more updates and information. https://m.facebook.com/sewinthemoment365/

Check out our February Calendar of Classes and Events HERE and March HERE We have exciting things coming up in 2020, so keep watching our newsletter for things to develop!

All class fees go straight to the instructor (unless materials are involved). Due to the time each teacher puts into preparing for a class, no refunds will be made for canceling a class within one week of the class date. In the same respect, should we need to cancel a class due to not meeting the minimum amount of students, we will cancel the class one week prior class date and offer a full refund or a class credit toward another class.

Check out our website at www.creeksidequiltingiowa.com for more upcoming classes.
Watch for our LIVE Facebook video on Wednesday over the lunch hour and our Friday Flash Sale will be posted on Instagram and Facebook this week! Happy Stitchin! karen steggerda