Skip Navigation
Website Accessibility
Creekside Quilting Special Delivery!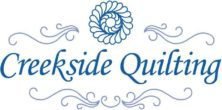 Home Delivery Service
Exciting news here at Creekside Quilting! Starting tomorrow, March 16, 2020, we will be taking orders via the phone (515)276-1977 for home delivery! Yep, we are going to start delivering orders! Can you believe it? I sure can't, but we are going to try this and see how it goes.
Starting tomorrow (Monday) we will take phone orders all day, and then deliver the orders on Tuesday. Tuesday's phone orders will be delivered on Wednesday and so forth. There will be a $10 delivery fee, minimum order $25. This is for the Northwest area of Des Moines (call and ask if you are not sure), Windsor Heights, Clive, Johnston, West Des Moines, Waukee, Urbandale, and the southwest area of Ankeny. We will drop the items off on your front porch.
If you live outside the areas mentioned, we can meet you in our area of delivery.
This delivery service is being provided, so that, should you need anything, we can hopefully help you, without you having to go outside your home. Social Distancing is what people are calling it! (personally it makes me very sad, but that's a whole other topic)
Special Orders

We will continue to take special orders...we order on Monday and things usually arrive in the store by Friday. What's new with this, is special orders need to be paid for at time of order. Thanks for understanding.
Adjusted Hours of Operation

Next, we have adjusted our hours of being open to the public from 10-4 Monday through Saturday and 1-4 on Sunday.
Facebook Live


Connect with us on Facebook live, we are going to beef up our Facebook Live sessions so people can see what we have in the store. If you are looking for something in particular, email me sienagraceproductions@gmail.com and I will see about getting a selection on Facebook Live. Also, new items into the store will be posted on Facebook Live.
Online Orders
We feel like our online shop website is ready to go, but should you see something you are interested in or needing, and there is no picture, let me know...I will do my best to get that taken care of.
Please feel free to order online. As always, should you order something and the shipping is less than what the website charges, we do make that adjustment at time of capturing your funds.
Should we need to close for a period of time
please watch our Website www.creeksidequiltingiowa.com and our Facebook page for updates. Never hesitate to call to see if we are open.
Well, here we go people....truly, may your families be safe and protected...bless those who are dedicated to caring for us...God bless us globally through this horrific event...
karen steggerda