Creekside Quilting New Store Hours and Updates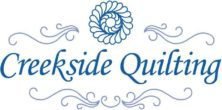 Sunday, March 22, 2020
Hello Everyone!
I just wanted to update you on a few things:
Today, I will be at the store from 1-3 pm. I will provide any curbside pick-up's if you call ahead (515)276-1977 or (515)207-2432. For online orders, see our website at www.creeksidequiltingiowa.com and purchases will be available for curbside pick up today or shipped out on Monday, March 23,2020.
This week, I will be at the store Monday through Saturday 10 am to 3 pm to fill curb side pick up orders and online orders. Should there be a government mandatory lock down of non-essential businesses, just know, the store will be closed until this government order is lifted.
All classes and events for this upcoming week through April 15th are postponed. I will update the website calendar.
I think that is all for now! Please stay safe! Praying for us all.
Karen Steggerda