Creekside Quilting Newsletter 03/23/2020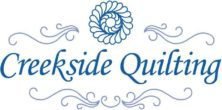 HUGE KUDOS going out to all the doctors, health care professionals, and researchers that are working globally around the clock to help us! My son and his girlfriend are both doctors and are working 16 hour shifts! I know we all know someone who is going above and beyond and I, personally, just want to say thank you!!!
With this in mind, Monday, March 23rd will be our last day to take online orders and curb side pick up, until further notice, Creekside Quilting will close at 3 pm today. I will be at the store from 10-3 to fill any last minute orders. Thank you to everyone who has been using our online ordering or curbside pick-up!!! It has been very interesting and quite the adventure!
To order today, our website is www.creeksidequiltingiowa.com store phone is (515)276-1977.
The Central Iowa Shop Hop has been postponed. We will let you know at a later date, when it will be rescheduled.
Needing Ideas to Prevent Boredom the Next Few Weeks?
Looking for something to do with your children or grandchildren? Julia has started a page on our website with kids sewing ideas! Her first one was kids pillowcases! You can download the Creekside Quilting Pillowcase Pattern
HERE
Check in on our website over the next few weeks for other ideas and download patterns! Type in Kids in the search bar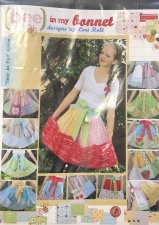 This apron pattern by Lori Holt is a popular one for the teenagers who like to sew. Try a new technique and add some machine applique to the pockets! Purchase pattern
HERE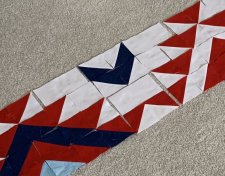 Julia is starting A 30 Day Row by Row Mystery Aztec Quilt on April 1st! This quilt is designed by Julia Steggerda-Corey, who also designed our Amazing Love Pattern (which can be downloaded
HERE
) Julia will be rolling out this 30 Day Row by Row Mystery Aztec Quilt this afternoon on our Facebook Live video. Later today you will be able to register on our website www.creeksidequiltingiowa.com by searching the words Mystery Aztec Quilt
Bunny Town by Sew Merry, is a great way to prepare for spring! All patterns and accessory packs can be purchased
HERE
These pot holder kits and pattern book, have been a BIG hit this year! You can purchase the book
HERE
and the kits
HERE
Book and kits are sold separately.
Looking for a little bit of a challenge while being at home? These two Laura Heine kits will keep you engaged and you'll love the end result! Purchase the Mini Pincushion pattern
HERE
and kit
HERE
both sold separately
The Laura Heine Fethaerweight pattern can be purchased
HERE
and the kit
HERE
both sold separately
And I can't forget the wool projects! This Marcia Jacobs pattern will leave you dreaming of summer as you stitch the packaged kit! If you want to use your own scraps, purchase the pattern
HERE
and if you want the pattern and the kit, purchase
HERE
This Buttermilk Basin July Hexi Mat will be perfect on your table soon enough! Purchase the pattern
HERE
and the kit
HERE
The pattern is NOT included in the kit.
And my last idea for preventing boredom, is grabbing a good book, and escaping into a good story!
Our Patchwork Sister's Book Club has enjoyed Ann Hazelwood's Wine Country Quilt Mystery's starring our favorite Lily Girl! Read all four and then be ready to join us, when we resume our book club, for Ann's last book, when it is released this spring. Purchase the books
HERE
This Carol Dean Jones cozy mystery, Tie Died, is also a great book you might enjoy! Purchase
HERE
If you are looking for a prayer to recite on the COVID-19 virus, I found this one on the Our Lady of the Rosary website out of San Diego, CA. Please click
HERE
to get directed to the prayer.
And as we all know, after the storm, there will always be a rainbow! I pray that all of us will be together again after this storm passes. We do not know what that will look like, but one thing we know is true, the darkness cannot overcome the light.
karen steggerda