Skip Navigation
Website Accessibility
Creekside Quilting Face Mask Pattern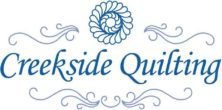 Good Morning!
I"m a little late on this, but here is the reason why. Last week, my son requested I make him face masks for the Operating Room at the hospital where he works. They are short in supply because they come from China. (I know we all know this)...So I created a pattern and sent a sample out to him. I was waiting on his response as to if these would work. Received the go ahead and so now, I am sharing with you my pattern under Creekside Quilting's name.
IF YOU ARE LOOKING FOR PLACES TO GIVE YOUR FACE MASKS, I WILL TAKE THEM AND MAIL THEM TO MY SON...THEY ARE IN DESPERATE NEED!! JUST CONTACT ME AT sienagraceproductions@gmail.com and we can arrange pick up or mailing options.
Please note, these face masks were designed to cover another face mask, in order to prolong the main face mask usage.
Please note, they are only to be used by individuals or to cover another face mask. They do not have any guarantee of protecting you enough from attracting viruses or illnesses.
Please note, our pattern uses flannel for the lining and 1/16th inch elastic. You could use string and connect the sides by going around the back of the head.
Please note, these face masks are designed to be tighter fitting...adjust for individual comfort.
Please not, I am not a professional pattern writer.
Please feel free to download my pattern and make face masks for our medical community.
Here is the link for the free download
https://www.creeksidequiltingiowa.com/shop/c/p/Creekside-Face-Mask-Pattern-x48210114.htm
This afternoon, I hope to email out a scrub cap pattern also! Once again, desperate need!
Thank you!
karen steggerda