Creekside Quilting Newsletter 03/31/2020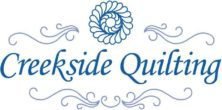 My son, Justin, and his girlfriend, Amisha, have asked me to send a
HUGE THANK YOU
to everyone who has made masks and scrub caps for the surgical team, nurses and doctors at Cedar Sinai in LA. Justin, is a surgeon, and Amisha is an internal medicine doctor at Cedar Sinai. As of Saturday, Justin told me that their are 30 doctors and nurses on the surgical team at Cedars, and although all non-essential surgeries are not being performed, they are still quite busy and the masks and scrub caps are coming in handy and are greatly appreciated!!! Justin also said, that Cedars is a 900 bed hospital, and right now they have 1200 patients! LA is just getting started with the virus infecting the community, and they plan to see that number rise enormously the next few weeks. Both Justin and Amisha are grateful, thankful, and appreciative of the masks and scrub caps. They are in dire need of these essential supplies.
Keep those face masks and scrub caps coming! I am mailing out more boxes Wednesday, and Friday this week, so bring what you have when you can and I will send it out! Or if needed, call and we can make arrangements for pickup.
With that being said, I too, am so thankful and appreciative to everyone who has donated time, fabric and supplies to make the masks and scrub caps for donations. I have sent Justin 3 boxes in the past 5 days! I have received as donations,
60 scrub caps and 169 masks.
They will be put to good use among the doctors, nurses and surgical team at Cedar Sinai! If you would like to donate, Creekside's mask pattern is free and on our website for download, and I will take the donations or pick them up...just let me know.
HUGE KUDOS TO: Marcene, Shirley, Sandy, Val, Phyllis, Sharon, Sandy and Judy for their donations, supplies, work, time, and generous hearts!! WOW!!! Ladies you are amazing!!!
My heart is ful
l!
Is this how any of you are feeling lately with the daily changes that keep bombarding us? It seems as though everything is just spinning so fast these days, that I'm not always sure if I'm following things correctly. This brings me to my next item of topic to discuss with you.
When Governor Reynolds said, "and all other non-essential retail businesses" last Thursday, I assumed she meant me as a non-essential business. Over the past few days, I have noticed that many businesses, that are like Creekside Quilting, are staying open. Julia called Governor Reynolds office, and they said we are fine, for now, to continue our curb side pick up and online orders.
So, I will be at the store this week, Monday through Friday, 10-4. This will include: phone orders for shipping, phone orders for curbside pick-up, online orders for shipping, and online orders for curbside pick-up.

Not sure how the weekends are looking, so watch our website and Facebook for updates on the weekend hours.

Should you order on line and want to pick up at the curb, it's ok...you will NOT be charged for shipping....I will remove that from your order before collecting the funds for payment. The system is set for all orders to be charged for shipping, as it's just easier this way, than to be changing things back and forth right now. So don't worry, if you have a local address, I will call you before mailing out your order to find out how you would like to proceed.
This is a very fluid situation, and so things can change again...but for today, this is how I will plan to proceed with store hours for this upcoming week.
Reminder, sign up for our Desert Song Mystery Row by Row this week, so you can start on April 1st with a downloadable pattern delivered to you daily for the next 30 days. Julia is so excited to start this adventure with you and she has sold quite a few kits and jumping for joy that you are so excited to do this with her!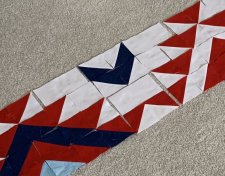 Sign up here:
https://www.creeksidequiltingiowa.com/shop/c/p/Desert-Song-Mystery-Row-by-Row-Pattern-x48205381.htm
and you can order the kit here:
https://www.creeksidequiltingiowa.com/shop/c/p/Desert-Song-Mystery-Row-by-Row-Kit-w-Pattern-x48205366.htm
Have you heard of the Kids Teddy Bear Scavenger Hunt? Communities are placing teddy bears outside for kids to go on scavenger hunts to find teddy bears! I thought this was a wonderful idea and am supporting the kids in my neighborhood with a Pooh bear on my door.
I started with the Pooh bear in the window, but Maggie was not so excited about sharing her space...she's a terrier, what more can I say?
Upcoming Classes and Events at Creekside Quilting are POSTPONED for the month of April, BUT you can keep in touch with me by emailing me pictures of your projects! I'll post them! Tell me what you are working on! This is one way our quilting community can bond together!
Duenna is working on her Clothesline Club
and place mats for the UFO Club
Nancy is working having fun with her grandkids by working on shelf liners and jar openers!
Sherry is finishing up her panel
Delores is working on an applique project
Creekside staff you ask? Well, they don't know I'm doing this....but here is what they are working on... gorgeous aren't they? Such talent I am blessed to work with!
As a re-assurance, I'd like to tell you that only Julia and I have been in the store working since Tuesday, March 17th. We wear gloves at all times, and every night before leaving, we spray with Lysol and clean areas with Clorox, so that it has plenty of time to sit and do it's job, before we enter the store again. We are doing all we can to prevent the virus and keeping the store, fabric and items clean!
Blessings and peace to each of you...karen steggerda