Creekside Quilting Newsletter 04/07/2020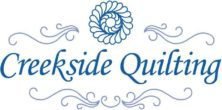 THANK YOU TO EVERYONE WHO HAS PROVIDED FACE MASKS AND SCRUB CAP DONATIONS TO THOSE IN NEED!!!! Please keep the mask and scrub cap donations coming! I am getting them to people in most need. Thank you!!
We are up to 225 face masks and 75 scrub caps that have been donated and sent out. This is amazing to me and so greatly appreciated!

There is hope on the horizon with the All Iowa Shop Hop starting June 1st!


It's time to pre-order and starting today at 10 am, you can begin to pre-order your fabric from Creekside Quilting! On our website creeksidequiltingiowa.com type in the word All Iowa Shop Hop 2020 in the search bar and you will be directed to the page showing the individual fabrics for pre-order! To get a better look at the fabrics, click HERE Your orders will be ready and waiting for you on June 1st for pick up at Creekside Quilting! If you pick up in the store, shipping charges will be reversed at time of pick-up. (Reminder, this date may be subject to change due to the COVID-19 virus status, but I will keep you updated.)

Quilt Name Challenge Game
"Elvirus" by Val leads us off with this next idea! Everyone knows how much I love games so here is a fun one! What are you calling your quarantine quilt? Send us a picture on Facebook (creeksidequiltingiowa) or my email (sienagraceproductions@gmail.com) , of your quilt top and the name you have given your quilt during our quarantine! We will do this until June 1st and will put all quilt names in a drawing for a gift card from Creekside! The more entrants will raise the number of gift cards we will give out...so send us a picture of your quilt top and it's quarantine name!
Other people in our quilting community are:
making pillowcases

making baby quilts

learning new techniques


being creative with quilt patterns and creating something new and fun!
Please email me with anything you are working on! Everyone LOVES to see what others are doing!


During the "peak" of the COVID-19 outbreak, the next two to three weeks, we will only be working with online orders. If you are local, go ahead and submit your order, and we will work on arranging a curbside pick up time. All shipping fees will be refunded for curbside pick up. All orders will be filled within 24 hours of ordering. Thank you for your continued support through this very horrific time in history.

stay safe, healthy and keep praying to your higher powers! karen steggerda