Creekside Quilting Zoom Retreat This Friday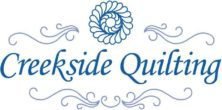 Creekside Quilting will be holding a Zoom Retreat on Friday, April 24th from 12-4 pm.
Register for the retreat
HERE
Log into the retreat anytime between 12-4 and sew with up to 100 of your closest sewing friends!
Bring your own sewing project!
Bring your own comfy chair!
Bring your own snacks and beverages!
And have a fun afternoon sewing, catching up and chatting with sewing friends!