Creekside Quilting Newsletter: 05/05/2020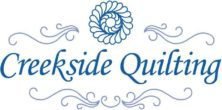 This week, our hours will be a little more flexible. Please continue to place orders online at www.creeksidequiltingiowa.com or call Julia at 515-778-4122 to place your order. We will continue to work to fill your orders as quickly as possible and let you know when they are ready for pick up or have been shipped. We appreciate your patience and understanding this week!

In light of the ongoing developments of COVID-19 and Creekside Quilting's commitment to health and safety, we still do not have an official opening date. After talking with staff, most agree, the importance is not on opening too fast and regretting it, but taking things slow and seeing how things play out. So I am continuing with our COVID-19 plan of asking our customers to place orders online and for curbside pickup. THANK YOU to each of you who continue to support us!


What's New @ Creekside Quilting?

Have you been a mask maker the past 6 weeks? Creekside Quilting has commissioned a local printer to make us these t-shirts to sell! Order your t-shirt HERE...maybe one for you and one for a friend?

UPDATE: We were able to add a unisex tee that is available in sizes XS - 3XL. If you would like to switch your order to a unisex shirt, please email Julia at jscorey3@gmail.com.

Because of this update, we will accept pre-orders through WEDNESDAY, MAY 6. We will send our order to the printer on Thursday!


Order the 100% cotton blue/yellow unisex shirt here and the American flag/ daisy unisex shirt here



Cotton/poly blend scoop neck t-shirt blue mask pre-order HERE

Cotton/poly blend scoop neck t-shirt daisy flag pre-order HERE




Brightly Blooming by Laura Muir for Moda Fabrics is on its way to our shop! You can pre-order your fabric here!



These Magic Pins have a comfort grip for easier holding whiling pinning your fabrics! Order HERE


It's Sew Emma has released a new quilting book, just in time for summer! Quilter's Cottage is filled with charming summer decorating ideas for your home! Order HERE


Speaking of summer...this Primitive Gatherings Summer on the Farm pattern is new to our Wool Department! A little embroidery and a little wool applique, makes this the perfect summer pattern for wool lovers! Order HERE


Aurifil black thread is back in stock! Order HERE White, Ivory and Light Grey are still on back order....keep checking with us as you never know when it might be delivered!


A great way to keep using up your scraps, yet wanting a new pattern? Lori Holt's Great Granny Squared can be ordered HERE

There is hope on the horizon with the All Iowa Shop Hop starting June 1st!


All Iowa Shop Hop Magazine is HERE!!!!! Only a month away! Order your's today HERE


It's time to begin pre-ordering your fabric from Creekside Quilting! To get a better look at the fabrics, click HERE Your orders will be ready and waiting for you on June 1st for pick up at Creekside Quilting!


Don't forget about our 5th Weekend Challenge! Purchase our 5 fat quarter challenge bundle HERE. Design your creation with our selected 5 fabric fat quarter bundle. You must use all 5 fabrics in your creation. You may add one other fabric and one embellishment but nothing else. You may create ANYTHING you wish using our 5 fat quarter bundle! You may join at any time during the current challenge.
All entries need to be turned back in to Creekside Quilting by the end of the business day on Saturday, May 30th.

All entries will be displayed in the store and customers and staff will vote for their favorite throughout June. Tell your family and friends to stop in and vote for your creation during that thirty day voting period. They can even browse and shop while they are voting. Winners to be announced on June 30, 2020.
1st place $50 store gift card, 2nd place $25 store gift card, 3rd place - $10 store gift card. Then get prepared for the next 5th Weekend Challenge!
Quilt Name Challenge Game
"Elvirus" by Val leads us off with this next idea! Everyone knows how much I love games so here is a fun one! What are you calling your quarantine quilt? Send us a picture on Facebook (creeksidequiltingiowa) or my email (sienagraceproductions@gmail.com) , of your quilt top and the name you have given your quilt during our quarantine! We will do this until June 1st and will put all quilt names in a drawing for a gift card from Creekside! The more entrants will raise the number of gift cards we will give out...so send us a picture of your quilt top and it's quarantine name!


Pat's Coronavirus Quilt is absolutely stunning! This is her Red and White Quilt for our Lily's Girls Red and White Quilt Group.
What's New with Pfaff?
SVP has been so generous in supporting people, hospitals, and organizations in need!! Makes me proud to be a Pfaff dealer! here is a tidbit of what they have been donating to support the COVID-19 pandemic needs:
• Donating hundreds of sewing machines directly to hospitals to help sew face masks, gowns, respirator covers, and other PPE. For example, we recently helped one of the hardest hit hospitals in the region, the Phoebe Putney Memorial Hospital in Albany, GA, by donating SINGER® Heavy Duty sewing machines and were able to provide relief to the hard-working doctors and nurses.
• Partnering with a range of organizations and companies who want to contribute their time and skillset to help out in their communities. For instance, we are partnering with Old Time Pottery, a regional home essentials retailer, to join their effort in creating masks for frontline healthcare workers by donating sewing machines, tools, materials, and space for sewers. We donated SINGER® sewing machines to Christian Siriano and his efforts in NYC, and to the seamstresses at Rightfully Sewn® to support their mask-sewing initiative in Kansas City, Missouri. SVP Worldwide supports JOANN employees in their headquarters with SINGER® machines.
The best of the best sewing machine is on sale in May! The Performance Icon is on sale for $5,999 and Pfaff is throwing in a gift set to go with it!
Have you always wanted to try a serger? Or maybe you've been thinking about making some clothes? This Coverlock 4.0,has everything! This machine offers all the features for perfection and creativity plus even more sophisticated extras. On sale in May for $999
Pfaff is celebrating Mother's with a Her Choice sale on several machines! The Passport 2.0 at $599. The Creative 1.5 at $1099. The Ambition 610 at $699 The Expression 710 at $1,999 Call the store to order your machine today!
The Power Quilter is on sale in May for $5,999.
Upcoming Classes and Events May
Exciting News!!! In May, we are going to be offering our classes and groups on Zoom! This is how it will work:
Go to our calendar and see the classes and groups that are offered "Online"
Register on our website to participate in the class or group.
Register for classes or groups by 5 pm the night before class or group
I will email you a link to join the class or group on Zoom
When it is time for the class or group to start, click on the link, and wait for the group to start!
It's that simple!
The Clothesline Club is closed to new people in May, but we will be starting new groups in June. All other classes and groups are open to anyone!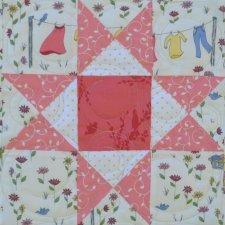 Monday, May 11th: Clothesline Club Group 2 at 1 pm. Closed Group in May Register HERE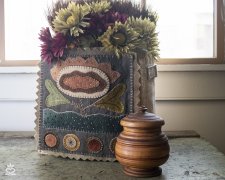 Tuesday, May 12th is Wool Club starting at noon!. Just starting wool applique, this group of ladies are amazing and will be willing to help you get started or answer any questions you may have on your project! Come join the fun and laughter that can be found in this group! If you are new to the group, you can register HERE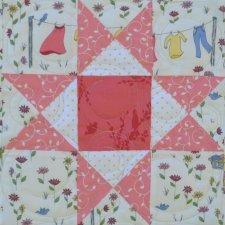 Wednesday, May 13th : Clothesline Club Group 3 at 10:30 am. Register HERE Closed Group


Saturday, May 9th at 10 am: is our State Fair Sampler Block of the Month Group. It's not to late to come join in the fun! Register HERE already signed up, register HERE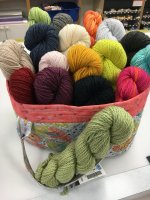 Sit and Knit with Elaine on Sunday, May 17th starting at 1:30 pm. This club is open to anyone who likes to knit, and would like to knit with other knitters! It's a time to share ideas, get suggestions, develop skills, and relax! Register HERE
Monday, May 18th from 1-4 pm will be the Paper Piecing Monthly Group. Learn more and register HERE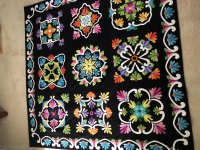 Wednesday, May 20th is the Applique Sew-in Group starting at 10:00 am and lasting all day! Register HERE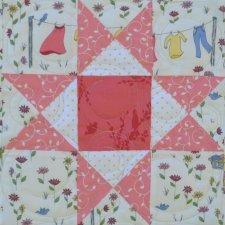 Monday, May 25th Clothesline Club group 1 at 1:00 pm.This will conclude our first year, please be prepared to share your quilt top! Register HERE Closed Group in May
Wednesday, May 27th at 1 pm is our next Patchwork Sister's Book Club meeting! Register for the Zoom book club HERE and purchase the book HERE Ann Hazelwood's The Quilt Left Behind is the last book in the Wine Country series featuring our beloved character, Lily Girl


Wednesday, May 27th at 2:30 pm Lily Girl's Red and White Quilt Group. Register HERE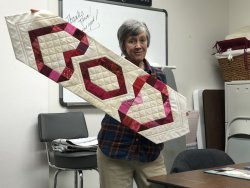 Friday, May 29th at 1 pm: UFO Club Register HERE


This weekend was my first grand-pup's 7th birthday! Happy Sewing! karen steggerda