Creekside Quilting Newsletter 05/19/2020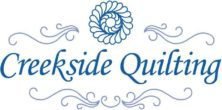 There's a lot going on at Creekside Quilting! We are a moving and a shaking! So excited to see everyone again!! You have been missed!!
Julia and I have been getting the store ready to open next Tuesday the 26th. It has been a nice challenge to have and we are preparing it for the safety of our staff and customers. Throughout this week, Julia will be doing Facebook Live broadcasts, showing you what is new and different! If you have not joined us for a Facebook Live session before, it's pretty easy! Just like us on Facebook and click on Live notifications, and you will receive notice when we are shooting a live session and showing you the store and changes we have made for eveyone's benefit!
In-Store Shopping by Appointment Only
The
BIG
thing you need to know, is that starting today, you will be able to begin to schedule your appointment for shopping inside the store, using our new web-based appointment setter. REMEMBER, we do not open to the public until NEXT Tuesday, May 26th...so you need to set an appointment for next week or later....no appointments will be accepted this week. Set-up your appointment
HERE
and follow all the prompts to set up your appointment
We will still be offering online orders, shipping and curbside pick-up....but if you are wanting to shop inside the store, you will need to make an appointment.
All Iowa Shop Hoppers...take note, you will need to make an appointment to shop inside the store, so as you are planning your trips, book now and reserve your spot.
COVID-19 Policies and Procedures
With that being said, here is our COVID-19 Policies and Procedures....
Shopping is by appointment only. 30-minute shopping appointments are available here. If you are traveling with a friend or family member for the AISH, each person will need an appointment slot.

All employees and visitors must wear a mask at all times.

NO cash or checks will be accepted. Only credit cards are accepted at this time.

Social distancing requirements are encouraged. To help, only one person should be in an aisle at a time. If someone else is in the aisle, please let them finish before entering that aisle. We know this may cause some longer wait times to get a certain color or style of fabric and we appreciate your patience.

Markers have been put on the floor in some places to help ensure social distancing. Please adhere to and respect these markers.

Hand sanitizer is placed throughout the store, please use as you see fit.

We have shortened our store hours to allow for increased cleaning and sanitizing.

There will be no public restrooms available.

Due to CDC Guidelines, absolutely NO outside fabric will be allowed into the store.

No outside food or drink is allowed. This has always been our policy to keep the fabric clean and we will reiterate it here.

If you do not have an appointment, you may be allowed to enter if our current appointment schedule does not exceed our CDC-mandated capacity limitations. Contactless curbside pick up via phone or online orders remains the best way to shop without an appointment!

Please refrain from shopping in groups.

Please refrain from bringing children into the store with you.

Our classroom remains closed. We will continue to make some classes and clubs available on Zoom. Please sign up for classes or clubs here.

We are still accepting contactless curbside pick up orders and online orders for shipping

At this time, we will not be able to accept Creative Vision donations

The store will be cleaned and sprayed with disinfectants at the end of the day, so that all chemicals have the time to really take effect for over 17 hours before opening up again the next morning
All Iowa Shop Hop Fabric


Pre-order your AISH fabric
HERE
We will cut it and have it ready for pick up on June 1st. Although the system makes it look like you are paying for the fabric today, actually funds will not be collected until June 1st.


Upcoming ZOOM Events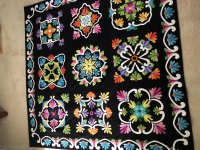 Wednesday, May 20th is the Applique Sew-in Group starting at 10:00 am and lasting all day! Register HERE
Wednesday, May 27th at 1 pm is our next Patchwork Sister's Book Club meeting! Register for the Zoom book club HERE and purchase the book HERE Ann Hazelwood's The Quilt Left Behind is the last book in the Wine Country series featuring our beloved character, Lily Girl


Wednesday, May 27th at 2:30 pm Lily Girl's Red and White Quilt Group. Register HERE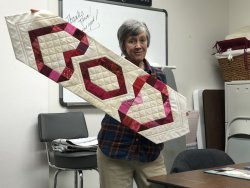 Friday, May 29th at 1 pm: UFO Club Register HERE

Pfaff May Specials


Pfaff is celebrating Mother's with a Her Choice sale on several machines! The Passport 2.0 at $599. The Creative 1.5 at $1099. The Ambition 610 at $699 The Expression 710 at $1,999 Call the store to order your machine today!


The Power Quilter is on sale in May for $5,999.


I guess this is enough for me today....we are a moving and a shaking...and excited to be welcoming everyone back in the store! karen steggerda