Skip Navigation
Website Accessibility
Creekside Quilting Newsletter 05/26/2020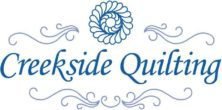 I am so excited! Today is the day we are opening our doors back up to the public, and I can hardly wait to see everyone and hear all your stories! I can't believe it has been 10 weeks since we closed due to the COVID-19 Crisis, and it's a good feeling knowing we have the opportunity to open back up!
Remember to shop in the store, you need to have an appointment, so we can control the number of people in the store at a time....please go to creeksidequiltingiowa.com and click on the BOOK NOW tab at the top of the page. Book your appointment
HERE
I'd like to take a moment and thank everyone who supported us during the past 10 weeks! HUGE THANK YOU's COMING YOUR WAY!!!! There are no words that describe my heartfelt gratitude and appreciation for each of you that supported Creekside Quilting and kept us in business!!! THANK YOU SO VERY MUCH!
I even had customer's who said, "I don't need this, but I will do what I can!" Love you all!!! Thank you so very much!!
The All Iowa Shop Hop starts next week on June 1st and I'd just like to put out there, PLEASE, PLEASE, PLEASE support our shops as you shop hop. We have already lost 2 Iowa quilt stores due to the COVID-19 crisis, and many shop owners, are depending on the All Iowa Shop Hop to help them survive. If you are going to go to a quilt shop, even spending $5 is still $5 more than they had when they opened their doors in the morning.
I've also heard from shop owners, that if they don't make back the money they invested in the AISH this year, they may not do it again next year. That would be sad to lose this fun and great event so many of us look forward to each summer. There was even one store owner who was going to record names of people who just walk in, get their stamp, free fabric, and walk out...LOL! I don't think any of us should go on a shops naughty list! :)
Julia and I have discussed shop hopping again this year, and we will support every shop we walk into. It's fun to see the shops, talk with people, explore new communities....we have already lost so much the past few months, let's support our shops, keep them in business...$5 is $5 and it can add up....losing more Iowa quilt shops or even the All Iowa Shop Hop would be devastating to us true quilters....please support every store you travel to.
What's New @ Creekside Quilting?
Moda's Shimo blue and white line is absolutely gorgeous...view the complete line
HERE
You won't want to miss this absolutely darling Fisher-Price line of fabric! See complete line of fabric
HERE
Hard to see these, but just wanted to let the mask makers know, that we received in 10 new bolts of white on whites....you can find them on our website....their are a variety of fabrics.
And speaking of mask makers....they are starting to trickle in....yep! The 1/4 inch bias tape makers are back in stock! Order
HERE
Ok, brace yourself, because the long awaited for Laura Muir flower panels finally arrived!!! Order
HERE
A new book from Yoko Saito! She is amazing, and if nothing else, you'll love drooling over the pictures and her talent! Order
HERE

Have you been writing in a journal through the COVID-19 crisis? Why not add a palette full of colors to your journals with these Lori Holt pens! Order
HERE
Or maybe you are doing some reading or have reading projects ready for this summer....how about spicing your book up with these cute bookmarks? Order
HERE

To make your shopping experience the best, please note our policies and procedures, and come prepared. If you'd like to watch Julia's video on our policies, click HERE (scroll down)

COVID-19 Policies and Procedures
see them
HERE
Shopping and machine repair are by appointment only

. 15-, 30-, and 45-minute shopping appointments are available. If you are shopping with a friend or family member,

each person

will need an appointment slot. You may make an appointment here.

You must book an appointment before entering our store. It takes less than 5 minutes to book. This is necessary to ensure we do not exceed CDC-mandated capacity limits.

This includes travel for the AISH. We are so excited you are visiting us - please plan your trip accordingly and book spots early for your entire group!

This policy applies to children and spouses as well. Every person that enters our store must have an appointment.

All employees and visitors must wear a mask at all times.

NO cash or checks will be accepted.

Only credit cards are accepted at this time.

Social distancing requirements are encouraged

. To help, only one person should be in an aisle at a time. If someone else is in the aisle, please let them finish before entering that aisle. We know this may cause some longer wait times to get a certain color or style of fabric and we appreciate your patience.

Markers have been put on the floor in some places to help ensure social distancing. Please adhere to and respect these markers.

Hand sanitizer is placed throughout the store, please use as you see fit.

We have shortened our store hours to allow for increased cleaning and sanitizing.

There will be no public restrooms available.

Due to CDC Guidelines,

absolutely NO outside fabric will be allowed into the store.

No outside food or drink is allowed.

This has always been our policy to keep the fabric clean and we will reiterate it here.

If you do not have an appointment when you arrive, you must make one before you enter the store. If slots are available at that time, you make make your appointment and then come in and shop. Contactless curbside pick up via phone or online orders remains the best way to shop without an appointment!

Please refrain from shopping in groups. If you are part of a group,

each person must have an appointment.

Please refrain from bringing children into the store with you. If you must shop with a child, both you and the child must have an appointment slot. Same goes for spouses.

Our classroom remains closed. We will continue to make some classes and clubs available on Zoom.

We are still accepting contactless curbside pick up orders and online orders for shipping
Upcoming ZOOM Events

If you are planning to join us for a class or event, you must register, so that I have your email address to send the meeting ID.
Wednesday, May 27th at 1 pm is our next Patchwork Sister's Book Club meeting! Register for the Zoom book club HERE and purchase the book HERE Ann Hazelwood's The Quilt Left Behind is the last book in the Wine Country series featuring our beloved character, Lily Girl


Wednesday, May 27th at 2:30 pm Lily Girl's Red and White Quilt Group. Register HERE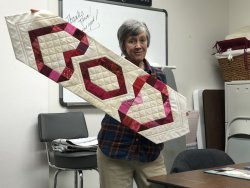 Friday, May 29th at 1 pm: UFO Club Register HERE

Pfaff May Specials


LOVE LOVE LOVE the Performance Icon...and it's on sale for $5,999 from Pfaff plus an accessory packet....check it out HERE


One more week to celebrate Pfaff's celebrating Mother's with a Her Choice sale on several machines! The Passport 2.0 at $599. The Creative 1.5 at $1099. The Ambition 610 at $699 The Expression 710 at $1,999 Call the store to order your machine today!


This just amazes me how people have adapted in mask making to meet the needs of everyone! Thanks Jean for sharing what you are doing to help others!


Maggie is going to miss her freedom at Creekside and I am going to miss my doorbell, and even the Street Smart employees said Friday, they were going to miss her "fierce" bark when they walked by...lol!
I hope everyone had a very nice Memorial Day weekend. Hugs and blessings to all karen steggerda