Skip Navigation
Website Accessibility
Creekside Quilting Newsletter 06/02/2020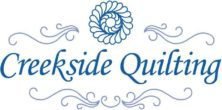 A crisis within a crisis is the only way I know how to describe what is going on in our country right now.
There are no words.
I have been thinking about this newsletter a lot the past 48 hours, and as I sit down this morning to prepare to email it out, I realize, I can't.
There are so many people and businesses in our own community this morning suffering, in pain, angry, shocked, hurting and in disbelief at the current events, that I keep asking myself, "how do I write a newsletter stating....look what's new and happening with us?" It seems disrespectful and it feels wrong.
We are open. We are a store where you can come to find reprieve from the outside world. We will embrace you with smiles and laughter, and share stories, and lend a listening ear. We are here for you and we love each of you. I am thankful for this opportunity.
If you are feeling like you would like to do something for our community, please bring to the store, or mail to the store, in a sealed plastic bag, a 10.5" quilt block by June 30th. I don't know what we will do with these quilt blocks yet, but this is laying on my heart and the answer will come. Many of us find peace and distraction in sewing...make a 10.5" quilt block and deliver it to the store in a sealed plastic baggie by June 30th. Something good will come out of these blocks, I know this, but I don't know what it will be yet today. The answer will come.
My heart breaks. My prayers feel numb. The sadness in our community and in our country is overwhelming to me. Yet the sun shines this morning. Our country had it's most peaceful night in a week. There is hope on the horizon, yet all of us will be changed forever....and may this change be for the better for our country, our people, our organizations, and our businesses. May all of this pain, anger, and suffering turn into something good.
karen steggerda